In his former life, Tom Schiff was a commodities trader who loved to play golf. Schiff was active year- round but only able to play golf in the spring and summer, when New York weather permitted, which meant he was usually a little rusty at the start of the season. "I was always exercising but never in the proper way for golf," Schiff explains. "In my mid to late 40s, my back started to go." Schiff went through five epidurals and was briefly left unable to walk or play his favorite game. Instead of undergoing surgery, Schiff started working with physical therapist Steve Login, who repaired Schiff's back and ultimately gave him back his golf swing. "I went from not being able to walk to playing better golf than before," Schiff recalls.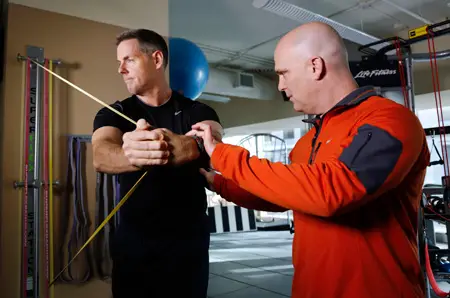 The experience sparked an idea, along with the desire to help others who love golf but aren't able to work on their game in the off-season. Four years ago, that idea became Golf & Body in Huntington on Long Island, where clients enjoy year-round golf instruction, golf simulators, and physical therapy.
In December, Schiff expanded the idea and opened Golf & Body NYC on Sixth Avenue, in the heart of Manhattan. The 25,000-square-foot country club is the first of its kind in the city, bringing together high-definition golf simulators, a fully equipped gym, and an area dedicated to sports medicine and wellness services. Golf & Body has built a world-renowned team of golf and fitness experts combining their knowledge with the members' passion to help them play the best game of their lives in the best shape of their lives.
Staff members include director of golf and Met PGA Hall of Fame member Darrell Kestner; Ronnie McDougal, recognized by Golf Digest magazine as a top 25 instructor in New York and New Jersey; and director of fitness Ben Shear, PGA Tour Head Strength and Conditioning and Biomechanics Expert who trains the likes of Luke Donald, Webb Simpson, and Jason Day. And of course, a professional staff compiled of physical therapists, chiropractors, massage therapists, acupuncturists and bodywork practitioners focusing on sports medicine and wellness services.

Q. Why did you decide to open Golf & Body NYC in Midtown?
TS: While I was working in Manhattan all those years, I realized there was no real golf experience and no real place to train for my game during the week.

Q. How did you choose the location?
TS: I wanted to find a location where it was easily accessible for everyone.


Q. Who would you say is your typical member?
TS: The common denominator is golf. It's the person who plays golf on the weekends and wants to practice during the week so they get to the course and they know where their body's at. It's the person who searches for the ability to create the best golf swing they can. And it's someone who wants a private experience.

Q. What's been the biggest challenge in opening the club??
TS: There was no model to go by. That, and fighting through everybody saying "What are you doing?" If it doesn't already exist, people have a hard time understanding it. But I see the reaction of people every day, to the space and to what we're doing, and that's the only thing I needed to get through. They're blown away. It's never underwhelmed anyone.
I prescribe to living life and having the gumption to push it through—seeing what you know is right and not believing when people tell you it's wrong or you shouldn't do it.

Q. Is membership still open?
TS: Yes. We have about 70 members, but I think a lot of people are waiting for September. We're going to cap it at 200—we'll see what the usage is like and if it gets too crowded. Ultimately it's about the member experience.
---
The Details Membership: $7,500 per year • Initiation fee: $5,000 • Day pass option: $150 also available
---
Golf & Body NYC 883 Sixth Avenue (31-32 Sts.), 212-244-2626; golfbodynyc.com