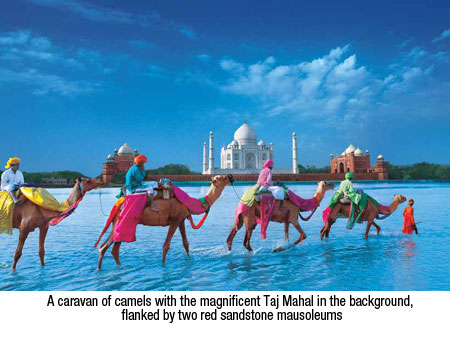 "What in the world," I queried in wonderment, "are they going to do at the next hotel, to top these past three days?" I was speaking to my traveling companions, as we ambled back to our tented bungalows (I use the word loosely—our suites were lavish) at the stunning Oberoi Vanyavilas Hotel in Ranthambhore, southeast of Jaipur. We'd had an exhilarating day tiger-spotting in Ranthambhore National Park in the province of Rajasthan and our safari outings had been electrifying. We had seen seven tigers, including a male raising his two cubs—a rarity!—whose mother had died of natural causes. I was later told that some unfortunate tourists come to this semi-arid nature preserve of about 100-plus square miles (with over 500 species of flowering plants and trees galore, dotted with many lakes) for twice-daily safaris and are rewarded with nary a tiger-sighting for days; the cats are elusive, and as everyone knows, on the brink of extinction, so we had been more than blessed.
And if the tigers had not been enough to mesmerize us, our stay in Ranthambhore had followed on the heels of an overnight in Agra, at Oberoi's cosseting Amarvilas Hotel, where the Taj Mahal, visible from every guest room, brought my knees to a buckling collapse; I shed a wistful tear, remembering fourth-grade, when I read about the Taj and its Moghul-empire creator, Shah Jahan, who had built it for his cherished third wife, Mumtaz Mahal. (Listen up: Next time you bring a dozen roses to your better half, just remember that Jahan spent 22 years and employed 20,000 men and 1,000 elephants to erect this loveletter!)
If these intense assaults on the senses had not been enough, we had capped our stay in Ranthambhore with a multi-course al fresco banquet prepared by Vanyavilas' female chef, Vidhu Sethi, while all evening, a native woman baked fresh, tempting Indian breads tableside. At the end of that magical day, we stumbled back to our extravagantly elegant quarters where outside my door, spread across the perimeter walkway, was a message written in scarlet rose petals, with12"-tall letters: "Thank You." What a way to say adieu, a sweet send-off from Vanyavilas' General Manager, Ratna Malhotra. (Women rock at this hotel—even the two resident elephants, the tem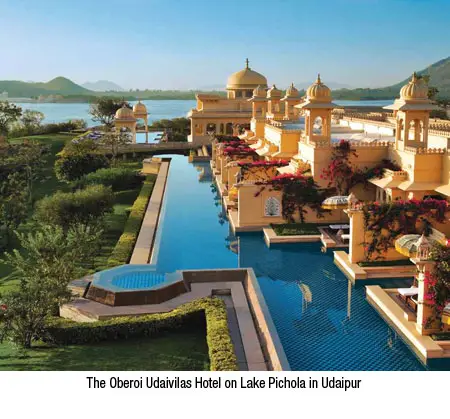 perate goliaths Laxmi and Mala, who make daily appearances for petting and pictures, are ladies.)
Somehow each city (additionally, New Delhi, Udaipur, Jaipur, Mumbai) managed to top the previous one with its exceptionally distinctive and unforgettable service and special touches, all crafted to dazzle the senses. And it's no surprise, because my adventure was organized (down to the most minute detail, including a small giftie from the Travel Fairy on my pillow each night) by Micato Safaris, eight-time winner of Travel & Leisure's World's Best Tour Operator (not to mention a bundle of other superlative honors that swathe the company's awards page on its website). I had traveled with Micato previously, some years ago to Africa, the company's specialty stomping ground, since founders Jane and Felix Pinto are second-generation Kenyans, but whose ancestral roots are in Goa, India. All the employees deliver that special, polished Micato touch and the firm excels in arranging behind-the-scenes tours of places few visitors have access to. But mostly what they—and Oberoi Hotels—sculpt are poignant and moving reminiscences for your trip memory bank.
The Indian sub-continent is a compelling land of startling surprises and superlatives. I often felt pleasantly bombard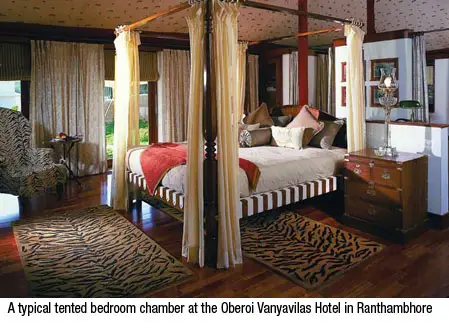 ed by the sights, smells, sounds, colors, vistas, patterns, chaos. However, the journey started out quite gently in Delhi, with visits to the impressive Humayan's Tomb, the Parliament, the India Gate (a massive sandstone memorial, erected in honor of Indian and British soldiers who were felled in World War I), and Gandhi Smriti, the museum dedicated to the great one, and the site where he was assassinated in 1948; stone footprints emblazon the pathway from the building where he held court to the nearby gazebo where he was shot. Take a rickshaw ride through the old parts of Delhi, down the narrow alleys of the silver market, surrounded by fruit and vegetable vendors; look up at the tangled jumble of crisscrossing electrical cables and wires—the modernity of the 21st century brought into the mayhem of an ancient settlement.
Our guide Hem Singh—a veritable legend in India, I discovered, and a Micato treasure—pointed out something else worth noting: Countless barbers work virtually in the middle of the street. This is apparently an easy business to establish, since all an enterprising potential "stylist" needs is a chair, a razor, a comb, and a mirror. And, indeed, even when we were driving through rural countryside in transit to the legendary Pink City, Jaipur, barbers seemed to punctuate the roadside every hundred yards!
Jaipur is a must on any trip to India, and it is perhaps at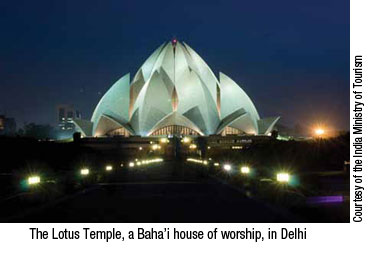 its most enthralling when you traverse the streets. There is simply too much to absorb; you can get an accurate feel for it if you see the recently released The Best Exotic Marigold Hotel, in which the tumult and pandemonium of the city thoroughfares are faithfully filmed. Seeming bedlam—everywhere you look, tantalizing street foods, bolts of vibrant fabrics and saris, vendors with piles of flowers and intriguing produce, spices, and even a shoemaker sitting in the middle of the sidewalk. Barbers aren't the only enterprising entrepreneurs: Take off your shoes put on a pair of his flip-flops, go do your errands, and come back an hour later for your repaired and polished footwear.
Perhaps the most amazing—dare I say marvelous?—activity in Jaipur's environs is elephant polo. I'd say I played, but well, while I was assuredly sitting on the elephant, it was my mahout who guided my unwieldy 10'-long mallet! It was beyond frolicking-good fun: We were greeted at the Dera Amer Elephant Polo Ground by a marching band of tartan-clad bagpipers and drummers, a parade of elephants with intricately painted faces, camels in full "black-tie" regalia, and trumpeters. This level of pageantry was repeated the next evening at the maharaja's City Palace, where our blowout dinner was preceded by a private dance presentation by the renowned Indian dancer Gulabo, who has performed at Windsor Castle. Micato's staff created a 7' x 7' welcome sign on the ground, at the entryway to the palace, "painted" with colored rice! Not to be outdone, the palace retainers sent cascades of fragrant rose petals down from the high ramparts upon us as we trotted through the fortress's arched entryway in our camel-drawn coaches. It would be hard to eclipse this meal, but indeed, in Udaipur (the city of lakes), at the Udaivilas Oberoi, the extraordinary staff planned a surprise repast out in the middle of Lake Pichola, on a buoyed platform, where the fillip to our 7-course bill of fare was a fireworks show. (Like rose petals, fireworks are major in India...and so is henna, so don't leave Udaipur without getting your hands hennaed in complex swirls of peacocks and paisleys, as I did.)
In Mumbai, you'll marvel at the Dhobi Ghat, India's fabled outdoor hand laundry. Take the Western Railway's route (a train is another must—with people virtually hanging off the rafters with what Hem Singh called "the Indian fingernail grip"), to the Mahalaxmi station, adjacent to the laundry. The laundrymen are known as dhobis and they do the washing in huge cem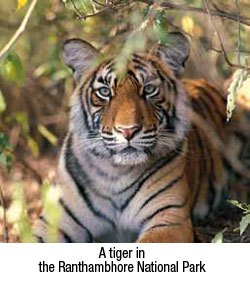 ent troughs, seriously flogging the clothes; our local guide told us that as many as 5,000 men work here. And the irons...don't ask; they are heated with scorching stones. You must also go to the historic, striking Chhatrapati Shivaji Terminus (formerly Victoria Terminus), a UNESCO World Heritage Site. Not far from there is the "headquarters" of the illustrious dabbawalas, who provide a unique lunch-delivery service to school children and office workers; they collect homemade meals from near and far, often packed in "tiffins" (metal, tiered lunch pails), and through an elaborate system of lunchbox three-card Monte, they reroute thousands and thousands of meals to their waiting customers. It is a riveting sight to see.
Lastly, do not forego the touristy Kingdom of Dreams theater complex near New Delhi, where the nearly three-hour-long Zangoora: The Gypsy Prince has been playing for over a year-and-a-half. Part Busch Gardens, part Las Vegas excess, the destination is as ornate as any Indian temple, with the added bonus of food stalls and trinket shops. Prepare yourself for a live Bollywood musical, but with more dance numbers, if that is possible. There are translations, which can be a little fuzzy around the edges ("You mean nobody to me..."), but it is the spangles, the glitter, the pulsating music, the vivid spectacle that will enrapture.
I could go on and on about India. Suffice it to say that Oberoi's special touches included niceties like a drawn bath at turn-down time, with a blanket of fuchsia bougainvillea blossoms floating on the water's surface, with a white-petal heart in the middle. And Micato's exceptional indulgences began with the first heartfelt Namaste greeting to the final-night theatrical codetta, the hypnotizing Zangoora, whose line I paraphrase, when I say that Micato "means everybody to me." You get the idea.
[ more information ]
micato.com/india/; oberoihotels.com/; incredibleindia.org; tourisminindia.com; deraamer.com; kingdomofdreams.in
The journey to India is a l-o-n-g so consider a layover in London. Virgin Airways has its Upper Class Lounge at Heathrow and there you can dine in style with restaurant service, get a message at Cowshed Spa,and pampering at Bumble &bumble salon. virgin.com