Opened just 25 years ago in the heart of Manhattan's jewelry district, Jacob & Co. is perhaps best known for its statement watches, seen regularly on the wrists of high-profile celebrities from Debra Messing to Justin Bieber.
"We appeal to every type of personality," says owner Jacob Arabo, a veteran of the jewelry industry who got his start at age 16. "People who wear Jacob & Co. watches and jewelry have a unique sense of personal style and taste."
Jacob & Co. launched the Five Time Zone Watch in 2002. Inspired by the jet-set lifestyle of many of its clients, this unique timepiece features four fixed time zones—New York, LA, Tokyo and Paris—with the fifth dial set to the location of the wearer. After that came the Quentin, the first-ever watch with a 31-day power reserve, and then the Ghost Watch, the first-ever Swiss-made digital watch that features a pentagram shape and can display up to 20 timezones.
Recently, Jacob & Co. also launched several new fine jewelry collections, offering some of the most unique designs in the luxury marketplace, including a range of engagement rings and wedding bands for both men and women.
We sat down with Arabo to discuss his brand, his favorite Jacob & Co. piece, and what's in store for the company's future.


Q. How did you get your start in the jewelry industry?
JA: I got my start in the industry when I was 16. By 17, I was already designing and selling my own pieces. I love the art behind watches and jewelry—there's something so fascinating about it.

Q. How would you describe Jacob & Co. to someone who had never heard of the brand?
JA: These are the words I use to describe Jacob & Co.'s jewelry and watches: Simple, tasteful, classic, modern, edgy, elegant, stylish, fun, and unique. In other words, we carry something for everyone. We specialize in customizing pieces as well.

Ghost Digital Multi-Time Zone Watch with single row diamonds, rose gold bezel. $18,400

Q. Tell me about the Ghost Watch. Where did the idea for that watch come from?
JA: I've always had a desire to design a digital watch. I was inspired by the success of our original Five Time Zone watch and the signature pentagram shape of our Grand Watch. The Ghost clearly follows that DNA and features an evolution of the pentagram shape with a digital, multi-time zone display. It's designed for a frequent traveler with a great sense of style and an eye for something different and unique.
Q. The Ghost Watch pays a certain homage to the original Five Time Zone watch. Why is that watch so representative of Jacob & Co.?
JA: The Five Time Zone represents all of the hallmarks of Jacob & Co, from the unique design to the outstanding quality to the international flavor—our Five Time Zone helped to establish our watch brand so we stay true to that DNA.

From the Lace Collection, this full finger, black plated, white gold ring features 4.40 carats of round brilliant cut diamonds mounted in black plated 18K white gold. $25,000

Q. Cristiano Ronaldo is currently the Jacob & Co. brand ambassador. What about him is reflected in the Jacob & Co. brand?
JA: Ronaldo for Jacob & Co. was a natural fit. He's a longtime friend of mine, he travels constantly and he's best in class. I'm a big fan of soccer and I think he's one of the most fascinating players.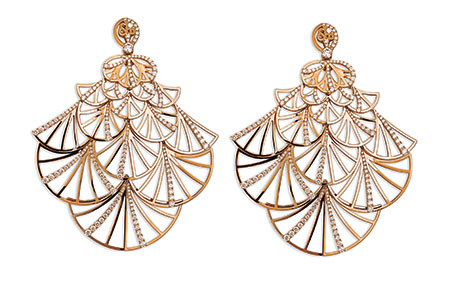 Rose gold fan earrings from the Abanico Collection featuring 7.78 carats of round cut diamonds. $41,600

Q. In terms of fine jewelry, Jacob & Co. recently launched the Abanico, Jezebel, and Rare Touch Collections. Tell me more about those.
JA: I'm so excited about these new collections. They're all so different from each other. The Abanico collection for example is art deco-inspired. The Rare Touch Collection is my favorite because it's cool and unique.
Q. Tell me about the High Jewelry Collection. Where do you source your diamonds and gemstones from?
JA: Not many people are aware that Jacob & Co has an extensive high jewelry collection that boasts one-of-a-kind, museum-worthy pieces using the finest, sapphires, rubies, emeralds and diamonds in the world. We source our diamonds and gemstones from legitimate sources in compliance with UN Resolutions on conflict diamonds.

Signature Jacob & Co. watch featuring rose enamel world dial, 2.50 carats of pave set diamonds, a 3.25 carat rose gold diamond bezel, rose gold crowns, and a stainless steel case. $37,200

Q. Do you have a favorite Jacob & Co. watch or piece of jewelry?
JA: One of my favorite watches is the black diamond baguette tourbillon we call The Black Caviar—such a stunning piece! In general, I like to wear a different watch each week and I also wear a lot of cufflinks.
Q. What's next for Jacob & Co.?
JA: We are continuously striving for the best. With that said, we plan to open more stores in the future and a have wider worldwide distribution.
Q. What do you like about having the flagship store located in New York?
JA: I love that New York is so diverse and cultural. It really is one of the greatest cities of the world.
Jacob & Co. 48 E. 57th St. (near Madison Avenue), 212-719-5887; jacobandco.com