The director of sales and marketing for Zero Halliburton discusses how the maker of some of the world's most iconic travel and luggage pieces stays true to its roots, even while establishing a new home in the middle of Manhattan.
---
You may not know them by name, but you've surely seen Zero Halliburton's products more than a few times. The brand's distinctive aluminum travel cases have been featured in more than 300 movies and television shows in the past few decades, including, most recently, USA's Burn Notice, NBC's Revolution, and the silver screen's The Secret Life of Walter Mitty.
And as of last summer, you can now browse Zero Halliburton's full line right here in Manhattan. The company opened its New York flagship—and first U.S. store—at Madison Avenue and 42nd Street. The store features more than 1,600 square feet of space, boasting an array of suitcases and briefcases as well as travel and lifestyle accessories. "New York City was a natural choice, being that it is the center of the business world," says John Giglio, director of sales and marketing. "We feel like NYC provides us with the best opportunity to reach both new and existing customers as well as raise brand awareness. We are located just steps from Grand Central and a few blocks from Times Square."
We sat down with Giglio to learn more about Zero Halliburton and its iconic products that cater to successful businesspeople and frequent travelers alike.
Q. Where does the name Zero Halliburton come from?
JG: The company was founded in 1938 by Erle Halliburton and merged with the Zero Corporation in 1969, when it became Zero Halliburton.
Q. Where did the idea for the first aluminum travel case come from?
JG: Erle Halliburton's original business was based in the dusty, hot and humid Texas oil field. He sought out to create a case that would protect his belongings in harsh climates such as the ones he encountered.
Q. How much has the design changed since that first case?
JG: There have been some changes to the hardware (latches, handles, etc.) and the interior to meet the demands of today's business professional, but our current line is remarkably similar to the original cases.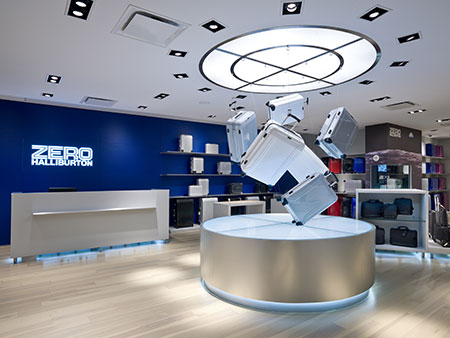 Q. How would you describe the Zero Halliburton brand to someone who had never heard of it?
JG: Zero Halliburton makes premium, durable and distinctive cases for everyone from the young professional to the CEO.
Q. When someone carries a Zero Halliburton case, what does it say about them?
JG: We feel like we are an aspirational brand. The person who carries our case aspires to get noticed for doing great things both in their personal life and their career.
Q. Is it true that Zero Halliburton cases were used by NASA on Apollo 11, to carry moon rocks back to Earth?
JG: This is correct. The interior of the cases was slightly modified by NASA.
Q. Can you explain the difference between the Classic Collection and the newer Geo Aluminum Collection?
JG: The Classic Collection was given an update but still embodies the original essence of the classic design, hence the name. Geo Aluminum was designed with the idea of engaging with the next generation of loyal Zero Halliburton customers. Geo Aluminum features an updated, minimalist design which allowed our design team to take some weight out of the case while ensuring the structural integrity and durability that Zero Halliburton is known for.
Q. What does the future hold for Zero Halliburton?
JG: The travel and luggage industry is constantly changing. Zero Halliburton will continue to react to those trends while staying true to our core principles: quality, style and protection.
---
Zero Halliburton New York Flagship 300 Madison Avenue 646-640-3600; zerohalliburton.com
---
Rediscover a timeless design with the new Classic Aluminum Carry-On 2-Wheel Travel Case. $895.
Travel in luxury with the new Geo Aluminum Carry-On 4-Wheel Spinner Travel Case. The spinner design is constructed with sealed ball bearings as well as a multi-stage retractable handle for effortless mobility. $695. Both pieces have a tough aluminum shell, custom designed draw-bolt latches as well as a three-digit TSA approved combination lock. Fully lined interiors feature privacy panels, compression straps and mesh compartments to organize items and reduce shifting.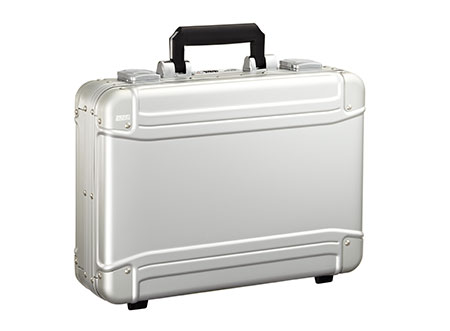 Protect business essentials in style with the new Geo Aluminum Attaché. This updated classic features anodized aluminum, custom-designed drawbolt latches and a three-digit combination lock. $365.