In Kelli O'Hara's most recent theatre outing—Off-Broadway's, Far From Heaven—her performance reiterates just why she has become such a powerful presence within the current musical theatre arena. So much so, that the New York Times review kicked off by saying:
When Kelli O'Hara sings the word 'garden,' an arid landscape blossoms into lushness… [A]nd all your senses come to attention, the way they do on one of those days when an early, full-blown spring seems to have broken through winter without warning.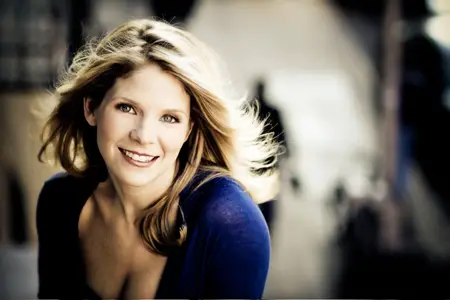 Still, it's not just her ability to elegantly flesh out a character or bring an audience to standing-ovation formation, it's also her seemingly indefatigable energy involving the most hectic of schedules—co-starring an energetic four-year old named Owen and husband of six years, singer/songwriter Greg Naughton.

And yet, that's pretty much the norm for O'Hara whose work ethic came early: "I grew up on a farm around Elk City, Oklahoma and my first job was chopping cotton from 6am to noon," she says. "I was 14 and thought it would be cool to make my outdoor job do double duty… and I wanted a tan." To carry out her plan, she made her official work attire a bikini. "It worked," she recalls with a laugh.
As for her crystalline singing voice and musical abilities, where they came from is a bit of a mystery to the O'Hara clan. "No one in my family had ever done anything especially musical, except my grandmother, who played the piano," she says. "Luckily, my parents supported me every step of the way."
O'Hara's initial training came during her undergraduate years at Oklahoma City University, where she studied with noted vocal professor Florence Birdwell, concentrating mostly on opera (her degree is Bachelor of Music/Vocal Performance/Opera) but certainly acquiring a knowledge of musical theatre along the way.
Notably, a few years before she arrived at OCU, Birdwell had propelled Kristin Chenoweth into a successful musical theatre career, and even though O'Hara didn't know Chenoweth until she arrived in New York after graduation (with a two-year make-it-or-break-it verbal contract with her parents), she was always an inspiration.
As soon as O'Hara settled in New York she began classes at the Lee Strasberg Theatre and Film Institute, "so I could move away from opera and focus more on musical theatre."
Her studies paid off: She was cast in a national tour of Jekyll & Hyde that netted her an Equity card and brought her into the New York company (Broadway debut). She met her two-year deadline with a flourish and, when Jekyll & Hyde closed, she was cast in the 2001 revival of Follies. "My first experience starring with a cast—and it was a master class, working with Kathleen Marshall [choreographer] and sharing the stage with so many theatre greats [Judith Ivey, Blythe Danner, Polly Bergen, Marge Champion, Treat Williams, Betty Garrett, et al.]."

O'Hara and Matthew Morrison in a scene from The Light in the Piazza; photo: Joan Marcus
Her breakthrough came when she took on the role of the fragile Clara in The Light in the Piazza—a radiant performance that earned O'Hara her first Tony nomination. "Of all the roles I've played, I'd say Clara is closest to my heart," she says.
After Piazza, roles came quickly and diversely. "I've made it a point to try a variety things; I want to know what it feels like to stretch different muscles, to challenge myself, to grow," she says. "That's what makes performing interesting for me and hopefully the audience."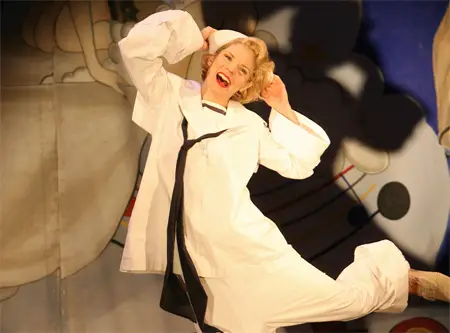 O'Hara in South Pacific
Certainly her roles to date have been diverse, ranging from brassy activist (Pajama Game) to all-American girl (South Pacific) to tough cookie with a flair for slapstick (Nice Work If You Can Get It). "It's funny how I tend to play a lot of 20th-century women from different periods, especially the late 1940s to '60s," she says.
Certainly Cathy Whitaker, her character in the new musical Far From Heaven, fits into that niche: A Connecticut housewife in 1957 confronting layer upon layer of emotional upheaval, from her husband's homosexuality to her own attraction to the family's African-American gardener to the hateful gossip that hovers over the Whitakers and their small town like a noxious cloud.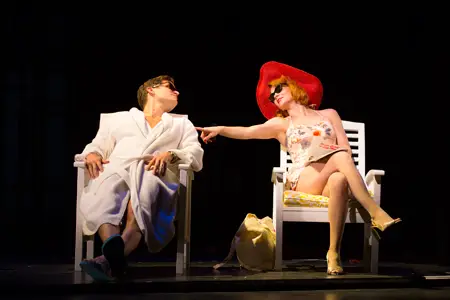 Steven Pasquale and O'Hara in Far from Heaven
Based on the 2002 film starring Julianne Moore, Dennis Quaid and Dennis Haysbert, the musical version features a book by Tony winner Richard Greenberg (Take Me Out; The Assembled Parties) and a score from the team behind Grey Gardens: Scott Frankel (music) and Michael Korie (lyrics). It also reunites O'Hara with Steven Pasquale, who played opposite her in the show's preview outing last summer at the Williamstown Theatre Festival.
"The storyline is very close to the film's, the difference being in the musicalization, which is very operatic in a way," says O'Hara, who clearly loves the process of fleshing out a character as complex as Cathy. "It's cathartic to go inside her and feel the changes as they happen. Her sadness is pretty huge—a lot of tragedy and disappointment—but there is love and lightness in there as well."
Fortunately, when it came to Cathy's 1950's persona, O'Hara had a role model: her maternal grandmother. "I can pull from the idealistic world she had, a world where the emphasis was on what do you wear?... what to cook for dinner... getting your hair done… the same things Cathy cares about—being the perfect wife in the perfect house."
Far From Heaven runs Off-Broadway through July 7. Click here for tickets and more information.
---
Regarding Kelli: Did you know that…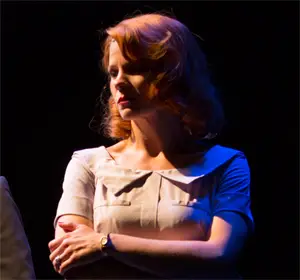 ...right before moving to New York, she won the State Metropolitan Opera Auditions?

...fellow Oklahoman Kristin Chenoweth took her under her wing when she got to New York, even introducing her to her agent?
...both O'Hara and Chenoweth are members of the OCU branch of Gamma Phi Beta sorority? [Another sister, from Northwestern University and several decades removed, is Cloris Leachman.]
...she's the daughter-in-law of two-time Tony Award-winning actor James Naughton?
...when writing the music for Far From Heaven, Scott Frankel says he always had O'Hara in mind for the role of Cathy Whitaker and claims it was her voice he heard in his head while composing?
...during her first pregnancy with son Owen her singing voice took an unexpected turn upward to a higher register?
...she released her first true solo album, Always, just last year? [All of her prior albums were cast recordings, with the exception of Wonder in the World, a collaboration with her Pajama Game costar, Harry Connick, Jr., who arranged and orchestrated the album and joined her in a duet of the title song.]
---
Key New York Productions
*Tony Award Nomination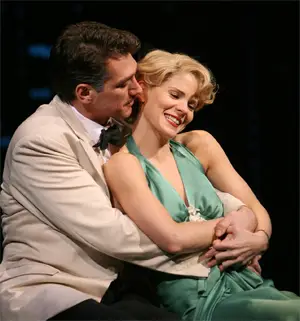 2013 - Far from Heaven (Off-Broadway) as Cathy Whitaker with Steven Pasquale
2012 - Nice Work If You Can Get It (Broadway) as Billie Bendix with Matthew Broderick

2011 - King Lear (Off-Broadway) as Regan with Sam Waterston
2011 - South Pacific* (Broadway) as Nellie Forbush with Paulo Szot (pictured)

2006 - The Pajama Game* (Broadway) as Babe Williams with Harry Connick, Jr.
2005 - The Light in the Piazza* (Broadway) as Clara Johnson with Matthew Morrison
2004 - Dracula, The Musical (Broadway) as Lucy Westenra with Tom Hewitt
2003 - My Life With Albertine (Off-Broadway) as Albertine with Chad Kimball
2002 - Sweet Smell of Success (Broadway) as Susan with John Lithgow
2001 - Follies (Broadway) as Young Phyllis
1997 - Jekyll & Hyde (Broadway) as Kate (replacement/Broadway debut)