Last year, with two trips to humidity-besotted climes and an operation looming ahead of me (shoulder surgery — so that meant I wouldn't be able to raise my shoulder, much less my arm), which, when extrapolated to all its sundry ramifications, meant that I would have to have "easy-care" hair for a few months. I started to think seriously about the in-the-news, trending keratin treatments my friends had been touting. I decided to take the plunge and found a good deal online. I was shocked to discover that my hair-treatment person actually wore a gas mask of some type as she applied and heated the keratin-fueled solution to my hair. I was offered a towel to put over my face. Yikes. I had better do some research on this, I thought. I had known that there were some "issues" around keratin treatments, with talk about formaldehyde, but I wasn't quite prepared to see the hairdresser wearing a mask that looked like something out of a movie! As of that moment, however, it was too late; I was in for a dime, in for a dollar.
But I did do a little research after the horse had been let out of the proverbial barn, and found some daunting info on line. One consumer-friendly brief was in O, The Oprah magazine, in the June 2011 issue. There I discovered what was key to knowing and understanding this treatment:
After the hair is thoroughly saturated with one of these solutions, it's dried and flatironed; the process releases the formaldehyde, which bonds the conditioners to the hair so it remains smooth for months. Over time, the bonds dissolve and the hair's natural texture gradually returns. Several new salon services have launched this year that claim to be (really, truly!) formaldehyde-free; if this is the case, it's unclear how they will keep hair smooth for as long as they claim (at least six weeks, and up to four months).
So this year, when a few more trips to humidity-heavy Caribbean islands were looming on my travel schedule and I knew I couldn't bear the thought of spending a summer without a keratin treatment, I did a little more research and this time found a process that is formaldehyde-free: Keratin Complex Smoothing Therapy. I opted to have it done at the celebrated John Sahag Workshop on Madison Avenue, where the master hair stylist had set up shop some years ago. Sadly, Sahag has passed on to the Great Salon in the Sky, but those whom he trained carry the standard for him, and it's a high standard to bear: He was called by many stylists and magazine editors (not to mention adoring clients), a "Michelangelo with scissors." He, modestly, referred to himself as "just a barber."

John Sahag Workshop

My own "barber" for my treatment was Doug Macintosh who carefully coated and heated my hair, and the delightful Frannie Berkowitz gave me a fabulous hair cut after the treatment. (Just for the record: I got bangs before Mrs. Obama debuted hers to the world!) I was warned that this treatment likely would not last as long as its formaldehyde-riddled cousin, but in truth, it lasted about the same four months as the first one. The Keratin Smoothing treatment, it's true, wasn't as "potent" in the hair-straight-as-a-board department, but I could help it along with a flatiron, after washing, and it stayed bone straight for many days.
I was very pleased with it—and with the results which impacted how much hair-fussing I had to do—and frankly, delighted that it lasted as long as it did. Money well spent. (For the record, the treatment costs $200 and up for the "express" version, that the salon says takes about an hour and lasts three or four months—and for the record, you can wash your hair the next day after this treatment; the more "battle-worthy" treatment that takes two or three hours and lasts, they say, six months, starts at $250. With this more thorough treatment, you cannot wash your hair for 72 hours. Prices are dependent on hair length.)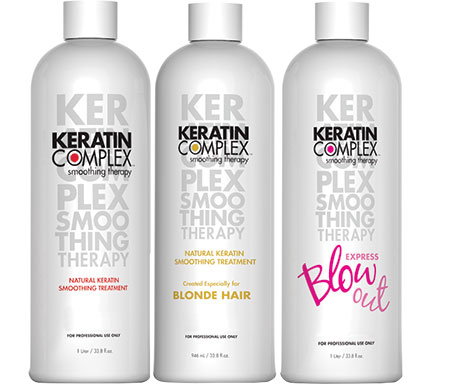 The trick to getting it to last as long as possible is to wash it as little as possible. And you must use special shampoo that is free of sodium chloride and sulfates. Doug showed me how to use a tiny amount of shampoo to get the hair clean, but which only minimally reduces the efficacy of the keratin product on or in the hair, and the longer the keratin stays bonded to the hair, the longer the straight hair will last. As I noted, you must wash and treat your hair with sodium-chloride- and sulfate-free shampoos and conditioners. But they are easy to find these days, now that so many people are using keratin-straightening processes.
And, moreover, to make life easier, I got all the products I needed from the Keratin Complex Web site. Of course, the shampoos and conditioners were ideally suited to my new look (and needs), but I also fooled around with other things while getting to know my new hair. I let it air-dry a few times to see how frizzy, fly-away, wavy, or curly it would be, and found that it dried with some waves. So I tried a few products from the Keratin Complex Web site that would encourage that little bit of curl and give me an entirely different look, not merely the straight hairdo. I even tried setting my hair on rollers (ouch!), to see what that did...to see how much volume I'd get. All my efforts were well rewarded: I had many new looks for my freshly coiffed hair. The products that I found most useful for "new" looks, or alternate looks, were: Glowtion Potion, Vita Volume, and KeraBalm.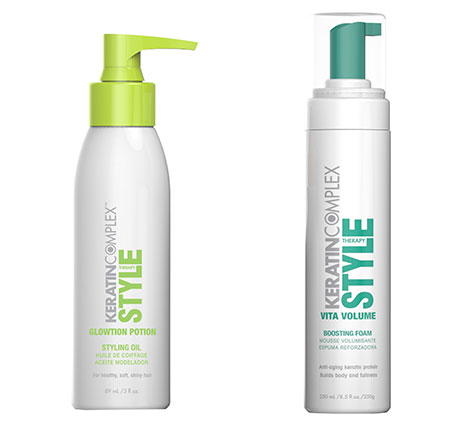 If you want to read what the Web site says, here is a little from Keratin Complex's site: "This therapy is the foundation of the original, in-salon service that infuses natural keratin deep into hair's cuticle. This revolutionary therapy reduces frizz and curl and instantly adds amazing shine, silkiness and condition to the hair. The results are astounding. Clients rave that 'this is a life-changing experience.' Hair is more manageable, smoother and easier to style than ever before. It is perfect on all types of hair – including color-treated and chemically processed hair!"