…about his two elegant Manhattan shops, how the fine watch business has changed, and loving New York.
Ask Cellini Jewelers founder Leon Adams about the watches he owns and he succinctly rattles off two favorites: one a "workhorse of a timepiece" and the other an extremely light titanium number, "one of the most interesting I've come across."
It is a fitting response given that Adams has been on a quest to offer Manhattanites and visitors alike some of the most rare and unique watches and jewelry available. He opened his first showroom in the Waldorf-Astoria in 1977, and a decade later a gleaming, second outpost on Madison Avenue. Now, nearly 40 years later, Adams has become a fixture in the New York City haute horlogerie and fine jewelry industries. On any given day he can be found visiting with longtime customers ("We now serve the children and grandchildren of many of our original clients"), or making annual pilgrimages to Basel and Geneva for the country's famed watch shows.

Cellini's Madison Avenue location. Photos courtesy of Cellini Jewelers
On the heels of expanding the company's Madison Avenue boutique, Adams looks back on Florentine silversmiths and diamonds, and why New York is the only city for him.
READ: Summer Coolers: Spoil Yourself With the Season's Most Sensational Jewelry

Q: How has the fine watch business changed over 40 years?
A: Since Cellini Jewelers was established back in the '70s, we have cultivated a broad client base. The business has become more competitive, but more people appreciate fine timepieces today than ever before. Customers are very educated on brands and technical innovations and often know what they want in advance of coming in.
Q: Who is frequenting the Cellini shops on a regular basis?
A: Our clients have always been a mix of loyal locals and visitors from across the U.S. or international travelers. Much of our clientele makes an annual pilgrimage to Manhattan to see what we have in that's new.
Q: What are some recent jewelry trends you have noticed?
A: There is a definite shift toward being more casual. The American woman has become less inclined to wear heavy diamond pieces during the day. Bracelets by [Italian brand] Pippo Perez have a fun and sophisticated look. Women love to layer them. And Cellini's flexible diamond ring bands and bracelets are very comfortable.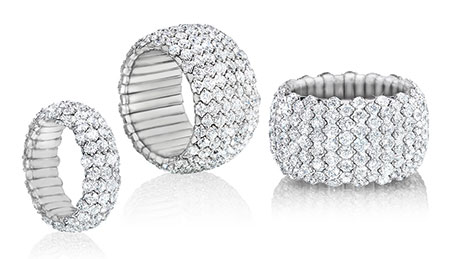 A trio of Cellini Elastic Diamond Collection rings

Q: Besides being a go-to resource for rare timepieces and longtime favorite brands (such as Cartier and Bulgari), what else sets Cellini apart from other watch purveyors?
A: We carry 26 fine watch brands, and Greubel Forsey, H. Moser & Cie, Parmigiani Fleurier, De Bethune, Richard Mille, and HYT are exclusive to Cellini in the tri-state region.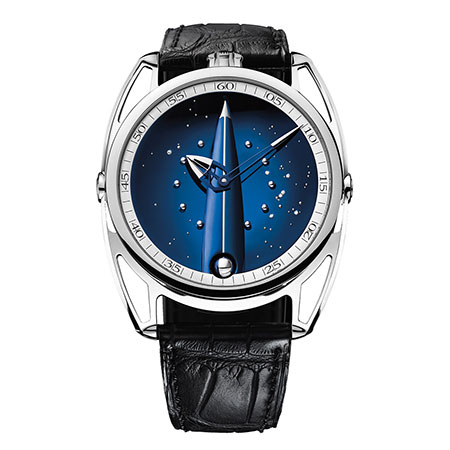 De Bethune DB28 Skybridge timepiece

Q: What initially inspired you to start Cellini, and where did the name come from?
A: My passion for fine jewelry and timepieces came from my dad. He has an amazing eye. We chose "Cellini" as a nod to the great Florentine silversmith, since most of our jewelry is crafted in Italy.
Q: Why did you decide to open Cellini in New York, and keep the two locations Manhattan-based throughout the years?
A: New York City is a great market, and I do believe I live in the greatest city in the world. The best of everything is within easy reach. Simply put, everything is here.
Q: Any upcoming plans for Cellini this year?
A: We will be expanding our Madison Avenue location, and will continue to offer the gamut of choices, from traditional styling to more modern pieces. We like to appeal to everyone, and always have fun when creating new designs.
---
Hotel Waldorf-Astoria (East Lobby), 301 Park Avenue; 212-751-9824; 509 Madison Avenue, 212-888-0505; cellinijewelers.com