How lucky was Audrey Hepburn? I don't mean to have been born with that perfect gamine face, that swan-like neck, that lissome body, that charming accent and insouciance. I mean, how blessed was she, that she got to have the legendary Hubert de Givenchy swathe her in arguably two of the most iconic dresses in cinema lore—the classic Breakfast at Tiffany's little black dress, awash with pearls cascading down her back, and the demure Sabrina dress, accented with dainty bows on the shoulders and by a frothy sundae in the actress's hands? And then, what providence, to continue to be the maestro's muse for decades?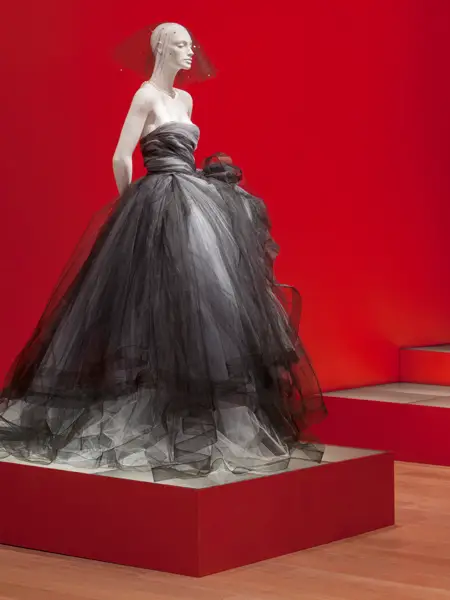 Installation image from the "Little Black Dress" exhibition, SCAD Museum of Art; Oscar de la Renta, robe de style, 2012. Image courtesy of SCAD.

Theirs was a lifetime of collaboration, but the mutual romance didn't start out so rosy. Givenchy, it was said, was awaiting the arrival of another Hepburn, as in Katharine, to discuss wardrobe. Audrey had been dispatched on a suggestion from Billy Wilder's wife (or so this fabled, oft-quoted Hollywood story goes) to Paris couturier Cristóbal Balenciaga, to get some "real" Parisian fashion for the forthcoming Sabrina flick; in it, the ponytailed "ugly duckling" goes to the City of Light to study cooking and returns a damsel decorous in tresses and dresses.
The perhaps apocryphal anecdote allows that the in-demand Balenciaga himself was too busy to see the unknown Hepburn and sent her to his assistant, the then second-banana de Givenchy. As the latter recounted, "On being told that Miss Hepburn had arrived, I immediately presumed it was Katharine Hepburn, whom I adored. Hurrying to greet her, I found myself confronted with a young woman dressed as a gondolier." It seems the younger Miss Hepburn was in her signature cropped pants, demure flats, a T-shirt, and a touristy straw hat, hence the gondolier! The two went on to do movie after movie together—Funny Face, Love in the Afternoon, Paris When It Sizzles, How to Steal a Million, Charade, and Love Among Thieves—and the rest is, as they say, history.
LBDs from Barbara Tfank; BCBG Maz Azria; Hervé Léger

Another kind of history was, indeed, made when that celebrated Breakfast at Tiffany's dress was auctioned at Christie's London in December, 2006, for just under a staggering million dollars. Originally estimated to sell for between £50,000 and £70,000, the gavel fell at £467,200. That same year, the Gap featured vintage Audrey in its commercials, and around the same time, too, J. Crew opened a boutique within its store, devoted to the Little Black Dress.
Just what is it about that little-black-dress look that has transcended decades and generations, that captivates every fashion designer, and demands that every woman own one?
That question was answered in a recent, stunning exhibit at the Savannah College of Art and Design's SCAD Museum of Art, where from Sept. 28, 2012, to the end of January this year, dozens of LBDs were on view, tracing the bold curve of social history across the 20th and 21st centuries through the evolving silhouette of the LBD. Curated by Vogue magazine's redoubtable contributing editor, André Leon Talley, the gorgeous exhibit explored the progression of a definitive yet democratic style that, for more than a century, has embodied the shifting social tides of the modern world.
© Little Black Dress by André Leon Talley, Skira Rizzoli, 2013. All photographs by Adam Kuehl, © SCAD. The cover of the book, featuring a dress from Karl Lagerfeld for Chanel Haute Couture, 2006; Alber Elbaz for Lanvin, 2012.

Observed Talley, at the time of the opening, "'Little Black Dress' is designed to showcase the divergent and individual manifestations of the little black dress across this modern century and the last." On view were dresses from a cavalcade of fashion-design stars, including Prada, Comme des Garçons, Stella McCartney, Isabel Toledo, Roland Mouret, Rodarte, Dolce & Gabbana, Donna Karan, Azzedine Alaïa, Yves Saint Laurent, Carolina Herrera, Joseph Altuzarra, Oscar de la Renta, L'Wren Scott, and on and on and on. The exhibit was a celebratory homage to these essential and timeless frocks, and even more of a tribute to the LBD is the handsome accompanying volume that is, in essence, the show's catalogue, a delicious coffee-table jewel from Skira Rizzoli, appropriately entitled Little Black Dress. It is a sumptuous stroll down fashion history in 184 pages of dramatic black and white, depicting over 80 seductive garments.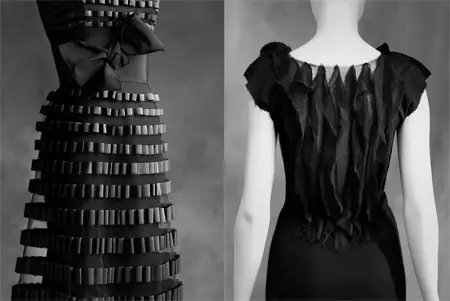 © Little Black Dress by André Leon Talley, Skira Rizzoli, 2013. All photographs by Adam Kuehl, © SCAD. Carolina Herrera, 2007; Rodarte, 2006

Fashion historians ascribe the origins—if such can be attributed—of the little black dress to the 1920s designs of Coco Chanel and Jean Patou. Chanel showed a dress in a 1926 issue of Vogue, which the magazine called "Chanel's Ford," a simple little black dress with some diagonal lines to it, but in its simplicity, striking. According to George Simonton, a professor of fashion design at the city's Fashion Institute of Technology and a Seventh Avenue couture designer himself who sells at Saks Fifth Avenue, "I think it is a timeless garment, an ageless silhouette, no matter how it is cut and rendered. It never really goes out of style. Every designer has put his or her own spin on it, and it is always elegant and glamorous." Simonton demands that his students learn to drape and cut patterns the "proper" way before they start embellishing garments. "I tell students designing is not about decorating, it's not about doodads, it's about proportion, darts, seaming details, the cut of a garment." He goes on to say that every great LBD starts with a wonderful silhouette.
Colleen Sherin, the senior fashion director at Saks Fifth Avenue, notes that every well-dressed woman's wardrobe has at least one LBD. "You can live in it all day. And once you have the basic silhouette, it's fascinating to see what designers then do with even the most basic LDB sheath. There are all kinds of jeweled necklines that can take it to another level, say, with chunky crystal embroidery, or a ruffled hemline, or feather trim at the cuffs, or a fringed hemline, or a sash at the waist, a bow at the shoulder. Designers have rich imaginations and the hemlines, necklines, sleeves, all lend themselves to embellishments." She adds that even greater diversity is achieved "[w]hen you also consider the fabric. The possibilities are endless." Sherin points out that even a house like Pucci, known for decades for its opulent and graphic patterns, came out for the fall '13 season, under the artful eye of designer Peter Dundas, with many, sexy little black dresses.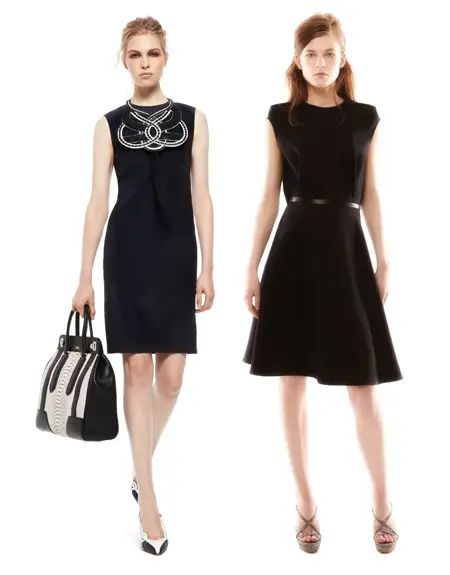 LBDs from Bally

Designers themselves are always fascinated with the LBD. Barbara Tfank, whose garments have been worn by Michelle Obama seven times, underscores that the LBD is a necessity in every wardrobe. "It is absolutely, positively a wardrobe must-have. When you wear a little black dress, you can do anything with it. It's your opportunity to express yourself. I have shown a little black dress with turquoise Manolo Blahnik heels, with a fox capelet stole with blue tinting, with so many different accessories. Black goes with everything, and of course, diamonds look amazing with it!" Tfank underscores that no matter what her collection, she always designs at least one LBD. "I always do a beautiful black dress. This season, we have three and they could not be more different from each other. Regardless of the silhouette of the LBD, Lubov Azria, chief creative officer at BCBGMax Azria / Hervé Léger by Max Azria, observes, "People tend to dress for their body shape and black is always a flattering staple that is effortless and chic."
Tfank puts in the last word, probably epitomizing the essence of the LBD, when she concludes: "I feel that the little black dress can be worn forever; it is timeless."
To view the pages in pdf form, click here.