Lewis Carroll may seem to have little in common with furnishings and ceramic design house MacKenzie-Childs, but when devoted collectors ponder their adoration of the brand, the English author's famed novel Alice's Adventures in Wonderland is the first thing to spring to mind.

Courtesy of Reginald Van Lee

"When I initially passed by the New York store 20 years ago, the Alice-in-Wonderland look jumped out at me," says Reginald Van Lee, "I went in and knew that the next time I redecorated, I would be using MacKenzie-Childs." Nowadays, Van Lee, a business consultant, resides in New York, Houston, and Washington, D.C. To be sure, each residence is outfitted with MacKenzie-Childs accoutrements galore. While walking through his D.C. apartment–Van Lee was recently appointed by President Obama to the board of the Kennedy Center–he happily pointed out accent pieces in each room. Colorful knobs add whimsy to kitchen cupboards, and side tables hold red-and-yellow vases and candlesticks in the company's famed Courtly Check pattern.
"I touch something MacKenzie-Childs every day," Van Lee says with a smile. Case in point: a countertop artfully equipped with a coffee pot, serving trays, and delicate sugar bowl. His daily dining dishes are all naturally an assemblage of fanciful plates and polka-dotted tumblers. Charming canisters hold a variety of lotions and potions, and the company's signature tassels are strategically scattered throughout.
As an avid art collector, namely of contemporary artists, Van Lee notes that his fine art and MacKenzie-Childs pieces live well together and have a "nice mélange." A figurative sculpture perches playfully on an ottoman upholstered in a mix of swirling and striped fabrics.
Inarguably, the pièce de resistance for Van Lee is the tuffet. Seemingly straight out of a fairy tale, the MacKenzie-Childs's tuffets are utterly comfy and overly stuffed. Each one is upholstered in a variety of splendid patchwork patterns. Some even boast intricate fringe detail and hand painted majolica feet. "I have them in all my homes, little round ones, oval ones," says Van Lee. "They are my favorite!"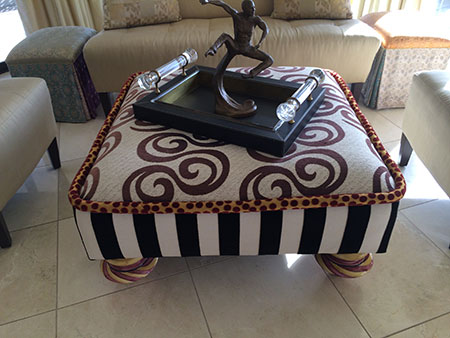 Another hallmark of a MacKenzie-Childs devotee is being the consummate host. "I do lots of entertaining at home, and it's always no stress because my house is adorned in an interesting way," Van Lee remarks, "Sometimes I don't even need flowers (though I most often have them!), because my MacKenzie-Childs pieces are so decorative." For one fête, Van Lee masterfully sat 60 guests at his family's Houston compound–each place carefully set with assorted, eclectic dishes and glassware. The key to an eye-pleasing and simultaneously effortless dinner table? To put it simply: "I'm not afraid of color," says Van Lee.
---
For well over a decade, Cherie Schonbrun has been holding her own "dinner parties in Wonderland-like settings. I often feel like I'm setting a table for Alice!"
The Tampa, Florida-based collector and special events fundraiser fondly remembers stumbling upon MacKenzie-Childs in a tiny Tallahassee boutique. "I got married 33 years ago, and I was never excited about traditional wedding china," Schonbrun says, "However, when I came across MacKenzie-Childs's tableware, my eyes popped."

Longtime collector Cherie Schonbrun creates charming settings in her Tampa, Florida home with her prized MacKenzie-Childs pieces

Her home is an exercise in the exquisite. Over the years, Schonbrun has acquired various pieces and fashioned them into unique furnishings of her own design. The kitchen table is created from two large pedestals in the Courtly Check pattern with a custom glass top.
Recently, Schonbrun procured the Chicken Palace Jewelry Box, which she utilizes as a clever serving piece in her dining room. It is stocked with an array of petite sugar spoons, and salt and pepper shakers.
Whether her latest acquisition is destined for the tabletop or an upstairs sitting nook ("every room has MacKenzie-Childs pieces–except the kids' rooms!"), Schonbrun is confident that each new piece will winningly pair with the rest of her collection. "I really like mixing and matching. It is a passion of mine," she says. She also believes in constantly rotating her décor, both during the holidays and for her centerpiece table displays. "I never hide my MacKenzie-Childs pieces–they never get dusty," she says. Coffee is taken each morning in one of her handsome mugs, alongside a coordinating creamer and sugar bowl. "It just tastes better," says Schonbrun of dining with any one of her beloved ceramics.
When pressed to come up with a potential wish list of MacKenzie-Childs items, both collectors stumbled for an answer. Says Schonbrun, "Nothing is a dream. The designers are so creative–it is all amazing."
After contemplating the question for a beat longer, Van Lee remarked, "I am always inspired by their products, but there is no MacKenzie-Childs bed. . .yet. That's what I would want."
If the successful 30-year track record of the company's designers and artisans is any inclination, Van Lee may get his wish soon enough. For these devoted collectors, it seems that MacKenzie-Childs has enabled Wonderland to become a thing of reality.
---
20 West 57th Street; 212-570-6050; mackenzie-childs.com