Springtime in New York means just one thing to MacKenzie-Childs visual director James Sauli: Christmas windows. While the rest of the city is soaking up tulips in Central Park, Sauli and his six-person crew are dreaming up the holiday displays for MacKenzie-Childs' prime Manhattan storefront at 57th Street and Fifth Avenue. "My team is a mix of intense talents that are responsible for creating some of the highest caliber of displays that exist," says Sauli. This year's theme, he notes, hearkens back to the company's origins in craftsmanship and focuses on "the art of MacKenzie-Childs." For three decades the Aurora, New York-based studio has made exquisite — and highly-sought-after — ceramics and furnishings. Similarly, their approach to holiday décor keeps in line with the brand's longstanding handmade aesthetic.

MacKenzie-Childs' Manhattan holiday windows

It will come as no surprise then that creative director Rebecca Proctor's favorite holiday picks include mouth-blown glass ornaments, ranging from a dainty turtledove to a stately horse adorned with a wreath. "MacKenzie-Childs' unique point-of-view is what continues to draw the most dedicated and wonderful collectors," says Proctor. Orchard Check, a green-and-red riff on the famed Courtly Check pattern, has been splashed on oversized tablecloths and down-feather pillows. Hand-painted menorahs and a plethora of versatile tableware (think: pine tree-shaped candles and gilt wreaths) round out the collection.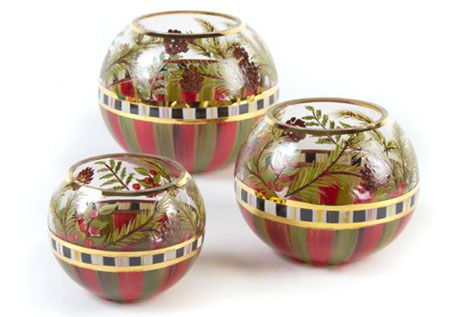 A trio of Evergreen mouth-blown glass vases

Sauli's inspiration for the company's holiday statement comes directly from the shoppers he is designing windows for. "Fifth Avenue has high expectations," he says, "[and] it's our job to draw viewers in and further their imagination. Our way of visual storytelling is very old-fashioned and almost doesn't exist anymore on the Avenue." For the shop's pair of picture-frame windows, the visual team constructed "surrealist dreamscapes," Sauli says. One depicts MacKenzie-Childs' signature "lamp" mannequin (a figure with a whimsical lamp in the place of a head) as a woodcarver set in a charming Victorian scene. To get the atmosphere exactly right, Sauli hunted down vintage tools from local flea markets and auctions. The other window features two lamp ladies: one painting jewelry onto the other. Here, Sauli incorporated details such as hanging shadow boxes and decorative busts, and lit the space in shades of rose and pink.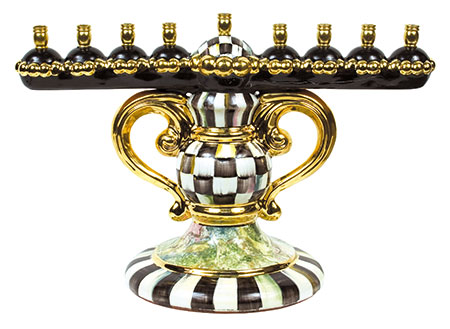 Courtly Check menorah

Considering Proctor and Sauli have been concocting the MacKenzie-Childs holiday motif for well over half a year, it is no wonder that now they're eager to enjoy their work alongside the company's dedicated fans. For Proctor that means scooping up a centerpiece for her Christmas table from the Evergreen line. As for Sauli, he'll be gazing back at passersby: "I gauge success by how many people are stopping by," he says. "That's what gives us energy to take it further each year."
20 W. 57th St., 212-570-6050; mackenzie-childs.com