To say that restaurateur and tango enthusiast Juan Fabbri thinks outside the box would be to presume he knows there is a box somewhere that most people are thinking inside of. His passion for the culture, art, and dance of his native Argentina seems to flow from him into his professional life in a way that few could even conceptualize, much less accomplish.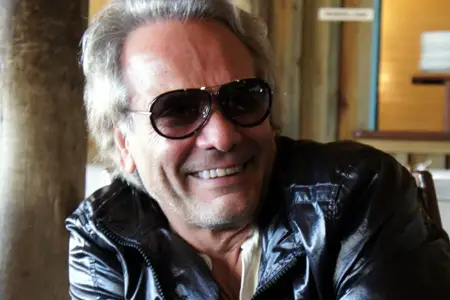 Of course, "tango enthusiast" is a pretty dramatic understatement of how enthusiastic Fabbri really is about the art of tango. In Buenos Aries, he owns the three largest tango venues in the country: Tango Porteño, Piazzolla Tango, and Esquina Carlos Gardel — all three are palatial, spare-no-expense masterpieces. The latter is also the namesake and inspiration behind the show performed here at Tango House in Manhattan, every night (except Mondays) at 8pm.
But wait, there's more – its upstairs counterpart, Malbec, is an anytime restaurant and wine bar as intimate and charming as Tango House is lively and electrifying. Both channel Argentina beautifully through decor flourishes by artist Cristian Pietrapiana, and the inspired cuisine of Executive Chef Rodrigo Sierio, who, during our interview, Fabbri called "a true artist of the Argentinean kitchen." He happens to be quite correct. Examples: The scallop crudo with avocado and the lomito sandwich with foie gras. A fantastic dinner before seeing a beautifully choreographed tango show is also an option via a $38 three-course pre-theatre menu available every day from 5:30-7pm.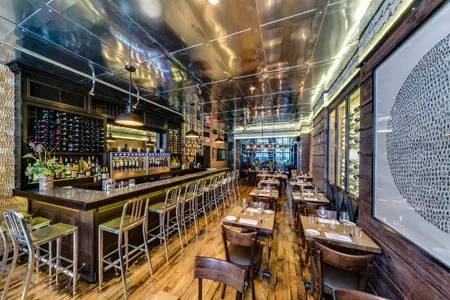 Malbec

Q. How long did it take to create Malbec and Tango House?
JF: As incredible it might sound, the process was very fast. From the first time I walked into the venue to the day we opened was exactly 9 months, like a baby. That includes everything, from conceptualization to opening night. When we started, the original project was actually very different but we changed the look significantly when we discovered [by accident] what was behind the walls. The original brick and rock that we found during demolition were incredible, and they'd been hidden for over 180 years! So we liberated them; now the walls can breathe, and you can really feel that rustic energy when you walk into Malbec and Tango House. It was a very pleasant surprise to find such beautiful brick and stone hidden there, and we were quite pleased to be able to incorporate them into the space so beautifully. The added decorations also help to infuse the space with Argentina's vibrant wine culture. You really feel yourself inside the Malbec spirit on the walls, in the artistic graffiti overhead, and in the warmth of the wood that surrounds the venue.
Q. How much of the wine do you select yourself?
JF: I only select a few of the wines; mostly the ones I like. The wine selection is the responsibility of Sebastian Koncurat, our Wine Director, and he is the one who put together our nearly 200-label, all-Argentinean wine list. We're the only bar and restaurant that has entirely Argentinean wines — but that's just one thing that makes us unique. There's really no other place like this in New York, a place where you can relax and have a drink, or see a show and have dinner, or get a quick nibble after work. We also happen to be the only New York theater that plays an Argentinean tango show every day.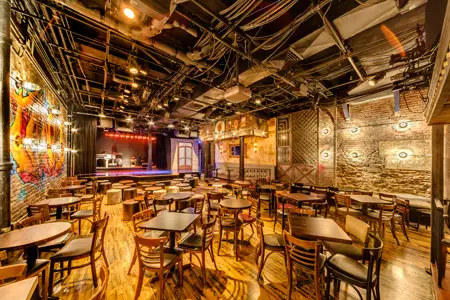 Tango House

Q. An article in the LA Times once called you "the foremost impresario of the tango." How did it become such a passion for you?
JF: That was more than a decade ago if I'm not wrong, back in 2000. There's been a lot of water under my bridge since then! But I'd say it starts with a passion, and I was lucky that my passion turned into a big business; and that gave me money and happiness, which is basically the ideal scenario. I do what I love and I make money from it—what's better than that? Nowadays, worldwide, I'm still the foremost impresario of the tango business, and that's a fact. In my country I own the three biggest tango show venues, two pay-TV channels — one devoted entirely to tango, and the other one focused on tourism. I've also been awarded 25 Martin Fierro Awards, which are like a local Grammy, and I've been nominated three times [2004/2007/2011] as Businessman of the Year in the Tourism, Pay-TV, and Entertainment categories. Suffice it to say, that experience is what I bring to Malbec and Tango House. As a NYC-based producer and owner of a lovely small theater, my mission now is to bring this city the best tango I've produced in my 20 years of experience. I like to think that I might not be the best, but for now I'm the only one doing something exactly like this; and when you're the only one, you're automatically the best!
---
Malbec Wine Bar & Restaurant / Tango House 428 Lafayette Street • 212-419-4645 • malbechouse.com