Collectors, connoisseurs, curators, and art aficionados who appreciate works on paper look forward annually to Master Drawings/New York in January. This event, an acclaimed part of the international art calendar (and anticipated just as eagerly as its European counterpart, Master Drawings/London), is a visual feast of highly sought-after art work-from water colors, oil sketches, pen-and-ink drawings, pencil renderings, old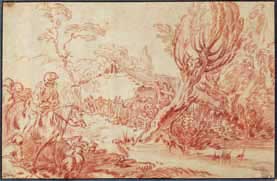 botanicals, and so on-all on paper. (The two dozen dealers who are part of this extravaganza do not show prints or photography.) Offerings include everything from incomparable 16th-century drawings to more modern, 21st-century pieces, with prices ranging from the low thousands to over the million-dollar mark.
Among the specialty dealers participating in MDNY is Monroe Warshaw of Kunstkabinett (showing at Kraushaar Galleries, 74 East 79th Street; 212-288-2558), who has focused on Old Master drawings for the last decade. While his specialty area is the highly sought-after and scarce Northern Drawings (early Netherlandish and German), Warshaw also deals in Italian and French works. Pictured here is a rare, early drawing by François Boucher (1703-1770), that shows Watteau's influence on the artist, evident in the willow tree and farm buildings.
All the dealers are on the Upper East Side, so strolling from venue to venue presents an opportunity for a pleasant promenade up Madison Avenue. The week of viewing begins with previews (by invitation) Friday evening, January 20th, and continues daily, open to the public, until Saturday, January 28th. For further information, 212-755-8500; masterdrawingsinnewyork.com. -RJK