Inspired by "Impossible Interviews" for Vanity Fair in the 1930s (think Greta Garbo and Calvin Coolidge or Sigmund Freud and Jean Harlow, for example, as pairs of such never-to-have-happened conversationalists), curators Harold Koda and Andrew Bolton of the Metropolitan Museum of Art's Costume Institute have, indeed, mounted an incredible dialogue between two iconic grande dames of the fashion world, who share an Italian heritage and feminist postures, and who used fashion to express complex philosophical paradigms—Elsa Schiaparelli and Miuccia Prada.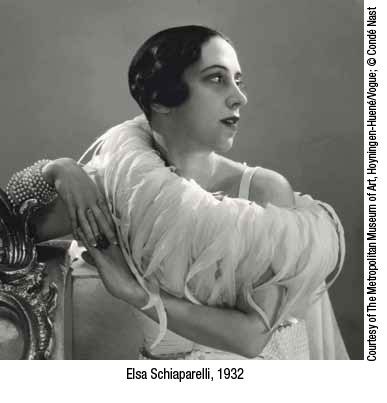 The late Elsa Schiaparelli (1890-1973, whose fashion house closed in 1954) was influenced heavily by Surrealists Salvador Dalí and Alberto Giacometti. Her clients included the likes of the over-the-top Mae West and the equally flamboyant Daisy Fellowes. The other half of the exchange belongs to the very-much-alive Prada (née Maria, and nicknamed Miu Miu in her youth), who almost-accidentally became a designer, after getting her degree in political science and later taking over her family's luxury leather goods business. She hit it big in the mid-'80s with her now-famous black nylon rucksacks and totes.
Despite some of the differences in their backgrounds, and possibly because of their interesting, intersecting similarities, it would, indeed, be revelatory to hear these two legends chat about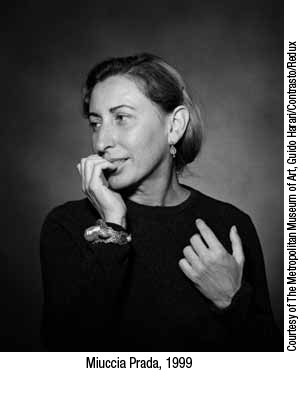 color, style, silhouette, and how each went about breaking traditional fashion's boundaries. And with some legerdemain from the master of celluloid fantasies, Baz Luhrmann, you can hear them "converse" as the curators imagine some new readings of the ladies' most innovative work. The galleries are rife with videos of simulated tête-à-têtes between these icons—Schiaparelli, who made (more or less) a hat out of a shoe, and Prada, who can make raiment out of anything you might dare her to tinker with: a potato sack, an umbrella, a strip of Luhrmann's celluloid.
In the museum's special exhibit galleries on the first floor (the Costume Institute itself is undergoing renovation, but traditionally, the spring Costume Institute show is usually not mounted there), the curators explore the parallel themes in the women's œvres through vastly different approaches. "Juxtaposing the work of Elsa Schiaparelli and Miuccia Prada allows us to explore how the past enlightens the present and how the present enlivens the past," notes Koda.
The exhibition features approximately 90 designs and 30 accessories by Schiaparelli from the late 1920s to the early '50s, and by Prada from the late '80s to the present. Drawn from the Costume Institute's collection and the P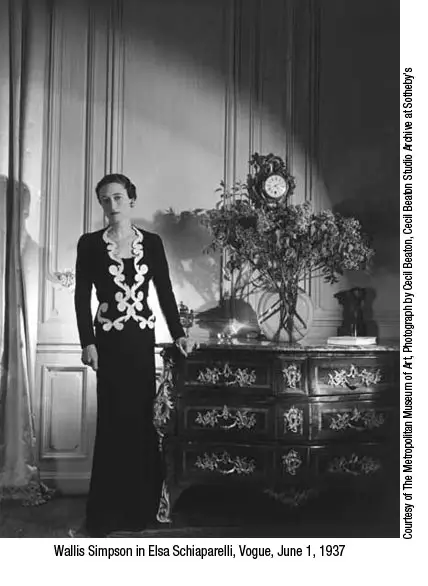 rada Archive, as well as from other institutions and private collections, signature objects by both designers are arranged in seven themed galleries beginning with "Waist Up/Waist Down," which examines Schiaparelli's use of decorative detailing as a response to "restaurant dressing" in the heyday of '30s café society, while showing Prada's below-the-waist focus (little anklet socks worn with high heels were probably first seen on her before the fashionistas embraced that strangely juxtaposed combo, which on Miu Miu, seemed so right) as a symbolic expression of modernity and femininity.
An accessories subsection of this gallery called "Neck Up/Knees Down" showcases Schiaparelli's renowned hats and Prada's amazing footwear, which continues to astonish with its science fiction, fanciful materialization, defying ambulation. "Ugly Chic" reveals how both women subvert ideals of beauty and glamour by playing with good and bad taste through color, prints, and textiles. "Hard Chic" explores the influence of uniforms and menswear to promote a minimal aesthetic that is intended to both deny and enhance femininity. "Naïf Chic" f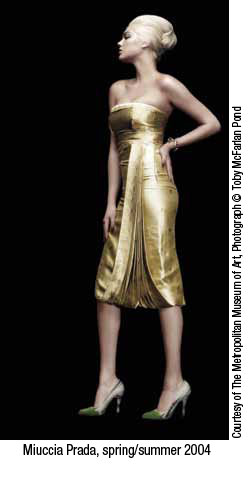 ocuses on Schiaparelli and Prada's adoption of a girlish sensibility to subvert expectations of age-appropriate dressing. "The Classical Body," which also incorporates "The Pagan Body," explores the designers' engagement with antiquity through the gaze of the late-18th and early-19th centuries. "The Exotic Body" delves into the influence of Eastern cultures through fabrics such as lamé, and silhouettes such as saris and sarongs. Lastly, "The Surreal Body" illustrates how both women affect contemporary images of the female body through Surrealistic practices such as displacement, playing with scale, and blurring the boundaries between reality and illusion, as well as between the natural and the artificial.
In a talk in Milan earlier this year, in preparation for the upcoming exhibit, Harold Koda, Curator in Charge of The Costume Institute, recounted an incident that was told to him by the legendary Givenchy: "I remember Givenchy telling me about escorting Mme. Schiaparelli to the Opéra and noticing that her shoes didn't match. At intermission he mentioned this, and she responded tartly, 'Would you know chic if it hit you on the head?'"
After viewing this exhibit, you will know the cutting edge of chic.
[ the details ]
Metropolitan Museum of Art
212-535-7710; metmuseum.org/impossibleconversations.
A book by Andrew Bolton and Harold Koda accompanies the exhibition.