Gold mica powder mixed with gooey, viscous food-packaging adhesive masquerades as lavish, silken embroidery thread on luxe velvet pillows that will bedazzle the audience in the new production of Anna Bolena. Burlap, blue insulation foam, and wood become 200-year-old trees (which will be covered with faux s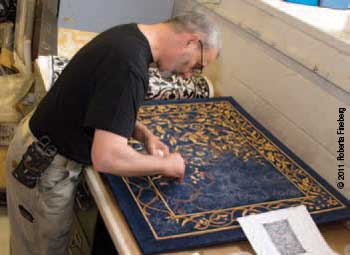 now-but, if they were verdant arbors of springtime, they might have graceful leaves crafted from paper, silk, muslin, tissue paper, and Lord-only-knows-what-else). The accusatory finger of the notorious statue in Don Giovanni is carved from more insulation foam, covered in gauze, and then painted to resemble stone...or another time, perhaps the same combo will be made to look like marble or terra cotta.
"We can make plastic look like marble, steel look like wood, and wood look like steel," quips Douglas Lebrecht, Chargeman Scenic Artist of the Met's scenic design shop, adding that this kind of alchemy is all in a day's work. He and Nicholas Doumanoff, Head of Construction, reign supreme at the Metropolitan Opera's scenic and construction shops, enchanted workshops where sleight of hand and visual trickery have been refined to an art form. These are the ateliers where, during the course of the busy season, when the house is in full operational mode, over a hundred painters, carpenters, scenic artists, and magicians ply their sundry trades (two major unions work within the shops), and during the off season, when things are somewhat quieter, two or three dozen workers toil in the just-under 15,000 square feet of the combined shops.
The Met will stage 26 operas this 2011-12 season, and that translates into an enormous juggling act for the powers that be. At any given moment, about five operas are in-house and that means that somewhere, somehow, the contents of about 45 to 60 shipping containers (yes, those behemoth, 40-foot-long containers that cross the ocean on cargo ships) have to find resting perches within the confines of the opera house. Not that this is a petite opera house-the gross square footage of the Met is about 800,000, but parsing the house's grandeur yields different numbers: 43,000 SF backstage at stage level; about 20,300 SF in the side stages; 16,400 SF in the Level C, three floors below the stage.
It becomes clear that this grande dame could use more stowage: A Bronx scenic shop yields another 9,200 SF; a second Bronx facility for both carpentry and scenic construction provides 34,000 SF; and a warehouse on 129th Street has over 300,000 cubic feet of storage. And get this: The Met maintains 1,500 sea containers in a storage yard-providing 4.3 million cubic feet of space! Imagine keeping track of every flat, scrim, window, door, staircase, chandelier, and so on, and you get the picture that staging an opera isn't only about Juan Diego Flórez's mind-boggling nine high C's. Lebrecht underscores that everything they build must break down in all the right places to fit into containers or on Level C, where nothing can soar above 30 feet, the ceiling's height.
When a production is a joint undertaking of two opera houses, more headache-inducing complications arise, since the sets must accommodate the confines of two dissimilar houses; two recent productions that were jointly produced were the 2009-10 Tosca, designed by Luc Bondy, staged with Teatro alla Scala in Milan, and Philip Glass' Satyagraha (2007-08), a venture with the English National Opera. "Flexibility" is a big word around the Met.
This elasticity is de rigueur when it comes to the earliest stages of a project. The house is always working on several years' worth of operas at any given moment: For productions that are on the roster a few seasons down the road, the team may be refining the designer's rough sketches and bring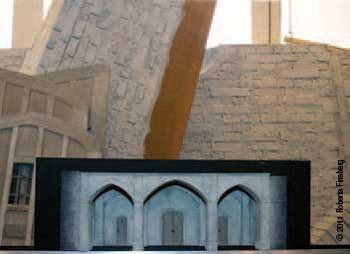 ing samples of textures, colors, patterns to life, for approval-and much of this collaboration must be done long-distance. Throughout the shops, there are varying stages of progress visible on many different operas, and all is documented painstakingly, in notes and pictures, in massive loose-leaf binders.
The skillful artists who work in the scenic shop are also in charge of oddball things like "aging" a costume-meaning loosening the buttonholes, perhaps ripping open a seam or two, creating instant wear and tear by shading the fabric and darkening fold lines, and so on. There is virtually no challenge that these intrepid, gifted artists cannot conquer. So next time you are at the opera, bring your field glasses and inspect the set-the marble on the wall, the veined mirrors, the period furniture, the gilded balconies-you'll more deeply appreciate the genius that has gone into transforming New York 2011 into a different century, another country, disparate geography...well, it's opera, after all.
[ the details ]
To view the Met's shops behind-the-scenes, the Metropolitan Opera Guild stages "Backstage Tours" and they can be arranged by calling 212-769-7028; info is also online at metoperafamily.org/metopera/about/tour/. Anticipating pleasing a crowd, the Met includes a panoply of many well-known opera props in the tour, so it's a really fun excursion to take in when visiting New York City. The opera's season begins September 26 and ends May 12, and there is still plenty of opportunity to get single tickets, mini-subscriptions, and full subscriptions. Tickets range from $25 to $440. The Met also has reduced-rate tickets available through the Agnes Varis and Karl Leichtman Rush Ticket Program, which provides $100 orchestra seats (two per person) at a discounted $20 each, available two hours before performances, Monday through Thursday evenings. Additionally, there are reduced-price tickets for selected performances for full-time students. For more information about tickets visit, metopera.org.
This season's roster includes seven new productions: Anna Bolena (see page 53), Don Giovanni, Faust, The Enchanted Island, Manon, and the last two installments of the new Ring Cycle, Siegfried and Götterdämmerung. Returning favorites, among the nearly 20 operas in rotation throughout the season, include: Il Barbiere di Siviglia, Madama Butterfly, Tosca, La Traviata, and La Bohème.