Among the season's choices: a broadly romantic Le Nozze di Figaro (James Levine conducting) and two vastly different Macbeths: Verdi's demanding Macbetto and Shostakovich's daring Lady Macbeth of Mtsensk.
---
If all goes as hoped, the Metropolitan Opera opens its season on Sept. 22 with Le Nozze di Figaro, a.k.a. The Marriage of Figaro. But this cannot be just another Mozartian marriage at Lincoln Center.
Richard Eyre, the British mastermind who helped bring Mary Poppins to London and Broadway in 2004, has decided to take certain liberties with Mozart's eternal comedy of errors—and eros. The convoluted plot now unfolds in a 19th-century manor house in Seville, sometime during what the Met calls "the gilded age of the late 1920s." Rob Howell has designed a revolving set which, the company promises, will "keep the story bubbling along." The Met, which has been performing Figaro in a conventional manner since 1894, has decided not to go for Baroque this year. Forget palatial 18th-century ritual and conservative elegance.
Although the new Figaro may look unfamiliar, it won't sound that way. After all, James Levine is presiding in the pit, for 10 performances through October 25. And therein lie several tales.
Levine, now 71 (still relatively young as conductors go), conducted Figaro a record 67 times before the current season, the first time back in 1985. An unrepentant workaholic, he has led a total of 2,448 opera presentations here so far, not to mention varied engagements in concerts. On numerous occasions, he also has played the piano for recitals and chamber-music ventures. Serious medical problems forced his withdrawal from Met action a few years ago, and many feared his career had ended. But, manning a unique motorized wheelchair, he managed a triumphant comeback in May, 2013, his energy and idealism apparently—almost miraculously—unimpaired.
Aficionados who feel Mozart must be performed these days in a semblance of the authentic period manner—that is, with intimacy, delicacy and linear ornamentation of prime importance—may find Levine's Mozart broadly romantic in nature, generous in emotive character and old-fashioned in style. For an opera house that accommodates nearly 4,000, however, Levine's relative reliance on grandeur makes its own musical sense. And, it should be remembered, grandeur need not preclude sensitivity.
Peter Gelb, Levine's nominal boss at the Met, has said that the maestro "may be the greatest opera conductor in history." Even without in-house hyperbole, Levine's place in the musical pantheon is secure.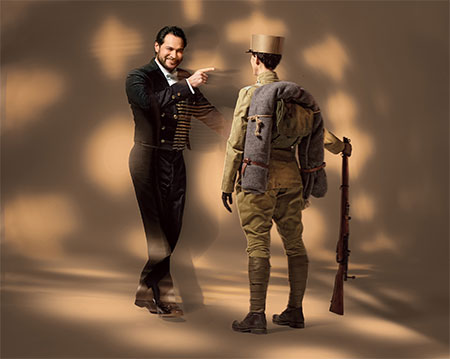 Ildar Abdrazakov in Mozart's Le Nozze di Figaro. Photo: Anne Deniau/Metropolitan Opera

The cast for Figaro—the Met blurb labels it "dazzling"—features Ildar Abdrazakov as the basso-protagonist who used to function as the clever barber of Seville created by Beaumarchais (and recreated by Rossini). Marlis Petersen impersonates his wily bride, Susanna, with Peter Mattei as his quasi-antagonist, the libidinous Count Almaviva. Mezzo-soprano Isabel Leonard dons the traditional trousers of the roguish adolescent Cherubino. The most surprising principal is Marina Poplavskaya, an often temperamental Russian soprano possibly cast against type as the gently nostalgic Countess Almaviva.
Shakespeare's Macbeth returns to the Met this fall in two drastically different incarnations, the first direct and the second quite distant. Verdi's Macbetto, which opens on September 24, is, essentially, a melodious simplification of the dramatic tragedy. Dmitri Shostakovich's Lady Macbeth of Mtsensk, which returns on November 10, is a relatively modern, daringly abrasive variation on the epochal Shakespearean theme: a desperately assertive woman, driven to murder.
Verdi worshipped Shakespeare, and the finest fruit of the composer's worship involved the ultimate masterpieces of his old age: Otello (1887) and Falstaff (1893). Sadly, he did not live to attempt a setting of King Lear. Compared to these profoundly complex challenges, Macbetto, written in 1847, seems basically straightforward and essentially conventional. Still, the inherent sparks of genius are stunning, especially in the musical portraiture of Lady Macbeth.

Anna Netrebko as Lady Macbeth in Verdi's Macbetto. Ken Howard/Metropolitan Opera

Verdi makes her brood, languish and exult with compelling, even compulsive intensity. In contrast, the other characters seem vaguely stereotypical, no matter how beautiful their vocal lines, and the orchestra follows more than it leads. Still, Lady Macbeth dominates every scene.
The fiercely demanding role is serenely lyrical one moment, brutally dramatic the next. It requires the dark tones of a mezzo-soprano, the brilliant top notes of a heroic soprano and, even more unlikely, the feverish bravado of a coloratura specialist. A successful interpreter must command a ravishing pianissimo at one extreme, a gushing fortissimo at the other. Singers who succeed in every aspect are rare.
The obvious raison d'être for the Met revival is the international prima-donna du jour, Anna Netrebko of Krasnodar, Russia. She has graduated in recent seasons from light soubrette specialties to more serious, more demanding trials, none as risky as this one. Reports from Munich, where she tried out the part during the summer festival, suggest a genuine triumph, especially in the eerie Sleepwalking Scene. We shall hear...
The Met surrounds its star with a vital cast led by the Serbian baritone Željko Lucic in the title role, with René Pape as Banquo and Joseph Calleja as Macduff. Fabio Luisi conducts, and the engrossing semi-abstract production, first seen in 2007, is the work of Adrian Noble.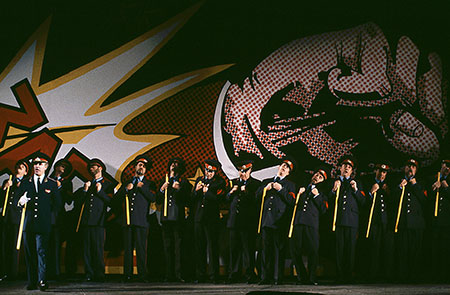 A scene from Shostakovich's Lady Macbeth of Mtsensk. Winnie Klotz/Metropolitan Opera

Lady Macbeth of Mtsensk (1934) is based on a daring novel by Nikolai Leskov that explores the provincialism and the oppression of women in 19th-century European society, incorporating elements of both expressionism and verismo in the process. Initially successful, the opera eventually prompted the composer's condemnation by the Communist Party in Moscow. Denounced by none less than Joseph Stalin, Shostakovich's masterwork was banned for nearly 30 years.
Much of the rejection entailed the overtly sexual text and tone of the piece, and shock was expressed beyond the Soviet Union. In 1935, a writer for the New York Sun dismissed the score as "pornophony." Even Igor Stravinsky disapproved, dismissing Lady Macbeth of Mtsensk as "lamentably provincial." The composer tried in vain to defend his work in general, and his portrayal of an "immoral" heroine in particular, on social grounds, citing the injustices of pre-revolutionary Russia.
The striking Met production, staged by Graham Vick and first admired in 1994, serves as a stellar vehicle for the magnetic Dutch soprano Eva-Maria Westbroek. The strong American tenor Brandon Jovanovich plays her lover and co-conspirator, Sergei. James Conlon, who had led the company premiere, conducts yet again. It bodes well.
---
Pulitzer Prize winner Martin Bernheimer covers music in New York for the Financial Times. His last piece in Promenade was on summer music in the city.