Editions De Parfum Frédéric Malle
Tucked away in the midst of the bustling West Village is a sleek, intimate and unexpected oasis for…your nose. As if you didn't have enough reasons to go strolling in this historic neighborhood, French perfume mastermind Frédéric Malle now gives you one more reason to start sniffing around downtown.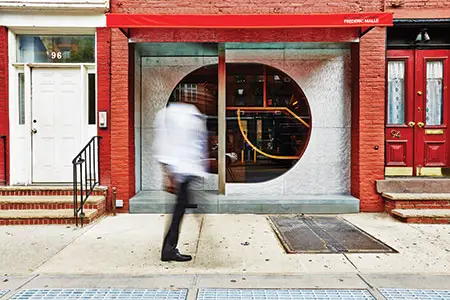 What's unique about this, Malle's second Editions de Parfums shop in Manhattan, is that it's, well, completely unique. In much the same way that Malle gives attention and credit to his perfumers, Malle has decided to give his architects carte blanche when it comes to designing his latest shops. He only has three signature requirements—that each shop include portraits of the perfumers whose work is on display, a refrigerated cabinet for storing fragrances and a "smelling chamber" for testing them.
The new space, designed by Steven Holl, incorporates a series of semi-circles, from mod front window to cabinets to the cozy, private back garden. Dark walnut shelving stands out against an intriguing silver, textured aluminum foam, which covers the walls and ceiling. (The material was created in Canada, and this is its first use in the U.S.)
One final point, if you're new to the city—don't glance at a map in haste, when headed here, lest you inadvertently wind up waaaay west on Greenwich Street (a north-south corridor near the Hudson, stretching from the Meatpacking District down to Battery Park) rather than Greenwich Avenue (a shorter, quaint stretch that sits diagonally between Sixth and Eighth Avenues.) Newcomers (and locals, even) mix 'em up all the time. 94 Greenwich Avenue (W. 12th/Jane Streets); 646-666-0330; fredericmalle.com
---
Berluti
To get a sense of the breathtaking artistry that goes into a Berluti shoe, one simply has to time travel back to 1895, when Italian founder Alessandro Berluti made his very first shoe. Well, the first shoe that bore his name, that is.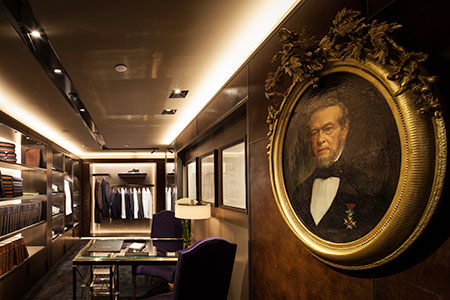 The 30-year-old Italian artisan—who started out carving horse-drawn carriages from wood in Senigallia, a tiny Italian port town on the Adriatic—had made his way to Paris, where he'd honed his carving skills on something a little smaller…wooden lasts for elegant shoes. That year he created an unusual lace-up for men, with a single piece of leather and no visible stitching. Picture the force and bull nose of a locomotive, but the supple sheen of polished mahogany. He called it the Alessandro.
That shoe put this refined men's brand on the map. Today it's not only known for extraordinary shoes (designed for everyone from the Duke of Windsor to Dean Martin) but also luxe leather goods, smart ready-to-wear (introduced in 2012) and bespoke clothing, all of which you'll find at Berluti's new Manhattan maison. Here, old world charm meets contemporary edge, in a space reminiscent of a sumptuous private club, with historic gold gilt framed portraits, French Art Nouveau porcelain, modern graphic artwork and big comfy pop-yellow club chairs.
A pair of brass binoculars peer down on a serene pair of loafers, and you'll no doubt want to do the same—the variety of burnished shades is remarkable. And don't forget the Patina Bar and Tattoo Service, which offers a selection of tats to be inked onto a pair of lace-ups. Classic, and very, very cool. 677 Madison Avenue (61st/62nd Streets); 212-439-6400; berluti.com