For those used to visiting John Varvatos at his downtown digs — his shop on Bowery resides inside what used to be CBGB, the famed punk rock club (or infamous, if you ever used the restrooms there back in the day) — you'll be stunned by the pristine grandeur and handsome ambience of his new uptown shop on Madison.
Varvatos, as his menswear collections attest, is a major lover of rock 'n' roll, and so when he took over CBGB several years ago, he took great pains to keep the edgy, raw tone of the place intact. (His other New York shops, in SoHo and East Hampton, each have their own personal feel). Here, on the tony Upper East Side, the shop still bears the "rocker-cum-gentleman" vibe that Varvatos is known for, but the emphasis is on the gent.
The place is reminiscent of a posh, uptown pad, with white oak herringbone wood floors, crown moldings, and antiques like the refurbished 19th-century Parisian vitrine. The fellow who lives here is still a music lover, to be sure—on the walls you'll find photos of jazz and R&B legends from the last 50 years, caught during live performances mid-note, or in rarely seen intimate moments. Limited-edition prints, signed by the photographers, are even available for purchase, along with handcrafted record consoles from Symbol Audio.
As are the clothes, of course—tailored pieces, sportswear, a made-to-measure program, jewelry, watches, and his must-have footwear (the leather ankle boots and Converse collabs are sweet). Shop some, then kick back on the sumptuous flannel sofa and take in the artwork. 765 Madison Avenue (East 65th/66th Streets.); 212-760-2414; johnvarvatos.com
---
Stumbling upon Dover Street Market in London is the closest you'll get to feeling like Alice slipping down a (very stylish) rabbit hole. Wonderland is right — and there's no place quite like it. Oh wait, now there is — in Murray Hill, of all places. (Also in Tokyo, but the crosstown commute is so much simpler.)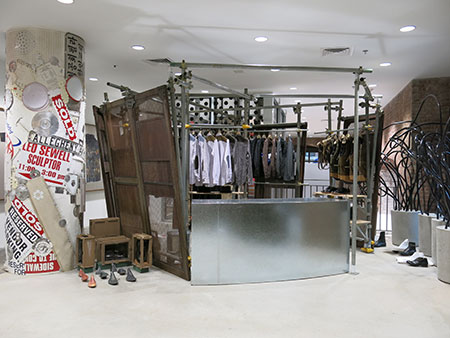 Japanese designer Rei Kawakubo, of Commes des Garçons, opened Dover Street Market New York last December, offering New Yorkers the heady, soooo-much-more-than-retail space that is DSM. The emporium is part fashion boutique (you'll find Kawakubo's own CdG, of course, plus selections from Prada, Saint Laurent, Rick Owens, street-fueled Supreme and many, many more, all high-end and über-cutting-edge), part art installation, part fantasy. For the latter, consider the three whimsical pillars that pierce six of the seven floors here—one a column of wooden boxes, another of recycled art, the third a wonder of Technicolor knitting, entitled "Everlasting Gobstopper (alcohol inducing)." The allusion to the gobstopper maker is apt, for this place is like Willy Wonka's factory…with hangers.
That is, there's something a bit subversive about the place.
Like the intermingling of menswear and womenswear (good luck, in some cases, knowing the difference). Here, such distinctions are inconsequential. Wear what you want, Kawakubo would say.
An event space offers collections and installations that rotate every few months, which only increases your need to return. That, and the sweets from Paris-based Rose Bakery on the ground floor. They may not be gobstoppers, but they're a lot easier on the jaw. 160 Lexington Avenue (East 30th/31st Streets); 646-837-7750; newyork.doverstreetmarket.com