There's something oddly cozy about the new Badgley Mischka flagship, which just opened on the Upper East Side. Oddly cozy, because "cozy" is a word generally reserved for more low-brow affairs (a rustic Maine lodge, say, or a ridiculously tiny Greenwich Village studio). But Mark Badgley and James Mischka have managed to infuse this space with an ambience as heart-warming as it is haute.

No surprise, really. The winsome duo—partners in both biz and life—has long wooed starlets and socialites with red-carpet concoctions that never skimp on sparkle, but somehow never look like they're trying too hard.

The 3,500-square-foot space, once occupied by Pucci, is what the designers call a "mansionette." And it does feel like you're entering someone's home—with white reclaimed wood floors, high ceilings and an ornate chandelier. A front parlor houses "the collection," their more affordable (three figures) line of skirts, jackets, day dresses and evening gowns. An airy salon in back features couture (add a zero)—one-of-a-kind gowns dripping in crystals and sequins, hanging on rods with lots of elbow room between each dress, as if they need space to breathe. Upstairs, if you're lucky (and VIP-ish), you'll find a private room where you might browse with the likes of Carmen Electra or Cornelia Guest.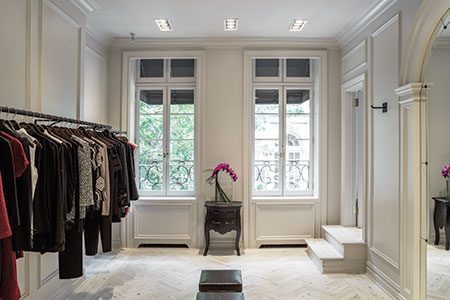 Jewelry, handbags, watches, sunglasses and more fill a central foyer and bridal dresses are down on the garden level. In any room, you'll find welcoming (not snobbish) staff.

Barbie, if memory serves, had a townhouse. If the doll was real, with perhaps one marriage and a fab tell-all memoir already under her belt, well, then—this would be her place.
24 East 64th St. (between Madison and Fifth), 212-644-4934, badgleymischka.com
---
Alexander McQueen
When the Swiss psychiatrist Hermann Rorschach dreamed up his famed inkblot test, he spent a lot of time asking the same question: So…what do YOU see? That question comes to mind as soon as you enter the new Alexander McQueen flagship, which abandoned its former Meatpacking District address and reopened on the Upper East Side earlier this fall.

Rorschach's inkblots are just one of the shop's unusual inspirations. The clothing here is dazzling, sure, but don't leave till you've checked out the walls. In the ornate plaster moldings you'll see patterns of flowers, shells, skulls and more, splayed out like inkblots. Gaze long enough, and you may see other influences, from the work of Barcelona architect Antonio Gaudí to the creepily skeletal images of surrealist H.R. Giger. As creative director Sarah Burton said in a statement, "It's very McQueen to see something from a distance and think it's one thing and then to look up close and discover something else."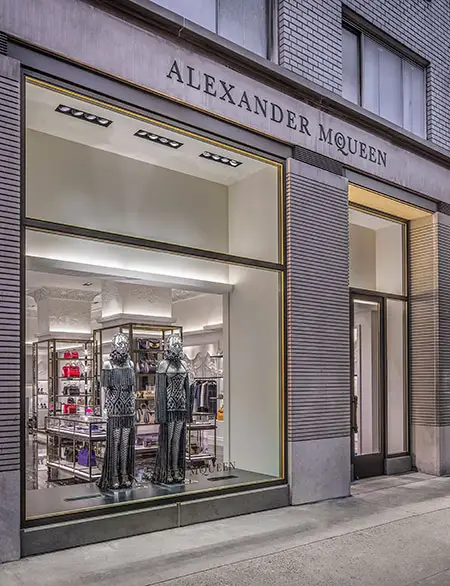 It's also very McQueen to flip a McQueenism on its head. So step BACK and take in the overall shape of the ornate panels, and you'll spot something unexpected: the familiar swoop of the designer's radical and legendary "armadillo shoes," with their spiky heels and bulbous, hooflike toes.

Speaking of shoes, there are plenty on display—spike heeled, buckled, gold gilt—along with shelves of handbags, jewelry and racks of clothes (women's and menswear).

Rorschach and McQueen share an unfortunate twist of fate—both died too soon. (The psychiatrist, of appendicitis, at 37; the designer, after committing suicide, at 40.) But their work lives on, and this shop, at least, offers a glimpse not only of the McQueen aesthetic, but the fervent mind behind it.
747 Madison Avenue (near E. 65th Street), 212-645-1797, alexandermcqueen.com