The Paramount, a landmarked hotel in the heart of Gotham's pulsating Theatre District, recently unveiled its new Paramount Bar & Grill, and it's certainly worth a trip to Times Square for dinner pre-theatre; and moreover, it's even worth a trip out of your way, even if you are not going to the theatre.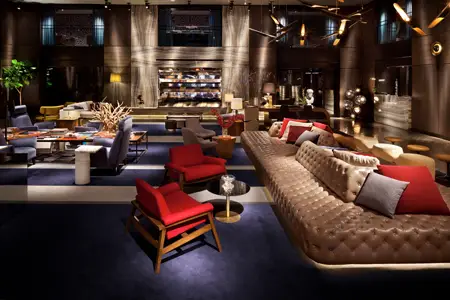 The renovated lobby of the Paramount Hotel. Photo: Jesse David Harris

In addition to the re-imagined restaurant, the hotel's $40-million-dollar renovation includes a redesigned Corso Coffee bar, renovated guests rooms and suites (597 of them!), a completely updated health and fitness facility, a cool lobby bookshop/amenities boutique, and the jewel: a towering two-story lobby redo. Inspired by prolific theatre architect Thomas W. Lamb's original vision for the hotel -- which mirrored his grand, lavishly decorated theatres, many of which featured over-size, fantastical elements and dramatic light fixtures -- the creative team conceptualized a modern-day lobby playground meant for socializing and taking in the sights. Dark woods, sculptural chandeliers, and richly textured furniture tricked out in rich shades of azure, tones of popping scarlet and vermillion, and accented with eye-pleasing neutrals, all combine to create the fantasy of the lobby-living room. Ultimately, the redo will include the reopening of the Billy Rose Diamond Horseshoe saloon in the fall, following a 61-year hiatus.
Located on 46th Street between 7th and 8th Avenues, the historic hotel is just steps away from Times Square and Restaurant Row. It is one of a very few hotels designed by Lamb, and with this modernization, its design and comfort level pay tribute to its 1928 origins and Lamb's personal concepts and visions.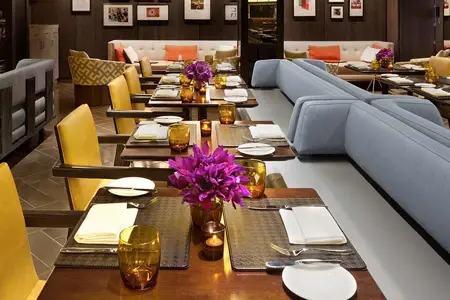 I recently gave the new restaurant a test drive and can report it was a true treat. Acclaimed Chef Jason Kallert helms the kitchen. He has a solid background, having worked at the iconic Tavern on the Green and at The New York Times' four-star-anointed Le Cirque. Kallert brings his imaginative interpretation of classic American comfort food, taken to a new level, with a twist of modern refinement. Additionally, sprinkled throughout the menu are many steakhouse-oriented favorites, but with a modern, edgy twist. Breakfast, lunch, dinner, and pre-theatre menus are varied, featuring a selection of carefully curated appetizers, salads, sandwiches, entrees, and a luscious raw bar that is sure to delight food enthusiasts. Do not pass up the shrimp cocktail. Sounds simple enough, right? Well, the four shrimp in this cocktail are the size of European countries; I've never seen such grand crustaceans. I actually took two shrimp home with me! They are from Panama and are juicy, tender, and succulent.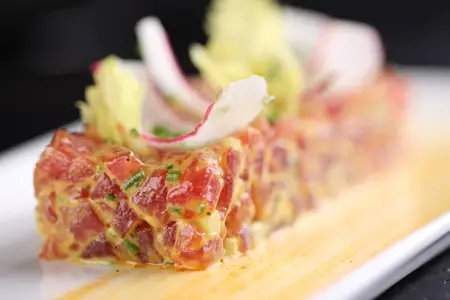 Tuna tartare. Photo: Melissa Hom

The restaurant offers a well-edited selection of entrees that celebrates the flavor profiles of modern American cuisine. Serving lunch and dinner daily, the Bar & Grill's appetizers and first course offerings range from freshly-made curried tuna tartare with radish, celery, and saffron; and creamy tomato soup topped with grilled cheese croutons to Serrano ham with pickled vegetables and aged Parmesan; and a classic wedge salad with Maytag blue and maple-glazed bacon. The chopped salad is a real treat, as well, and so oversize, you'll probably want to take some of it home, as well. Kallert has also perfected the traditional meatball by using beef, pork, and veal and serving them with a piquant tomato sauce and aged white cheddar.
Seafood options include a flaky Atlantic salmon, accompanied by slow-roasted tomatoes and eggplant and dressed with roasted tomato sauce and basil oil; a delicately poached lobster roll, mixed with chive mayo and butter, and served with artisanal, homemade chips; or a perfectly grilled whole branzino, resplendent on a bed of the most delicious roasted fennel and old-style salsa verde; this is a Kallert signature dish. I took that home, too, even though it was my date's dish! (Gee, do you get the idea that portions are large here?) I also cannot recommend the steak highly enough. Yes, it's "just" a steak, but it's served with the most tasty roesti potatoes, and I added a side of savory caramelized, glazed carrots.
New Yorkers and guests alike also can also enjoy an assortment of sandwiches, which are served on Pain d'Avignon onion brioche buns and baguettes. Options include a deluxe beef burger made with the "1946 blend" of brisket and dry-aged meats and served with smoked gouda cheese and fries; old-school chicken salad with herb mayo, garnished with Boston lettuce on multi-grain bread; and a vegetarian-friendly Fontina grill, comprising roasted tomatoes, basil puree, and sourdough crust . For a classic taste of home, diners can tuck into Kallert's hallmark chicken pot pie, made fresh daily with Bell & Evans chicken, leeks, and mushrooms, all swathed in a flaky pastry crust.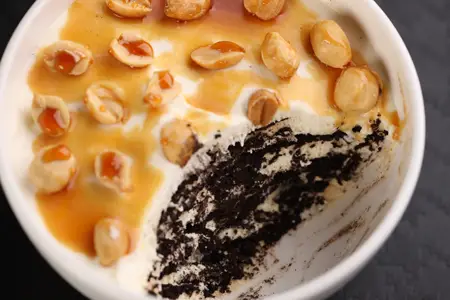 Icebox cake. Photo: Melissa Hom

And speaking of things with crusts: Dessert! Hands down, the one to have (yes have 'em all, if you must!), but the one to not miss out on is the shades-of-yesteryear icebox cake. Granny made it, mom made it, Great Auntie Amanda made it...and now the Paramount makes it! It is a throwback to comfort food with a capital C. Maybe not too many chefs indulge themselves to develop their own recipes for icebox cake, given that it "only" icebox cake and not a confectionery daydream, but it sure is haute cuisine here! The classic recipe of alternating layers of crispy wafers and heavy cream take on a fresh face at the Paramount, when served up in no-nonsense, white pottery bowls, and topped off with a salted caramel and peanut sauce. Share it and you won't feel too guilty.

The 2,500-square-foot restaurant encompasses an 86-seat dining room and a 20-seat full-service bar and lounge, offering an extensive wine list and classic-American craft cocktails. 235 W. 46th St., 212-827-4116; www.paramountbarandgrill.com