Anarchism, rebellion, and free-speech, expressed with a healthy dose of rock, are only some of the characteristics of the punk movement from the late 70s. Whether you think punk is alive or dead, fashion is refusing to let it go. For starters, the 2013 Punk: Chaos to Couture exhibit at the Met Costume Institute gave us a taste of the origins of punk, and the most acclaimed expressions of this style by major fashion designers. But you sure don't want to stay behind! That's why we have put together a chic compilation of luxurious items that have as much punk as they have attitude embedded in them.
After seeing this Luxe List you might want to give a chance to graffiti-esque prints, and what look like DIY frocks but are, in fact, romantic dresses with a subversive style. Studded accessories are easy add-ons to any look, especially in the form of shoes and bags.
And chains never looked so chic paired with pearls and safety pins, or even in the form of clothes. You know, a touch of 'wrong' usually makes it good!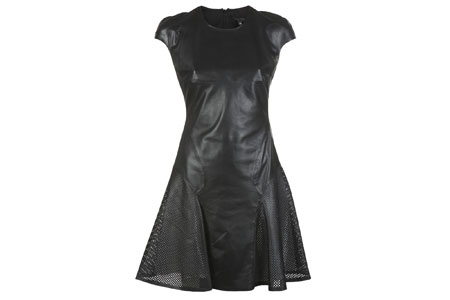 This über-chic version of a punk garbage bag dress by Ohne Titel flatters almost all body types, and has the right amount of punk edge. Made of lamb leather and perforated leather. $995. Owen, 809 Washington Street; 212-524-9770; owennyc.com
---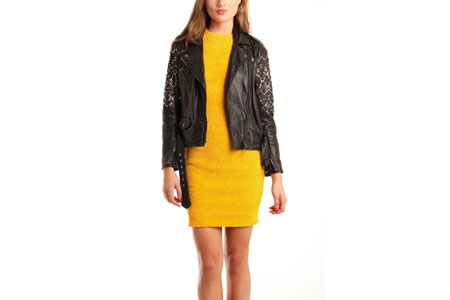 A rhinestone-embroidered leather jacket by 3.1 Phillip Lim brought the necessary amount of glamour to the ever-classic motorcycle jacket. Details like the lacing on the sides make it a total badass splurge. $1495. Blue & Cream, 1 East 1st Street; 646-360-3768; blueandcream.com
---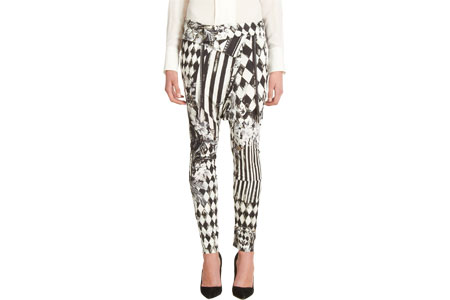 It's clear that these black & white printed Balmain pants carry a handful of punk traits. What you don't know is that with this satin stretch jersey harem pants you'll be as comfortable as walking in pajamas. $1995. Barneys New York, 660 Madison Avenue; 212- 826-8900; barneys.com
---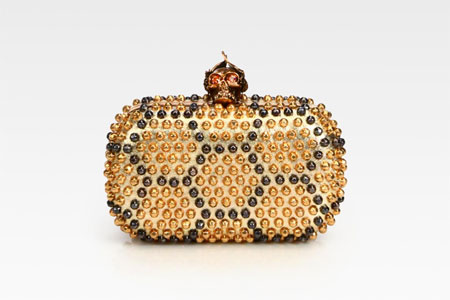 We know that the skull is one of Alexander McQueen trademarks. What we didn't know was that designer Sarah Burton could blend the romance of a honeycomb motive in a studded clutch, and have such a rocking result. $1995. Saks Fifth Avenue, 611 Fifth Avenue; 212-753-4000; saksfifthavenue.com
---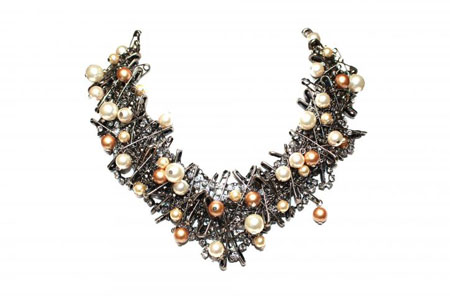 Tom Binns might as well take the name of king of statement jewelry. His bewildering take on punk in the form of a chain-pearls-and-safety-pins collection is as feminine as it is defiant. $1615. Tom Binns, 41 Perry Street; 917-475-1412; tombinnsdesign.com
---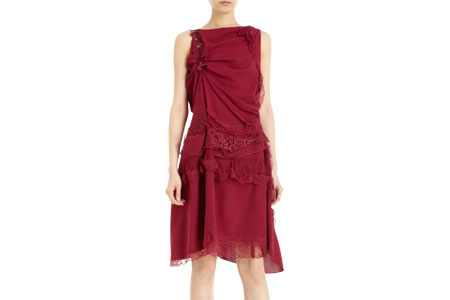 This Nina Ricci draped lace panel dress in maroon silk crepe has the perfect amount of ladylike qualities, with an unexpected, asymmetric rush that takes the cocktail frock to another level of chic. $3190. Barneys New York, 660 Madison Avenue; 212- 826-8900; barneys.com
---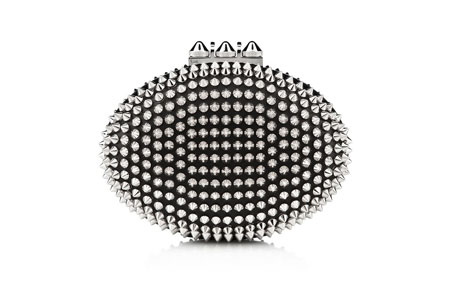 Not only can you take this black studded Christian Louboutin Mina clutch on your hand when attending a gala event, its chain-strap allows the clutch to transcend accordingly to daily, urban looks. Wait to see it on one too many celebrity hands. $1895. Christian Louboutin; 965 Madison Avenue; 212-396-1885; us.christianlouboutin.com
---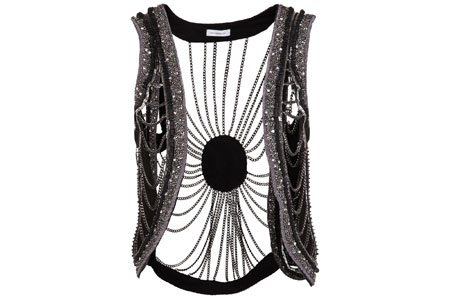 This rock-star Faith Connection vest is not only 90% trimmed with chain-links, its cotton structure is also beaded with silver, white, and black crystals and sequins, so that there's no chance anything in the room will outshine it. $860. Curve, 83 Mercer Street; 212-966-3632; shopcurve.com
---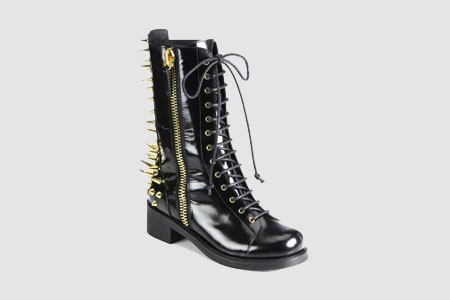 Isn't a fashion exhibition enough reason to make you see spikes and combat boot with new eyes? Leave it to Giuseppe Zanotti to create these street-savvy shinny boots. $2025. Saks Fifth Avenue, 611 Fifth Avenue; 212-753-4000; saksfifthavenue.com
---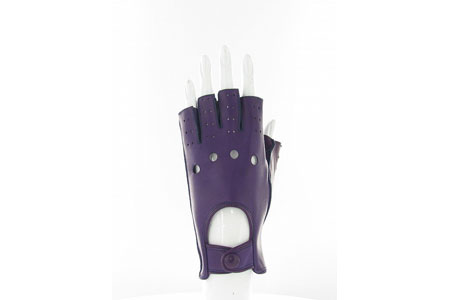 We know summer is coming up, but that shouldn't be a reason for you to stop wearing leather. In fact, these driving half-fingers gloves by Sermoneta will make for a perfectly subtle punk accessory. $90. Sermoneta Gloves, 609 Madison Avenue; 212-319-5946; sermonetagloves.com