"Kindness is always fashionable" is, indeed, the motto by which designer Rachel Roy lives. She can just as easily boast of A-list celebrity clientele who covet her clothing: Loyal customers include Michelle Obama, Oprah Winfrey, Iman, Diane Sawyer, Gwyneth Paltrow, Halle Berry, and Jessica Chastain. But at the same time, Roy does not forget her modest upbringing and is committed to giving back. Celebrating her 10th year in business, the 40-year-old notes she has worked with Piece & Co., an organization that connects prestigious retail brands with artisans in the developing world.
Promenade recently caught up with the glamorous—and very spiritual—designer and had an opportunity to chat about her life and lines, Rachel Roy and RACHEL Rachel Roy, and the newest addition to her RR line, intimates.
Q: Have you always wanted to be a fashion designer?
A: When I was young, I had a back-to-school shopping allowance of $200 and I discovered it didn't go too far. My mom suggested I become a buyer. I was surprised to learn that there was a person who actually chose what was in the store! I felt that I could do a better job, that I knew how to deliver more style for the dollar.
Q: Were there other influences on your career choice?
A: I started buying Vogue and I loved watching old movies on TV. We were allowed to watch only black-and-white movies and the Nature Channel, and both influenced me. I still have all my Vogue magazines and all of my grandfather's National Geographics, dating back to the '30s. Those magazines allowed me to dream outside of my reality, as did the black-and-white movies.
Q: What was it about the movies that captivated you?
A: Today, my Rachel Roy customer is a woman who needs to look equal parts strong and sexy, and I think that that is the inspiration of the actresses whom I watched growing up. They wore lipstick, had their hair coiffed, and they owned smart suits. Many of them went to work and they looked confident, empowered in the boardroom. I was so influenced by those movies that my two daughters' names are Ava [Gardner] and Tallulah [Bankhead].
Q: Did you go to school to become a buyer, a designer, or to study fashion merchandising?
A: No, I didn't study design. I think design is something you have a passion for. Designers are artists and you develop your talent at school or in the real world. I have been working in fashion since I was 14, when I unpacked boxes in a trendy retail store.
Q: How does your line evolve?
A: I always start with prints [fabrics] that inspire me. They are a way for a woman to show her individuality. I like so many prints—painterly, animal, washed-out, and small prints. I like to balance them with something graphic. I carry a notebook around, and it is filled with my observations about women and their needs, as I watch them on the train or going to work.
Q: Tell us about the new lingerie line.
A: Lingerie is something special you can give yourself. A feeling of confidence can come from something that nobody else sees. Perhaps someone might see a hint of it, but it's your own secret.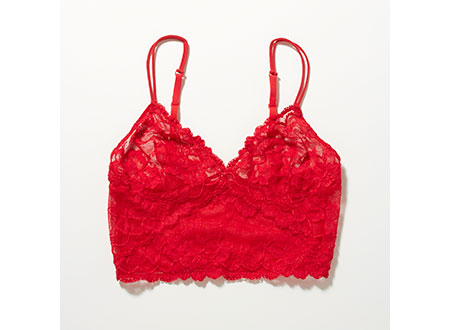 Q: What is the wardrobe your typical customer seeks?
A: She is a mix of femininity, sexiness, and business. I love designing dresses, especially for working women who need to get dressed easily and quickly, and I try to find a balance in each design between elements that are usually contradictory...but ultimately it is all balanced: A print dress, maybe a floral, could have a stripe mixed with it; an animal print might have a grid.
Q: And the future?
A: I would like to create a company to pass on to my daughters one day [that] creates clothes that are suitable to a woman's lifestyle.
Roy's lines are sold at Bergdorf-Goodman, Bloomingdale's, Saks Fifth Avenue, and Nordstrom, among the band's many retailers. Visit rachelroy.com for more.