There's nothing like New York in summer-strolling the streets and parks, window shopping, and dining outdoors combine to make the landscape almost unrecognizable to those who weathered the previous six months of winter internment or opted not to travel to the city during the big freeze.
The only problem: The rest of the world has (gasp!) caught on to the city's seasonal splendors, causing crowds upon crowds at your coveted spots (we're looking at you, High Line).
The solution: a residence with luxurious amenities designed specifically for the sunny season, with emphasis on basking and relaxing (and we're not talking a few square feet of balcony space). Read on for the ultimate in summer living.
The Ultimate Convenience
The name alone-Trump SoHo Hotel Condominium-lets you know that this property is serious about providing a luxury lifestyle. First, the amenities: In addition to a 12,000-square-foot spa, the property offers a full roster of gastronomic offerings, including most notably for summer living, Bar d'Eau, a seasona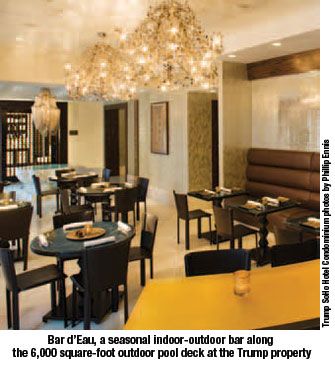 l indoor-outdoor bar/restaurant that supplements the outdoor pool and sundeck. Open May through early October (weather permitting), the bar offers a host of warm-weather fare (think small plates) and an extensive list of summery drinks to sip by the pool's edge. The cocktail lounge Kastel and the main restaurant, Quattro Gastronomia, round out the mix. Residents and guests may also order in-room dining 24 hours a day.
The Trump legacy is of course apparent, but the 46-story, silver-glass building at 246 Spring Street-whose interior design was directed by daughter Ivanka and the younger Trump clan-offers a contemporary interpretation of luxury that feels much more "downtown," says Amy Williamson, vice president of sales for Prodigy Network, the Trump SoHo's exclusive sales team. Combine that with all the well-appointed decadence of a Manhattan hotel (more on that later) and the well-established chic (Chanel! Prada! Louis Vuitton!) of the SoHo neighborhood, and you've got a pearl of a property.
Taken together, the words "hotel condominium" may at first be puzzling, but here's the short and sweet: The building's 391 residences, which include everything from studios to two-bedroom penthouses, are available both for hotel stay and for purchase. Prices range from $1 million to $8.7 million, and topping out the list is the building's lone duplex on the 43rd and 44th floors, which boasts 2,331 square feet of indoor space (two bedrooms, two and a half baths), a 378-square-foot terrace, and double-height floor-to-ceiling windows with sweeping views. All rooms come fully furnished with rich custom details and owners are privy to all the perks of a hotel stay, including housekeeping services. The catch: Residents are allowed to spend a maximum of only 120 nights per year in their condos. During the other two-thirds of the year, the hotel rents out your residence as it does its other rooms and hands you a check for the profits at the end of each month. "It fits well with the lifestyle of those who jet set or travel extensively," Williams says. The idea, she adds, is to offset your ownership costs, which she says each of the property's buyers so far have done (the building is about 15 percent sold).
The Ultimate View
While some may posit that downtown is the new uptown in terms of luxury living, the benefits of calling Columbus Circle home are near endless (Central Park, Lincoln Center, etc.). The Sheffield, a 57-story, 597-unit building at 322 West 57th Street, matches its coveted location, in a nexus of fine dining and culture, with life-enhancing amenities to offer a total lifestyle package.
The jewel in the resort-style crown is the enclosed rooftop swimming pool, winged by three sundecks that offer sprawling views of the city from their 58th-floor perch. Next up is the landscaped roof deck, a second and separate outdoor area for casual entertaining or relaxation, complete with barbecue grills. The building also houses a health club and spa with a state-of-the-art fitness center. And, to top it off, The Sheffield mainta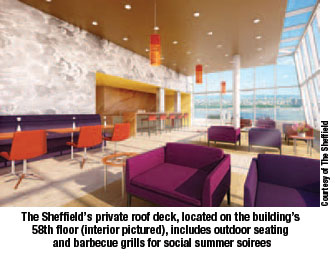 ins an exclusive partnership with Saks 5th Avenue (the first partnership of its kind in Manhattan), which offers residents a personal styling consultant, invitations to private collection openings and fashion previews, and more exclusive perks.
In terms of residences, you'll find studios (starting at $775,000 to four-bedrooms (starting at $7.495 million). The Penthouse Collection, which comprises the top two floors of the building, was introduced to the market in May. These two residences, which feature 10-foot floor-to-ceiling windows, range in size from 1,355 to 2,089 square feet and in price from $2.5 to $5.25 million. The property is currently about 60 percent sold, says Jackie Urgo, president of The Marketing Directors, The Sheffield's exclusive sales and marketing team. "The best testament to this property is that, in a 12-month period, we've sold over 100 homes. That's not very common. We're the best-selling condominium in Manhattan."
The Ultimate in Privacy
For those who covet privacy above all, a boutique building is often the best option. While residents of these properties may forfeit features like concierge service and in-building dining, unique amenities make up the difference.
A prime example is Tribeca's 33 Vestry Street, where the 4,500-square-foot duplex penthouse that claims the nine-story building's top two floors boasts an additional 3,487 square feet of outdoor rooftop space, including a paved terrace, Ipe-wood deck, outdoor kitchen, exterior shower, automated irrigation system, and to top it all off, a private 16-by-eight-ft. heated pool.
And when you're not enjoying your outdoor space, it's easily viewable from the unit's 10- to 13-foot floor-to-ceiling windows. "The integration of interior and exterior living is fluid and seamless. It's very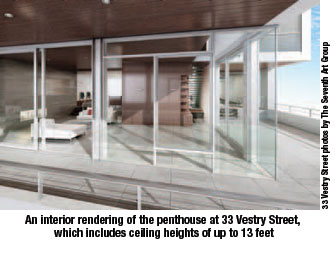 elegant," says Sophie Ravet, vice president and director at Brown Harris Stevens.
Located on a charming cobblestone corridor of landmark architecture and mostly 19th-century buildings, 33 Vestry allows residents further privacy via an electronically secured garage (a parking space comes with each unit) that includes an elevator directly to the penthouse.
Listed at $14.95 million, the penthouse is still a work in progress, with construction set to finish in September. A buyer who procures the property before then, says Ravet, would be able to customize the space to their specifications, including even the number of rooms. "For example, if it was a couple using it as pied-a-terre, they could make the entire second level of the duplex a master floor with a bedroom, gym, office, etc.," Ravet says. "It's an incredible opportunity."