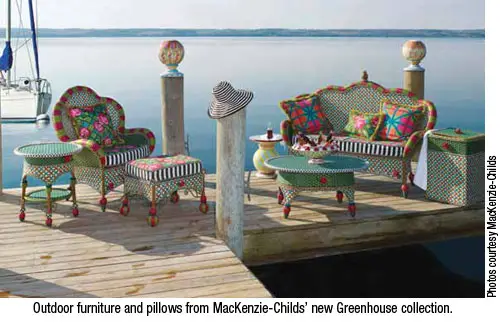 It's obvious that Rebecca Proctor, creative director for MacKenzie-Childs, enjoys no shortage of imaginative prowess when it comes to designing a living space (see: any and all of the brand's home furnishing collections that have debuted in the decade since she took her post). As we head into summer, a season that naturally demands we liven up our décor, we asked this leading lady for advice on redecorating, refreshing and reimagining a home for any time of year.
Q. How often do you redecorate your home?
RP: Redecorating is always ongoing in our household. As a child, much to my mother's chagrin, I was always rearranging our furniture so I guess you might say it's ingrained. I love moving things around and seeing how great a difference I can affect with just a small change. In spring and summer, when the weather is nice, we focus on opening our house to the environment. In our case, we've got stone terraces, lots of mature trees, and shade gardens. In the summer, our garden environment becomes an extended part of our home's interior. I love filling vases with cherry blossoms in the spring and fresh flowers all year long. And pillows…lots and lots of pillows.
In the winter, on the other hand, the natural tendency is to nest and make everything feel closer and cozier. I do a lot of things with throws and textiles I've collected from around the world. I take our carpets out of storage to cover certain areas of our hardwood floors. I love evergreens and juniper and fall foliage. I love the holidays and surrounding ourselves with all the handmade sentimental things we've accumulated through the years, and of course all of my MacKenzie-Childs [products].
Q. What are some fun decorating ideas for the summer?
RP: This spring and summer I want to concentrate on the new "tiny house" that my husband built for me last year. It's sort of a cross between a tea house, a potting shed, and a folly, with a small balcony and a spectacular river view. It sits on a stone foundation he uncovered under the old decrepit shed, and the doors and windows are architectural salvage. We've just topped it with a small heron weathervane.
In the summer, my husband and I love to spend time working on projects in the garden. Every Saturday morning I fill my favori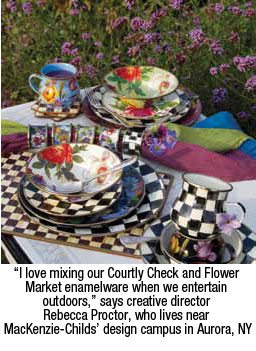 te vases with fresh flowers I buy from the farmers market. I'm also a big fan of making little places to sit to enjoy the way the light moves around the house.
Q.
When is it appropriate to redecorate for a season?
RP: I think with the way we are all so pressed for time these days, any time you can put a little thought and energy into your next holiday event or season is helpful. Don't be afraid to do things incrementally if you don't have the time to do it all at once.
Q.
What is an appropriate timeline for summer décor?
RP: Our garden furniture, decorative garden urns, planters and birdhouses usually come out at the tail end of April—but this year we had a snowstorm on the 27th! It's all tucked back into storage at the end of October.
Q.
Do you have any tips on easy ways to freshen up décor each season without making any big changes?
RP: Be flexible with your floor plan. Small changes, even moving a chair or a photograph, can have a big impact on a space. Fresh flowers are important all year long. And it's fun to add a few new things each season. Home fragrance is also a great way to change the mood in a house—my favorite right now is our Greenhouse scent, which was literally inspired by our studio grounds and greenhouse in Aurora.
Q.
Are there any rooms that lend themselves more to seasonal decorations than others?
RP: Certainly the front hall and the living room lend themselves to being focal points in your home for seasonal decor. But I love to make seasonal changes in the dining room focused around the holidays. We have tons of dishes and tabletop pieces that we have collected through the years and there is nothing I enjoy more than setting a table for a holiday. We have a new ceramic pattern called Parchment Check, which is soft and beautiful—it's going to look great as a focal point in our dining room.
Q.
Do you have any advice on storing seasonal décor—especially for someone with limited space?
RP: I have several extremely organized large lidded tubs that are great for storage. These are kept in our attic for safe keeping and easy access. Since we only have a small garage, our garden furniture is kept in a rented storage locker not far away.
Q.
When is the best time to buy seasonal decorations?
RP: I tend to purchase things as I see them at any time of the year. It's always best to snap something up if it strikes your fancy because chances are, as you near the holiday, it won't be there the next time you look.
Q.
How often does MacKenzie-Childs debut a new collection? Are the collections often seasonally themed?
RP: We introduce three major collections a year: Spring, Fall, and Holiday. In the spring we debut our newest outlook on the garden, which features everything from wrought-iron garden gates and gorgeous watering cans to hand-painted enamel dinnerware. This spring is over the top! Fall is typically filled with a variety of designs great for gift giving: lush textiles and upholstery pieces. Our Holiday collection has expanded dramatically and offers everything from beautiful wreaths and ribbons to fine hand-blown glass ornaments, stockings, and tree skirts. Each season has a theme that provides an over-arching storyline that most of the designs follow.