For the umpteenth time, my shower caddy/shelf unit fell down. It is a marginally fancy one, with two heavy-duty, interesting suction cups on hinges (and less pedigreed suction cups on no hinges) that keep it clinging to the wall — or are supposed to keep it clinging to the wall. But no matter how well I secure it to the tiles, ultimately it comes down; maybe after a week, maybe after a month, maybe after I look at it sideways, who knows? I have had no luck with flimsy, over-the-shower-head caddies either, as the hand-held shower hose always seems to get in the way, or the caddy doesn't stay where it is supposed to stay. Enter Simple Human.
It was time to bring out the big guns. I had not tried Simple Human's well-designed shower caddy, but I refer to it as the "big guns" because it is just a hair under $40, and while that is hardly pricey, it's more than the run-of-the-mill (i.e., low-end and poor-performing) models; as I have learned, it doesn't pay to trifle with the run-of-the-mill models.
It was time to put the handsomely designed Simple Human model to the test. It's a substantial and sturdy unit, about 13" x 5" x 27" with all the bells and whistles you'd want for holding your sundry stuff in the shower. It not only has two shelves, but they are movable in that they slide right and left, allowing for tall bottles to have head room; once you have positioned the shelves where you need/want them, they lock into place. Additionally, they slide up and down so you can arrange the shelves precisely where you want/need them. You can even store a bottle upside down, with the neck inserted into a circular opening in the grill work, making for the quick dispensing of shampoos and so on.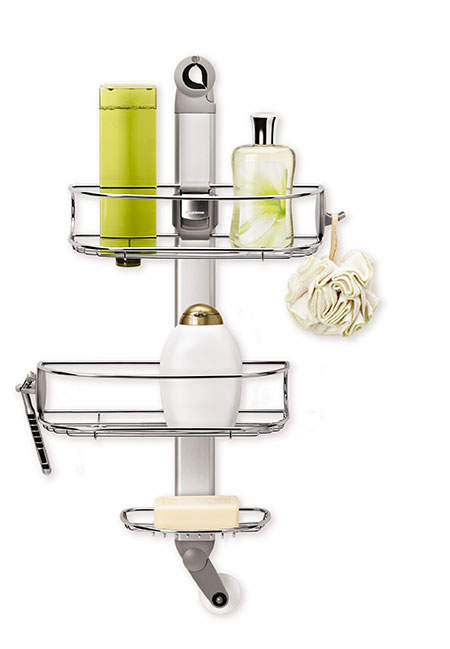 There are two well-designed hooks that will support razors, a loofah, or nail brushes with a loop, wash cloths with ring, etc. (In point of fact, they are ideally — and likely — designed for tooth brushes.) And what is the best of all — so that the entire holder doesn't slip down the shower head — is the rubberized showerhead clamp that you screw into place. The bottom of the unit has a pivoting suction cup that keeps the unit aligned with the top. The soap dish is recessed, so soap doesn't slide around. The entire unit is made from a rust-proof material.
You will look forward to filling it up with your things, as it's always so nice when "things" have proper places of their own, and even nicer when they are within an arm's reach, especially when your eyes are filled with bubbles and are closed. This Simple Human caddy doesn't disappoint in any way.