On the Upper East Side: Carpé Indulgence

At the Kimara Ahnert Spa, an elegant French townhouse ambience strikes a chord the second you cross the threshold: Louis XVI furniture, Aubusson rugs and pillows and a tasteful arrangement of posh must-haves (exclusive spa and makeup lines, select clothing items, candles, lingerie bags, etc.). At the back of the ground floor, a multi-mirrored haven in which some of the city's most celebrated makeup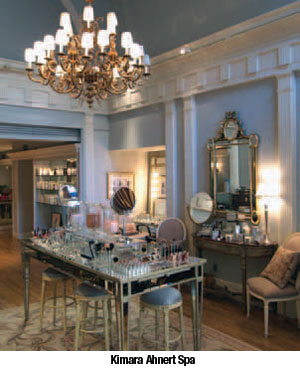 experts wield their magic on an ever-growing guest book of discriminating clients.
Certainly celebrities and supermodels are among those drawn to Ahnert's customized makeup services-from Catherine Zeta-Jones, Gwyneth Paltrow, Tinsley Mortimer, Amanda Peet, Vendela and Brooke Shields to Alexandra von Furstenberg, Christie Brinkley, Daphne Rubin-Vega and Isabella Rossellini. And should fame ever knock at my door, you can add my name to the list, since I too was privy to a cosmetic makeover that included instructions on how to recreate my polished new look at home. FYI: Makeup instruction is one of Kimara's trademark services. You can pick up tips on concealing double chins, making a full-face appear thinner, and optimizing favorite facial features.
And while Ms. Ahnert may have initially designed her business around her passion for cosmetic products and palettes, over the years she's expanded her expertise to include a signature collection of facial and body treatments.
Brush Strokes: A small winding staircase connects the intimate upstairs treatment rooms to the makeup salon and reception area below. Here, spa devotees will recognize a typically European-style environment with the emphasis placed directly on the aesthetician and the service at hand. An intriguing menu of facials, peels and masques has pretty much taken the neighborhood (and insiders) by storm, but it's Ahnert's 90-minute Parafango Wrap Therapy that will leave you weak in the knees-sans cellulite (or at the very least its most obvious and odious signs).
The treatment involves exfoliation, light massage, and a savory period of downtime swaddled in multiple layers of warmth, but the really amazing aspect is the process: using the softest of brushes, the aesthetician paints your entire body with a thermal mixture of special sea mud and paraffin, leaving you wrapped in a velvety second skin-until the end, when all is peeled off and, as it says in the description, "you are brought to a new level of well-being and relaxation." 1113 Madison Avenue (at 83rd St.), 212-452-4252, kimara.com
------------------
In SoHo: Shimmering Serendipity
Not being an expert on feng shui, I hesitate to overthink its relationship to Deva*Spa, the serene downtown subterranean refuge from all things stressful. Still-consciously or not-both design and service-wise, Deva has embraced feng shui's tenants of harmonious color (neutral and earth tones), nature (organic plants and products), and water (the tranquility lounge is home to a hypnotic fountain encased in glass, plus steam and sauna rooms are among the standard amenities). Candlelight, soothing music and sheer draped curtains deftly add not only to the treatments themselves, but to something akin to post-treatment euphoria.
Starting with the massage (recommended to precede all things facial): knots and strains are addressed according to your personal pressure preferences using a soothing combination of customized techniques, oils and stretches, and Deva's extensive menu of massages, which includes Bee-u-tiful Signature, My Kneads, Shiatsu, Thai, Hot Stone, Reflexology and Energy Balancing, with a special Mommy Dearest massage experience for mothers-to-be and those who have recently given birth.
Complexion Perfection: The spa's expansive collection of facial treatments begin with the time-conscious Deva Express (30 minutes dedicated to smoothing and brigh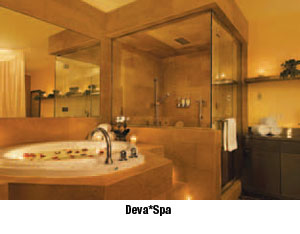 tening the skin) and escalate to Deva Delux (a 90-minute, anti-aging metamorphosis utilizing two distinct serums, customized masques and a hand massage.) And should 60 minutes be your cut-off point, I recommend the Deva Signature Plus facial, a masterful combination of hydration and skin revitalization targeting "the first signs of aging" that includes a detoxifying back compress and customized cleansing and exfoliation that comes close to duplicating the effects of more intensive microdermabrasion resurfacing.
And just to diffuse any confusion regarding Deva*Spa, it is indeed the offspring of Lorraine Massey, whose initial foray into the beauty cosmos was prompted by her curly hair ("corkscrew curls that stuck out all over her head" from childhood.) Her first ventures involved the founding of the first SoHo Devachan Salon and her subsequent partnering with professional soul-mate Denis Da Silva in 1996. Fast forward to the inevitable: the publication of Curly Girl The Handbook: A Celebration of Curls: How to cut them, care for them, love them, and set them free in 2001 (updated and revised this year); a series of visionary services and products for the curly-haired, from curl-specific highlighting techniques to the DevaFuser for drying curl-endowed tresses to a line of sulfate-free hair products.
By 2007 Massey and Da Silva opened a second SoHo salon, which added Deva*Spa in 2009. And, enhancing its rapidly growing reputation, a year later the spa received a prestigious Best of New York Spas Concierge Choice Award nomination. 425 Broome St. (between Crosby and Lafayette Sts.), 212-274-8686, devachansalon.com.