Je t'Adore Red Door
Posted on the wall of the chic contemporary café in New York's flagship Red Door Spa on Fifth Avenue are the words: "To be beautiful is the birthright of every woman."—Eliabeth Arden. The quote is tucked among a collection of well-preserved black-and-white photographs dominated by small clusters of chic spa ladies in robes, terrycloth turbans, and slippers – ladies who look like they stepped out of Clare Booth Luce's 1930s play, The Women.
This vintage tribute, including Red Door founder Arden's quo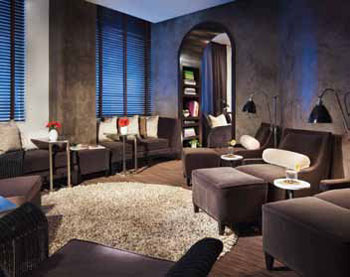 tation, are a rather poignant homage to the new spa's stunning two-level labyrinth of treatment rooms and modern design, from its lipstick red sofa in the entrance area to its velvety chocolate relaxation lounge. And, in case you're wondering, yes, this is the same space that once housed the famous Cornelia Day Spa (2005-2010), created by Red Door Spas now Global Chief Creative Officer, Cornelia Zicu, who clearly has infused the Penthouse spa with her own passion for emerging trends and innovative treatment techniques.
As for the treatments themselves, expect to be wowed by both the variety of services and Red Door's top-tier aestheticians. Opting for the Signature Massage, I found myself not only receiving the therapeutic attention one presumes is reserved for heads of state and movie moguls, but an education in how, why, and when certain techniques should come into play. My masseuse was Glenn Ferrugiari – former child actor and current Body Department Lead. If he's available… you see where this is going.
Afterwards, in a burst of bonus bliss, a first rate (complimentary) cappuccino accompanied by le petit biscotti. Need I say more? 663 Fifth Ave. (between 52nd and 53rd Sts), 212-546-0200, reddoorspas.com
Mind-Body Meld at exhale
The 4:30 "open" Core Fusion class with instructor Karen Greatti got bonus points even before it started for the best exercise socks ever ($12, non-skid and "goes with anything Gotham" black). Still, the class itself – a fusion of core conditioning, Pilates, ballet, the Lotte Berk Method, and yoga – was not only an impressive wo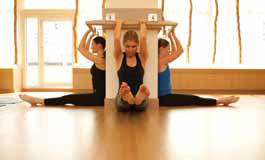 rkout, with Greatti giving personal focus to each participant's physical abilities/limitations, but it also showcased the spa's large and beautifully appointed workout studios.
For those tracking current trends in metro spas, exhale (which has several locations throughout Manhattan, as well as an expanding U.S. and international presence) has definitely been an innovator in the spa industry by expanding the "total spa experience" concept to include everything from traditional massages, manicures, and facials to such cutting edge concepts as Cranial Therapy, Vibrational Healing, Power Body Detox, nutritional counseling, and acupuncture.
Highly recommended is exhale's outstanding Om Body Therapy (a.k.a. "Tui Na"), a Chinese Taoist and martial arts-based therapy combining multiple massage techniques (brushing, kneading, rolling, etc.) with acupressure "to establish a more harmonious flow of Qi (energy) through the muscles and meridians, and manipulation techniques to realign muscles and ligaments." And, as the staff pointed out, Om Body Therapy is a perfect match to exhale's workouts, since it supports both Yoga and Core Fusion practices.
Which brings me back to my personal intro to Core Fusion. As a novice, I was surprised at just how natural the movements felt—although I seriously doubt I could have survived their Core Fusion Boot Camp; my stamina does have its limits. No wonder neophytes are encouraged to stick to the basics. Still, I was impressed by the variety – ballet barre, mat exercises, stretch and balance props – and felt the burn (in a good way). That said, I think my next exhale movement adventure will involve their Core Fusion Yoga class – intriguing! 980 Madison Avenue (between 76th and 77th Sts.), 212-561-6400, exhalespa.com
National Spa Week/ Spring 2012
Go for the Glow! April 16th through April 22nd
Just when you think the Spring thing in the Big Apple can't get any better—warm weather, cool fashions, extended daylight hours—along comes that beguiling bi-annual event known as National Spa Week, giving spa lovers the official thumbs up to play their Get Out of Winter Free card. Ok, "free" may be stretching it, but at $50 each for signature spa services—regularly priced from $100 to $500—close enough!
And, since Spa Week affiliates tend to represent the city's most forward-thinking spas, fitness centers, and health and wellness facilities, it's now possible to add weight-loss, nutrition, and Pilate classes to your wish-list indulgences.
Word of caution: reservations for treatments at New York's prestigious spas go quickly, so you'll want to log on to SpaWeek.com (launch date: March 12th) ASAP for a comprehensive list of participants and the services they're offering this spring. And, as always, while there is a set cut off date for Spa Week (in this case, April 22nd), many of the venues extend the $50 rate up to a month.
To view the page in pdf form, click here.