Some of the hottest names in showbiz are storming the Broadway scene during these months leading up to the Tony Awards in a smashing collection of world premieres and awesome revivals!
Act One - Actors Santino Fontana (Cinderella) and Tony Shalhoub (TV's Monk) play Moss Hart in this new play tracking the famed writer/director's rise from poverty to theatrical legend. With Chuck Cooper and Andrea Martin. (Previews 3/20; opens 4/17)
Aladdin - Disney's breaking out "A Whole New World" to explore and adore in its latest film-to-stage adaptation boasting an expanded song list and spectacular visual thrills. With Jonathan Freeman, James Monroe Iglehart, Adam Jacobs, and Courtney Reed. (In previews for a 3/20 opening)

Photo: Eugenia Eliseeva

All the Way - After Breaking Bad, Emmy winner Bryan Cranston is going All the Way as President Lyndon Johnson during his crusade to pass a landmark civil rights bill. With Michael McKean and John McMartin. (Through 6/29)
The Bridges of Madison County - A Tony-winning creative team — Marsha Norman, Jason Robert Brown, Bartlett Sher — and a stellar cast (Hunter Foster, Kelli O'Hara, Steven Pasquale) have transformed the best-selling novel into a musical romance.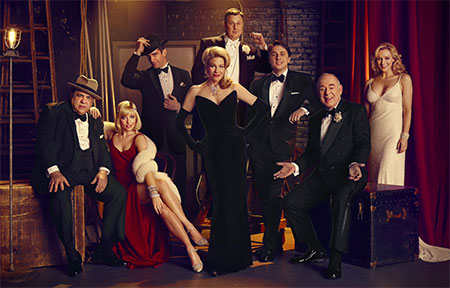 Photo: Jason Bell

Bullets Over Broadway - Woody Allen's musical take (period songs from the 1920s!) on his showbiz film comedy about a young writer, a gangster with a bankroll, and the bimbo who would be a star. With Zach Braff, Marin Mazzie, Vincent Pastore, and Karen Ziemba. (Previews 3/11; opens 4/10)
Photo: Kevin Garcia

Cabaret - Sixteen years after its Tony-winning run, Sam Mendes' convention-breaking revival returns with Alan Cumming (above) reprising the role of the Emcee and Michelle Williams (My Week With Marilyn) as Sally Bowles. With Danny Burstein and Linda Emond. (Previews 3/21; opens 4/24)
Casa Valentina - Harvey Fierstein's roster of award-winning musicals has dazzled Broadway for 30 years, but his new work is a play about straight white-collar guys who share a secret Catskills life… as women! With John Collum, Gabriel Ebert, Tom McGowan, and Mare Winningham. (Previews 4/1; opens 4/23)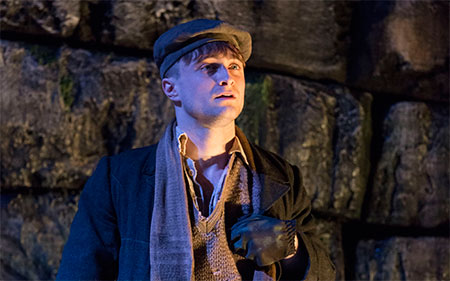 Photo: Johan Persson

The Cripple of Inishmaan - On the heels of stellar London reviews, the actor who grew up as Harry Potter - Daniel Radcliffe - is back among the Yanks starring in Martin McDonagh's comic masterwork – its Broadway debut, no less! (Previews 4/12; opens 4/20)
Hedwig and the Angry Inch - And you thought Neil Patrick Harris's Broadway super power was all about hosting the Tony Awards. Hah! Prepare to be wowed by his Hedwig in this über gender-bender rock musical. With Lena Hall. (Previews 3/29; opens 4/22)
Holler If Ya Hear Me - Tony-nominated director Kenny Leon (Fences; A Raisin in the Sun) helms this fictional new musical inspired by rapper/actor/poet Tupac Shakur's street-vibe lyrics and music. (Previews 5/26; opens 6/19)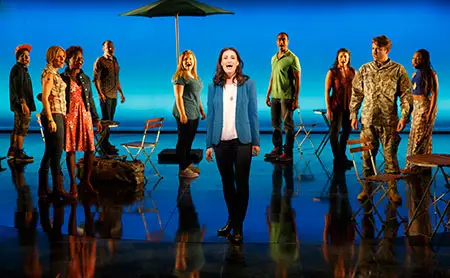 Photo: Joan Marcus

If/Then - Set in modern Manhattan, If/Then reunites powerhouse Rent originals Idina Menzel and Anthony Rapp in a new musical from the creators of Pulitzer Prize/Tony-winning Next to Normal. With LaChanze and Jenn Colella. (Previews 3/5; opens 3/30)
Lady Day at Emerson's Bar & Grill - Broadway legend Aurda McDonald as jazz legend Billie Holiday — this is the stuff that turns ordinary theatergoers into walk-over-burning-coals-for-tickets fanatics. Heaven on stage. (Previews 3/25; opens 4/13)


Photo: Matthew Murphy

Les Misérables - Cameron Mackintosh's acclaimed production has returned with a compelling young company to the Imperial Theatre, where the original ran for 16 of its 20 Broadway years. With Ramin Karimloo, Nikki M. James, Caissie Levy, Andy Mientus, Keala Settle, Will Swenson. (Opens 3/23)
Mothers and Sons - An intimate drama built on poignantly fragile relationships marks four-time Tony-winning playwright Terrence McNally's latest, starring Tony winner Tyne Daly. With Bobby Steggert and Frederick Weller. (Opens 3/24)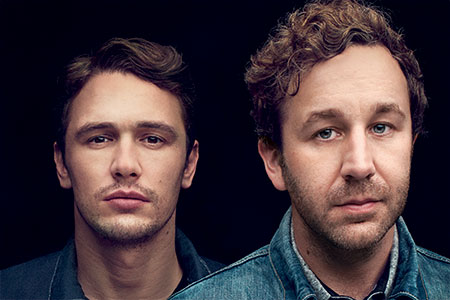 Of Mice and Men - James Franco's James Dean and Leighton Meester's Gossip Girl may have launched their careers, but tackling Steinbeck's seminal drama for their Broadway debut? Bold and brilliant. With Jim Norton and Chris O'Dowd. (Previews 3/19; opens 4/16)
A Raisin in the Sun - This reappearance of Lorraine Hansberry's masterwork, with a to-die-for cast, is nothing short of a theatrical windfall…with "sell out" written all over it. Starring Stephen McKinley Henderson, LaTanya Richardson Jackson, Sophie Okonedo, Anika Noni Rose, and Denzel Washington. (Opens 4/3)
The Realistic Joneses - Tonys, Emmys, and Oscars -- the luminaries gracing Will Eno's acclaimed suburbia-centric play have all racked up one or two of these trophies over the years. Tony voters, take note. Starring Toni Collette, Michael C. Hall, Tracy Letts, and Marisa Tomei. (Opens 4/6)
Rocky - The first Rocky movie has morphed into the latest mega-musical to take over the Winter Garden, flush with tenacity, romance, and adrenaline-fueled action. With Andy Karl and Margo Seibert.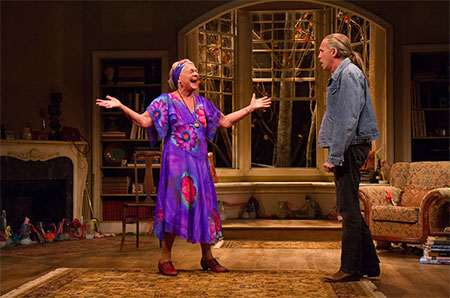 Photo: T Wood

The Velocity of Autumn - Estelle Parsons and Stephen Spinella turn up the heat in this explosively funny dark comedy that sold out its recent run at Washington, DC's Arena Stage. Family feuding and Molotov cocktails…. Cheers!

Photo: Jeremy Daniel

Violet - This New York City Center Encores! success comes to Broadway with leading-lady Sutton Foster recreating the title role of a facially scarred woman in search of a miraculous transformation. With Colin Donnell and Joshua Henry. (Previews 3/28; opens 4/20)