Among the various methods used for creating jewelry out of gold and silver (not to mention platinum and other more exotic metals), are countless popular techniques: hammering, molding, casting, soldering. These are but a few of the many processes used for fashioning jeweled adornments.
Ultimately, when the hand-wrought procedures are finished, jewelry can take on myriad forms. Mostly, the silhouettes are either squared with corners and angles, or are contoured, sculpted into flowing forms.
Here, we celebrate the multifarious profiles jewelry embraces — pieces that are architectural, angular, and rectilinear, with straight lines that often intersect, forming rectangles and squares, as well as bijoux that are amorphous, amoebic in shape, with curves, softly fashioned silhouettes, and rounded edges, resulting in flowing curvilinear arcs and circles. Celebrate the shape of things that are and things to come.
---
JEWELRY IN THE ROUND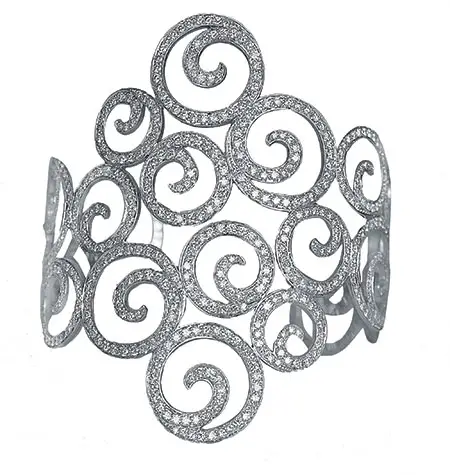 Swirls, circles, and curlicues of pavé-set diamonds (11.23 carats total) are mounted in 18-kt. white gold, forming a glamorous, red-carpet-worthy cuff from Jacob & Co. $54,000. 48 East 57th Street (Madison/Park Avenues); 212-719-5887; jacobandco.com
Looking like pricey pebbles that have just washed ashore from a dreamy ocean voyage, Kara Ross's "Blue Topaz" earrings are comprised of a total of 65 carats of blue topaz and 7.5 carats of opal stones. They are set in 18-kt. gold, with diamond accents. $9,100. 665 Madison Avenue (60th Street); 212-755-8100; kararossny.com
Classic 18-kt yellow-gold hoops (1.75" high) take on a fresh, graceful, and three-dimensional look when crafted by the talented Roberto Coin. $1,140. Saks Fifth Avenue, 611 Fifth Avenue (49th/50th Streets); 212-753-4000, 877-551-7257; us.robertocoin.com, saksfifthavenue.com
The "Rosé Carino" bracelet from Ippolita features multiple shapes—kidney-bean forms, circles, amorphous parabolas, and the occasional hexagon. The mother-of-pearl, black shell, and onyx stones are all set in vermeil, 18-kt. rose gold over sterling silver. $995.
796 Madison Avenue (67th/68th Streets); 646-664-4240; ippolita.com

From design studio Oblik Atelier, "To Twist," a handmade cuff in gold-plated brass, appears to be just that—twisted metal in elegant curves and spirals. $575.
Kentshire Galleries at Bergdorf Goodman, 754 Fifth Avenue (57th/58th Streets); 212-872-8653; kentshire.com
The ebony ground on the show-stopping Marina B "Karine" cuff bracelet creates a majestic canvas upon which the 2.9 carats of round, brilliant-cut diamonds are studded, dotting the fancy scroll work of the 18-kt. yellow gold. $39,500. 30 East 57th Street (Madison/Fifth Avenues); 212-644-1155; marinab.com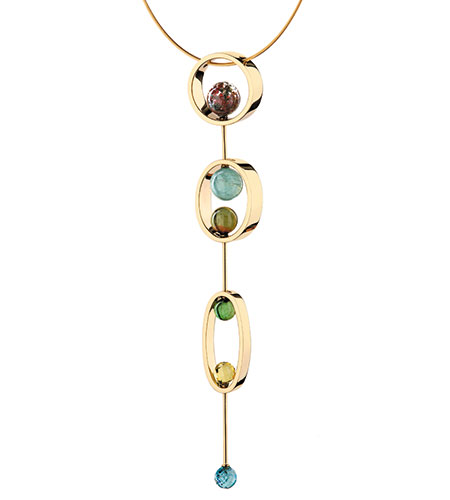 Two circles and an oval are the focal points in Yael Sonia's "Natural Encounters" pendant, in 18-kt. yellow gold, with vibrant stones—dendrite quartz, aquamarine, green tourmaline, and lemon quartz—accenting the dangling piece. $17,400. By appointment only; 270 Lafayette Street, Suite 810 (Prince/Houston Streets); 212-472-6488; yaelsonia.com
---
THE SQUARE EFFECT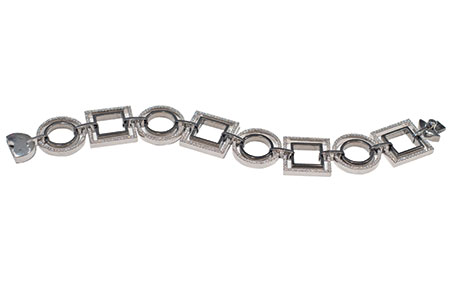 Aaron Basha's square and round geometric shapes form a stunning, rhythmic repetition that encircles the wrist in splendor—the diamonds and black onyx are set in 18-kt. gold. Price upon request. 685 Madison Avenue (61st/62nd Streets); 212-644-1970; aaronbasha.com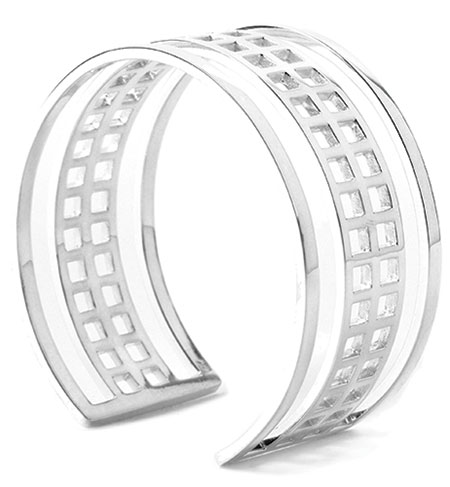 Sterling silver in a grid pattern, with parallel solid rails and smart edges comprise the "Rail" bracelet by Adrienne Alaimo. $620. By appointment only, 646-238-3870; aeajewelry.com
---
The remarkable "Tubetto" earrings from de Grisogono are built as progressively larger geometric shapes; each linked squared shape shows off some of the 588 white diamonds that comprise the whole. Set in white gold, these earrings are luminescent. Price upon request. 824 Madison Avenue (68th/69th Streets); 212-439-4220; degrisogono.com
---
This playful Marco Bicego bracelet from the "Murano" collection looks like a hopscotch board for child's play, but it is far more serious than that, given its gridded structure and design; it is hand-engraved and polished 18-kt. yellow gold, set with a variety of rich-hued gemstones. $14,520. Saks Fifth Avenue, 611 Fifth Avenue (49th/50th Streets); 212-753-4000, 877-551-7257; saksfifthavenue.com, marcobicego.com
---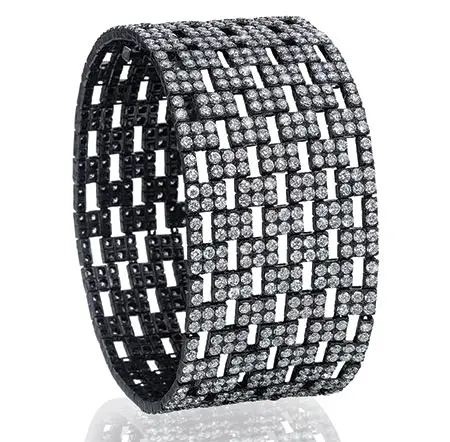 The name says it all in Cellini's "Geometric" bracelet—grids that simply glitter with glamour. The18-kt. blackened gold smashingly shows off the 25.80 carats of round, brilliant diamonds. $67,500. Hotel Waldorf-Astoria, East Lobby, 301 Park Avenue (49th/50th Streets); 212-751-9824; 509 Madison Avenue (52nd/53rd Streets); 212-888-0505; cellinijewelers.com
---
A meticulously structured grid in 18-kt. white gold is the backdrop for showcasing round, brilliant-cut, white diamonds and fancy yellow diamonds (total weight for all diamonds is 10.15 carats) in this fetching bracelet from Bapalal Keshavlal. $22,000. Firenze Jewels, Inc., 15 West 47th Street (Fifth/Sixth Avenues), Suite Four; 800-790–6980; firenzejewels.com, bapalalkeshavlal.com
---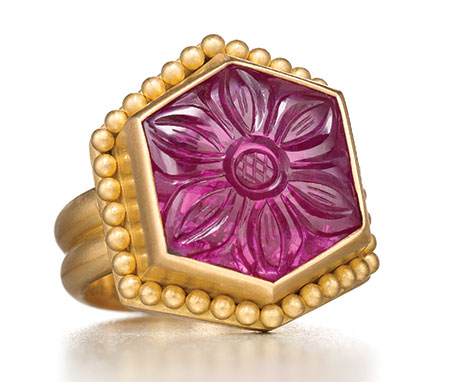 The "Jaipur" ring from master jewelers Reinstein/Ross evokes India's renowned Pink City, as it is known; the ring is suggestive of Jaipur's exquisite architecture, particularly its legendary Palace of the Winds. Fashioned in 20-kt. peach gold, this striking ring features a hand-carved hexagonal ruby. $11,500. 29 East 73rd Street (Fifth/Madison Avenues); 212-772-1901; and introducing 30 Gansevoort Street (opening Spring 2014); reinsteinross.com