Fashion Institute of Technology: Fashion A-Z
The welcoming "artifact" at the Fashion Institute of Technology's Fashion and Textile History Gallery is a mannequin swathed in a bold Moschino rayon frock, from 1990, in graphic black and white, embellished with staccato dots of crimson that are actually striking, heart-shaped buttons; the swirling skirt is emblaz

oned with letters, and it billboards the contrasting messages: "Fashion" and "Fashioff," as if making fun of the slaves of fashion—i.e., us.
It is the perfect choice to open a two-part exhibit that chronicles selective highlights from the vast (50,000 garments and 30,000 textiles) holdings of the F.I.T. collection: FASHION A-Z: Highlights from the Collection of The Museum at FIT, Part One. And the raiment on view here goes from a literal A-B-C (Armani, Balenciaga, Chanel) to a figurative X-Y-Z (Westwood, Yeholee, Zoran).
For any student of fashion—that is to say, anyone who buys and wears clothes; in other words, all of us—this show is a must-see. There are so many incredible ensembles and accessories that it is hard to take it all in with one viewing. Luckily, admission to the museum is free, so you can return again and again; there are only 50 silhouettes mounted in this flight, on view until May 8, but opening shortly thereafter, on May 23, is the second flight of selections from the museum's holdings, promising to plumb even deeper into the fashion-alphabet's offerings, which will be on exhibit through November 10.
Elegant outfits, like a 1925 Chanel evening confection in chiffon, seed beads, rhinestones, and silver leather, looks like something you could readily wear today; you could also just as easily don a Halston red slinky dress—his signature—or a Donna Karan graceful, draped-jersey tower of fabric that would look smashing on any runway or at any soirée and be perennially au courant. Equally noteworthy is the iconic Givenchy Mondrian-inspired 1965 shift, in geometric color-blocking.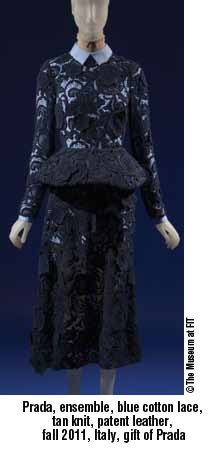 There are also legendary designer names in the show, without which it would be unfair to call the exhibit a true fashion survey—names like Fortuny, Paul Poiret, Mainbocher, and Claire McCardell. Fun and funny garments are also highlighted, like a Boudicca frock in white cotton, black polyester net, black rayon stretch knit, and black leather—the bodice is sedate, like a schoolgirl's uniform, but the skirt is a pouf of fly-away wings, with layers of crinolines. And fittingly, there is a Versace pop-culture suit, in restrained neons, which sports pop-culture images of Marilyn Monroe and James Dean. Accessories feature less prominently in the exhibition, but they are not overlooked, and include Elsa Peretti's classic Tiffany cuff bracelets and a hat from a Dior fashion show, designed by the master milliner Stephen Jones, which laces up like a corset and is a bit fetish-like in its execution.
Even if you are not a fashionista, learning about these silhouettes and styles—from an entertaining, academic point of view—is eye-opening, and this show will not disappoint. We are eager to see act two.
[ the details ]
The Museum at FIT; Seventh Avenue at 27th Street; 212-217-4558; fitnyc.edu/museum
BARD: A master milliner curates an exhibit of over 250 hats
A joint venture between the Bard Graduate Center and London's Victoria & Albert Museum (where over 100,000 people previously viewed the show), this exhibit of over 250 hats, curated by British master-milliner Stephen Jones, is a masterpiece of headgear. Observed Jones, "I simply live my life and put it into a hat." And it's all here, every aspect of anyone's life: the serious, the capricious, the historical, the fanciful, the celebratory, the famous, the notorious, the frivolous, and then some.
On view throug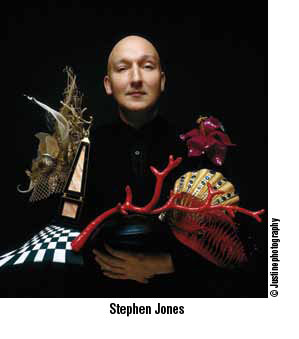 h April 15, the cleverly and thoughtfully mounted show offers everything from a 12th-century Egyptian fez and the top hat worn by FDR for his fourth inauguration to a whimsical hat that resembles a flying shark, to a wacky head-topper that looks like a head of hair set on rollers (replete with clips and pins!), to stunning hats a titled Baroness would wear to Ascot, to pop culture artifacts—Babe Ruth's baseball cap, Darth Vader's helmet, an Italian cycle helmet, Estée Lauder's iconic turban, and the bunny ears designed by Halston for Candice Bergen to wear to Truman Capote's legendary Black and White ball.
There are hats made out of just about everything God put on the earth—animal, vegetable, and mineral, some traditionally used by milliners, and some a total flight of fancy: silk, straw, felt, cotton jersey, chiffon, velvet, the African tribal fabric aso oke, nylon, ribbon, cellulose fibers, cowhide, plastic, metal, papier mâché, wood, pearls, sequins, tinsel, glass beads, feathers (ostrich, goose, duck, pheas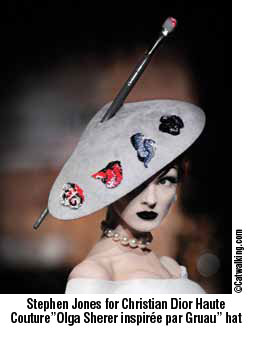 ant, among them), mother-of-pearl, and yak hair—and that is merely a partial list of the countless materials used in the chapeaux.
In addition to the sundry divisions of the show—everything from styles like hoods to motifs such as animals—there is also a charming model of a milliner's workshop. The main themes are Inspiration, Creation, and the Client, but it doesn't matter how the remarkable hats are showcased—they are astonishing standouts in any vitrine, whether in a museum or in a shop—or, of course, on someone's head.
[ the details ]
The Gallery at Bard Graduate Center, 18 West 86th Street; 212-501-3023; bgc.bard.edu