Stage Scoop: Summer Edition, 2014 - A select, month-by-month guide to Manhattan's theatrical summerscape
Please note: All dates subject to change.
JUNE
Broadway
PREVIEWS & OPENINGS:

Saycon Sengbloh and Saul Williams in rehearsals for Holler If You Hear Me. Photo: Kevin Thomas Garcia

Featuring Tony winner Tonya Pinkins (Jelly's Last Jam; Caroline, or Change), Tony nominee John Earl Jelks (Radio Golf), and Saul Williams (Slam), this new musical by Todd Kreidler (Guess Who's Coming to Dinner), directed by Kenny Leon (A Raisin in the Sun), was inspired by the music, lyrics, and poetic legacy of rap artist Tupac Shakur (1971-1996). Non-biographical, the storyline tracks the realities of inner city life, friendships and survival. Previews 6/2; opens 6/20.
NOTEWORTHY CAST ADDITIONS: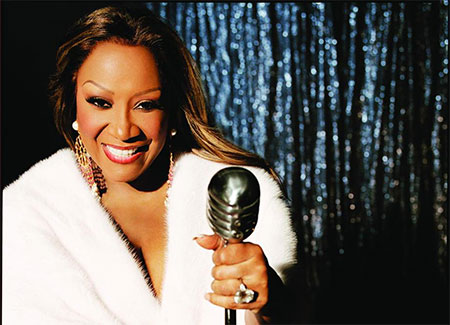 Photo: Carlo Dalla Chiesa

Patti LaBelle joins the Jazz Age-inspired revue as "Special Guest Star" vocalist 6/10 through 6/29.
CLOSINGS:
6/15 - Act I (starring Tony Shalhoub); A Raisin in the Sun (starring Denzel Washington)
6/29 - All the Way (starring Bryan Cranston); Casa Valentina (starring John Cullum, Patrick Page, and Mare Winningham)
7/6 - Mothers and Sons (starring Tyne Daly)
Off-Broadway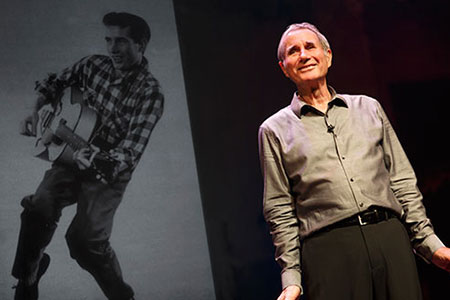 Photo: Joan Marcus

In his new solo show, charismatic stage and screen legend Jim Dale takes audiences on an intimate guided tour (with songs), illuminating his showbiz career from British Music Halls to decades of Broadway successes (including his Tony-winning turn in Barnum), and an acclaimed stint narrating all seven Harry Potter audio books. FYI: Sunday matinee talkbacks with Dale, his creative team, or industry experts are scheduled 6/22 through 7/26. In previews for a 6/3 opening; thru 8/10
This award-winning autobiographical coming-of-age musical – written and performed by Benjamin Scheuer (winner of the ASCAP Cole Porter Award for songwriting) – is making its American debut at New York City Center's The Studio at Stage II as part of the Harold and Mimi Steinberg New Play Series. Previews 6/10 for a 6/26 opening; thru 7/13
When We Were Young and Unafraid
Playwright Sarah Treem – whose TV writing credits include the acclaimed series House of Cards (Netflix) and In Treatment (HBO) -- returns to MTC with a new work set in an underground women's shelter during the early 1970s (pre- Roe v. Wade and the Violence Against Women Act). The play stars two-time Tony winner Cherry Jones (Doubt; 24), Zoe Kazan (Ruby Sparks; Behanding in Spokane), and Morgan Taylor (Homeland), in her New York theatre debut. In previews for a 6/17 opening; thru 8/10
Festivals
Shakespeare in the Park: Much Ado About Nothing
Joe Papp's famed free summer theatre at the Delacorte in Central Park welcomes back Hamish Linklater (last season's The Comedy of Errors; The Crazy Ones) and Lily Rabe (2012's As You Like It; American Horror Story) as Shakespeare's contentious would-be lovers Beatrice and Benedick. Joining them are Tony winner Brian Stokes Mitchell as Don Pedro, John Glover (Waiting for Godot) as Leonato, and John Pankow (Mad About You) in the role of Dogberry. 6/3 thru 7/6
In Scena! Italian Theater Festival
Inaugurated in New York last year as part of "2013 Year of Italian Culture" by Kairos Italy Theater, this year's bilingual event features six full productions and four readings. 6/9 thru 6/24
Hudson Warehouse's Summer Stage: King John
Known to its growing audience as "The Other Free Shakespeare in the Park" (i.e., Riverside Park at the Soldiers' and Sailors' Monument), Hudson Warehouse's Summer Stage launches its season with this rarely performed Shakespearean history about "the life and death of" a despicable monarch -- evidently Richard III and Henry VIII weren't the only ones. 6/5 thru 6/29
41-Derful (running thru 6/8)
I'm Pretty F***ed Up (6/13 thru 6/22)
16 Words or Less (6/26 thru 7/5)
---
JULY
Broadway
NOTEWORTHY CAST ADDITIONS:

After Midnight
Gladys Knight succeeds Patti LaBelle as "Special Guest Star"vocalist 7/8 through 8/3
CLOSINGS:
7/6 - The Realistic Joneses (starring Toni Collette, Michael C. Hall, Tracy Letts, and Marisa Tomei)
7/20 - The Cripple of Inishmaan (starring Daniel Radcliffe)
7/27 - Of Mice and Men (starring James Franco and Chris O'Dowd)
Festivals
Lincoln Center Festival 2014: Kaidan Chibusa no Enoki (The Ghost Tale of the Wet Nurse Tree)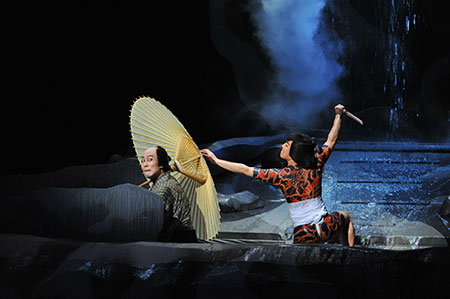 The first theatrical production of Lincoln Center's annual multi-genre event is Heisei Nakamura-za Kabuki Theatre Company's rarely performed 19th-century ghost story about the murder of an artist by a handsome samurai who desires the artist's wife. Stunning, dramatic, and not devoid of slapstick comedy, the gorgeous production culminates in a thrilling fight to the death beneath a waterfall. An outstanding introduction to Kabuki theatre and its treasured heritage. 7/7 thru 7/12
New York Musical Theatre Festival
A festival designed to bring together talented newcomers and a variety of New York's most established players by opening new creative doors for writers, directors, actors, producers, choreographers, and designers of all levels. Notably, NYMF shows run the gamut of genres: drama, comedy, traditional musicals, avant-garde works, operettas, and beyond. 7/7 thru 7/27
Shakespeare in the Park: King Lear
Two-time Tony winner John Lithgow has the title role in Shakespeare's searing tragedy of family dysfunction on an epic level. Betrayal, misguided affection, heartbreaking loss, and, most famously, Lear's wrenching descent into madness are the bones upon which this classic work is shaped. Expect – and enjoy -- the fireworks. 7/22 thru 8/17
Hudson Warehouse's Summer Stage: The Importance of Being Earnest
The second entry in the Hudson Warehouse's al fresco season is Oscar Wilde's beloved comedy of romantic errors. 7/3 thru 7/27
---
AUGUST
Broadway
OPENINGS:
This Is Our Youth
Generations X and Y, this one's for you – and anyone who knows the value (priceless!) of a pre-Broadway Steppenwolf run. The year is 1982, the place New York, the characters "three very lost young souls" played by Michael Cera, Kieran Culkin and Tavi Gevinson. Previews 8/18; opens 9/11
You Can't Take It With You
The 1937 Pulitzer Prize-winning George Kaufman-Moss Hart play returns to Broadway for the first time in more than 30 years under the direction of six-time Tony nominee Scott Ellis (The Mystery of Edwin Drood). Starring two-time Tony winner James Earl Jones, this quintessential comedy is built around an engagement uniting the eccentric Sycamore family and staid Kirbys. Previews begin in August for 9/28 opening.
NOTEWORTHY CAST ADDITIONS:
After Midnight
Natalie Cole (in her Broadway debut!) will be "Special Guest Star" vocalist 8/5 through 8/31
CLOSINGS:
8/10 - Lady Day at Emerson's Bar & Grill (starring Audra McDonald); Violet (starring Sutton Foster)
8/17 - Hedwig and the Angry Inch (starring Neil Patrick Harris)
Festivals
Hudson Warehouse's Summer Stage: The Winter's Tale
Shakespeare's tragic comedy is the final Hudson Warehouse production (see June & July). Kings, queens, princes and shepherds populate this unusual work, as does a most remarkable statue. 7/31 thru 8/24
Lincoln Center Festival 2014: The Maids

Photo: Lisa Tomasetti 2013

Sydney Theatre Company, having wowed Lincoln Center critics and audiences in 2012 with its production of Uncle Vanya, is back, this time with Cate Blanchett, Isabelle Huppert, and Elizabeth Debicki in Jean Genet's The Maids. Time Out Sydney's review cited the production's glass-box set as "the perfect high-octane setting for the sisters' fantasies of death and desire to unfold." Trust me, this one will be the talk of the town. 8/6 thru 8/16
Midtown International Theatre Festival
Celebrating its 15th birthday this summer, this annual event focuses on outstanding works from the Off-Off-Broadway theatre scene. 7/14 thru 8/10
New York International Fringe Festival
Celebrating its 18th anniversary this month, FringeNYC remains the largest multi-arts festival in North America with more than 200 companies from the U.S. and abroad performing for 16 days in 20+ venues. 8/8 thru 8/24