Chock it up to her girl-next-door looks and ever-present smile — not to mention the fact that she has a prince for a husband — but it's easy to understand why Kate Middleton has earned a cult following among fashionistas.
Her regular go-to piece has been the blazer, rendered in a deep navy with a cinched-in waist and delicate gold buttons. The Duchess of Cambridge has successfully paired this wardrobe staple with everything from skinny jeans to a classic sheath, and has convinced us that we must immediately snap up something similar for our closets.
Whether you gravitate towards a schoolgirl-inspired style, or a piece with a jazzy print, all of our picks can look chic on either side of the pond.
---
For nearly a decade, Smythe has been designing jackets with impeccable tailoring (they made the Duchess's aforementioned blazer, after all). Here, the sleek wool style gets a pop of color with a ruby-red collar. $595. Otte, 121 Greenwich Avenue, 212-229-9424; otteny.com
---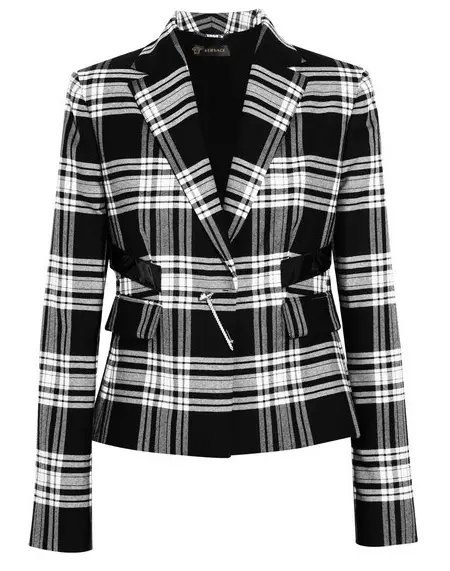 Checks were all over the fall runways, and Versace's rendition is a brilliant mix of glam detailing (patent leather trim) with an edgy silhouette (read: padded shoulders). $2,995. 647 Fifth Avenue; 212-317-0224; versace.com
---
An everyday jacket gets a fashion-forward makeover by 3.1 Phillip Lim on this cheery pink, double-breasted blazer. The style features two front pockets and charming buttons along its bracelet sleeves. $695. 115 Mercer Street; 212-334-1160; 31philliplim.com
---
Steven Alan's Cortland blazer is a fetching take on the traditional schoolboy jacket. Here it gets made in a tiny polka-dot print and has a flattering, cropped hem. $455. 230 Elizabeth Street, 212-343-7974; stevenalan.com
---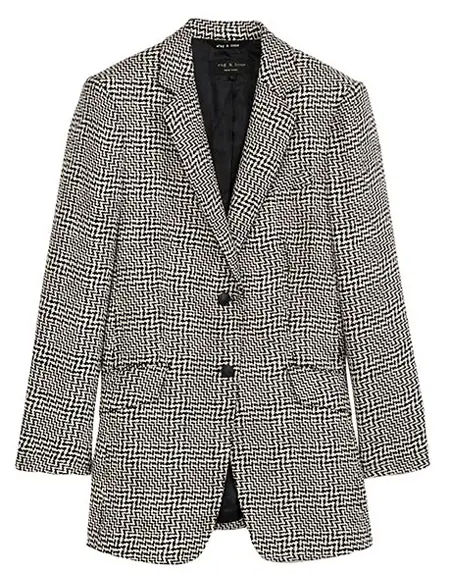 British boys Marcus Wainwright and David Neville of Rag & Bone know how to execute the perfect menswear blazer — for women. Made of a luxurious black-and-white houndstooth, this piece will keep you warm (and dapper) on chilly autumn evenings. $995. 182 Columbus Avenue, 212-362-7138; rag-bone.com
---
Considering that etiquette guru Emily Post deemed the color white acceptable after Labor Day, there is no excuse not to don the shade with your fall and winter wardrobe. We suggest beginning with Isabel Marant's crepe blazer, decked with satin trim along the pockets and collar. $1,070. 469 Broome Street, 212-219-2284; isabelmarant.com
---
Ultra-cool Japanese brand ICB has infused their aqua-hued blazer with a slight peplum shape. It promises to flatter any shape, whether paired with skinny denim or a mini-dress. $575. Barneys New York, 660 Madison Avenue, 212-826-8900; barneys.com
---
Made in Italy, Lanvin's thick panther jacquard blazer is a timeless addition to one's closet. The jacket also features satin lapels, and is tailored to nip in at the waist. $3,540. 815 Madison Avenue, 646-439-0380; lanvin.com
---
Any outfit will be instantly improved upon when topped with Balmain's double-breasted blazer. Office wear will become more sophisticated, and your evening attire more elegant. It's made of a stretchy wool-twill blend and has four shiny gold buttons. $925. Blue & Cream, 1 East 1st Street, 212-533-3088; blueandcream.com
---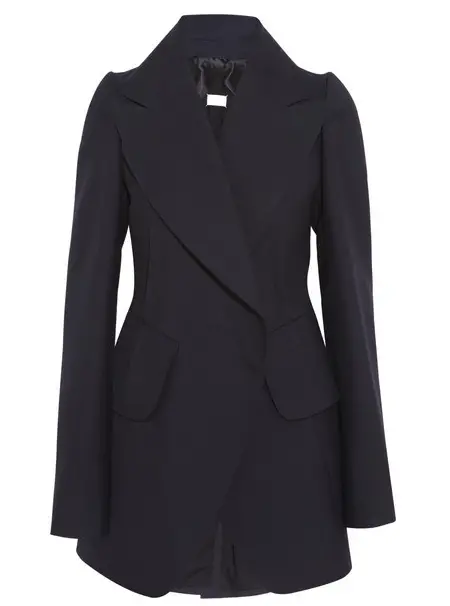 Maison Martin Margiela's wool-and-mohair blazer is a show-stopping outfit all on its own. The dramatic silhouette has a high neck (to keep out winter chill) and slightly flared bottom. $2,195. 801 Greenwich Street; 212-989-7612; maisonmartinmargiela.com