Admittedly, the only times I have encountered Angela Lansbury and Audra McDonald in the flesh have been at media madcap meet-and-greets. A logistics challenge on countless chaotic levels.
That said, these unique events have given me the opportunity to observe two of the theatre's most celebrated women open themselves up to a bombardment of questions, one-on-one interviews, and perpetual photo ops. It's against this turbulent backdrop that Lansbury and McDonald shine: First ladies of the stage offering an impromptu master class in style and professionalism.
As it happens, observing these multi-Tony winners (Lansbury has five; McDonald, four –- although the star of The Gershwins' Porgy & Bess could well have scored her fifth by the time you read this) interact with the press has proved to be a perfect jumping-off point for subsequent phone interviews.
Lansbury Over the Years
She has been known by many personae: memorably on TV for over a decade playing beloved mystery writer Jessica Fletcher of Cabot Cove, ME and on film for playing several not-so-beloved characters. Unforgettably haunting portrayals include her iconic turn as Laurence Harvey's manipulative mother in 1962's original version of The Manchurian Candidate, and even in her first film role, at age 16, as a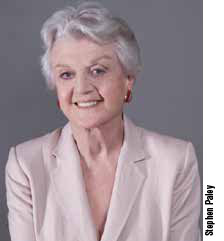 disturbingly duplicitous flirt of a maid in 1944's Gaslight.
"It was my mother, actress Moyna MacGill, who realized I was a natural performer," says Lansbury, who admits that while she began her training in England during her early teens, she didn't feel all that driven to act. "I took her advice, though, and she was right."
When the bombing began in London during WWII, her family relocated to the U.S, taking up residence first in Putnam County, NY and later in Manhattan, where she attended drama school and began her love affair with the American stage. And then came Hollywood, where she became known for older parts. "But being an 'old soul,' I was able to play those roles," she says.
But it's Lansbury's work on the stage – both in musicals and plays – that continues to strike an emotional chord with her scores of dedicated fans.
Starting in 1957 with Hotel Paradiso and up through Mame in 1983, Lansbury was the toast of Broadway, raking in Tony Awards and embracing the kind of challenging roles that mark both her personal passion and career trajectory as an actor. With the debut of Murder, She Wrote in 1984, however, she dropped off the theatrical grid, returning in 2007 to play opposite Marian Seldes in the two-person tennis tour de force, Deuce. Since then, she's appeared in Blithe Spirit, A Little Night Music and is currently costarring in Gore Vidal's The Best Man, in a role that seems custom-made for her: Sue-Ellen Gamadge, a national committeewoman in Washington, D.C. with a bit of "hostess with the mostest" Perle Mesta thrown in for good measure.
Lansbury was presented with the project by good friend and producer Jeffery Richards, whom she worked with on Blithe Spirit. After reading the script, she recalls thinking, "This would be perfect for me. Not a huge role, but two great scenes and a chance to be in a play from the 1960s," adding that the whole era came flooding back.
"I read the newspapers every day and followed it all, so recreating that era is a tremendous kick for me," says Lansbury, who discovered during early rehearsals (known as "table readings") that an occasional joke, reference, or person would need explanation. "Definitely there was a lot of background to cover, but our director, Michael Wilson, got it so right when he reminded us that while our characters may be fictional, the play is actually revisiting a piece of history. And the humor is just as up-to-date as ever."
As for working with a company of famous colleagues – the cast includes James Earl Jones, Eric McCormack, Michael McKean, and Candice Bergen—Lansbury admits there has been some "actorial bonding" that will probably build over the run of the show.
I'd guess that Lansbury and Bergen have become backstage BFFs. In passing, Lansbury mentioned Bergen's "delightful dry wit" – which is probably a sign, considering her own "delightful dry wit."
McDonald's Destiny
According to Audra McDonald, it's all in the timing.
"Being an operatic soprano, Bess is a role that's always been in the back of my mind. I knew I'd play the role someday—maybe in community theatre, maybe on Broadway—but I also knew I needed age, wisdom, and the vocal strength to do the role. Now, the timing is right."
In the beautifully revamped production of The Gershwins' Porgy and Bess, playing since last December at the Richard Rodgers Theatre, McDonald's Bess is a vocal, physical, emotional, and spiritual work of theatrical art – that's been the across-the-board critical consensus since the show previewed in Cambridge, MA at the American Repertory Theatre last year.
If McDonald's Bess is a revelation, it's just the most recent in the w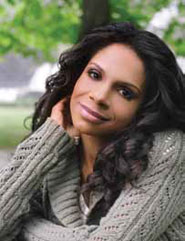 ide swath of characters that mark a career of stunning variety. "There's no rhyme or reason to the shows I find myself in," she says. "I gravitate to the role itself—who the person is and what they're trying to overcome. If I understand a character, I'm attracted to her. I guess you'd say I'm interested in exploring different psyches."
Certainly that's a path she's taken with no two roles alike and all of them compelling. And clearly she doesn't shy away from the big challenges, like her first star turn on Broadway, after picking up three Tonys in supporting roles, in Marie Christine – the title role having been written for her by Michael John LaChiusa.
An Army brat, McDonald was living in Fresno, CA when she made her stage debut around the age of nine as one of many Siamese children in The King and I at a local dinner theatre. Music was "something my whole family loved," she says, confirming that five of her aunts were gospel singers who toured as The McDonald Sisters during the 1970s. But it was The King and I that made her think in terms of music as a profession, eventually studying at a performing arts high school and then going on to graduate from Juilliard.
And after Juilliard, McDonald was pedal-to-the-metal on the fast track to Broadway stardom—and fulfilling her destiny to play Bess. "The difference between then and now is that I'm older, so it takes more effort [to] stay healthy while working. I think I've ingested more green tea in the last six months than I have in my entire life," she says, going on to point out that she and Norm Lewis, who plays Porgy to her Bess, are both determined to keep in shape, particularly now that it's been announced t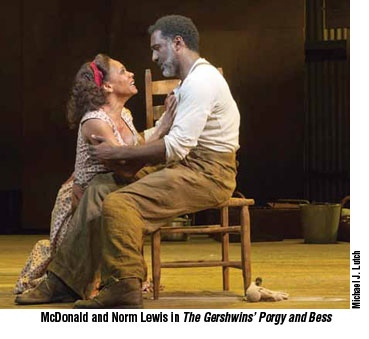 hat the limited-run production will be extending through September.
"The show's a total workout, so both of us are in physical therapy. And we don't speak a lot when we don't have to—we call it 'preserving our vocal bank,'" she says, adding, "What little energy I have outside the show is reserved for family" especially her daughter, Zoe—named after Zoe Caldwell, McDonald's greatest influence "as a human being, as an artist, as a mom."
And what does wish for the future? "Just to keep evolving in what I do—and continue to enjoy it all."
Lansbury and Mcdonald: A Touch of Trivia
Both actresses were born in Europe—Lansbury in Poplar, London, England; McDonald in Berlin, Germany. Both are 5'8" and both have won Grammy Awards.
Their Tony Awards (prior to the 2012 Awards):
Lansbury
For Best Actress in a Musical: Mame (1966);
Dear World (1969); Gypsy (1975); Sweeney Todd (1979).
For Best Featured Actress in a Play: Blithe Spirit (2009)
McDonald
For Best Featured Actress in a Musical:
Carousel (1994); Master Class (1996); Ragtime (1998).
For Best Featured Actress in a Play:
A Raisin in the Sun (2004)
What Becomes a Legend Most?
Stage Presence in New York
While every Big Apple theatre season is graced by a number of female notables, Spring 2012 is overflowing with an impossibly glowing roster of great women performers. These impossibly gifted women have enough combined Tony, Oscar, Emmy, Obie, Drama Desk, and Golden Globe wins/nominations to keep even the most avid award bloggers busy 24-7. Catch them if you can.

Jane Alexander - Edward Albee's Lady from Dubuque
(Off-Broadway, Signature Theatre, thru 3/25)

Candice Bergen - Gore Vidal's The Best Man
(Broadway, Schoenfeld Theatre)

Sutton Foster - Anything Goes (Broadway, Sondheim Theatre, thru 9/9)

Kathleen Chalfant - Painting Churches (Off-Broadway, Clurman Theatre, thru 4/22)

Stockard Channing - Other Desert Cities (Broadway, Booth Theatre)

Judy Kaye - Nice Work If You Can Get It (Broadway, Imperial Theatre)

Judith Light - Other Desert Cities (Broadway, Booth Theatre)

Adriane Lenox - Regrets (Off-Broadway, MTC at New York City Center, thru 4/29)

Marin Mazzie - Carrie (Off-Broadway, Lucille Lortel Theatre)

Bebe Neuwirth - A Midsummer Night's Dream (Off-Broadway, Classic Stage Company, thru 4/28)

Cynthia Nixon - Wit (Broadway, Friedman Theatre, thru 3/17)

Kelli O'Hara - Nice Work If You Can Get It (Broadway, Imperial Theatre)

Estelle Parsons - Nice Work If You Can Get It (Broadway, Imperial Theatre)

Daphne Rubin-Vega - A Streetcar Named Desire (Broadway, Broadhurst Theatre, thru 7/22)

Mary Louise Wilson - 4000 Miles (Off-Broadway, Mitzi Newhouse Theatre)