Hooray for Holly wood!" That melodic refrain entered my frontal lobe uninvited, disturbing my pleasant reverie, in a comfy British Rail coach, as I glided through County Yorkshire towards Leeds. Just outside the sleepy village of Dewsbury, I espied a BIG, white "Hollywood" sign, embedded into the landscape—a bizarre blot on the bucolic scenery. Here's the scoop: Some years ago, a publican (local tavern-keeper) thought it would be a clever means to drum up business with curiosity-seekers, dropping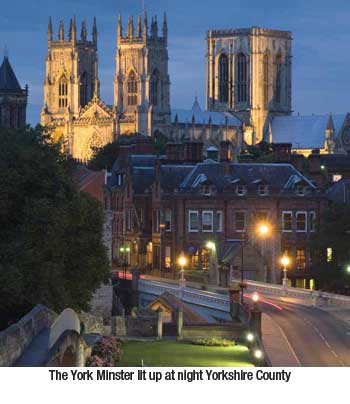 by for a pint. The pub may be gone, but its stab at innovative marketing remains.
However, I needn't have been lured by "Hollywood" to come to Yorkshire, England's largest county, and home to York, the second-most-visited city in England (7 million visitors a year, according to my trusty, engaging guide, Alan Rowley, from Complete Yorkshire); moreover, he whispers conspiratorially, it's also England's most haunted city, affirmed by an article in The Guardian in 2002, when the Ghost Research Foundation International bestowed that appellation on the town. There are many more lofty reasons to venture here, though.
The walled city of York abounds with history, most evident and striking at the majestic Gothic York Minster, the seat of the Archbishop of York, and arguably one of the grandest cathedrals of the world. The cathedral has withstood three fires (and been rebuilt), and today houses a magnificent rose window that Rowley says must be removed and cleaned every 150 years; it also is home to the remarkable, 50-foot-tall, grisaille "Five Sisters" windows. In sharp contrast to these expected appointments are the statues of 12 "Semaphore Saints," a 2004 addition; they are headless statues, the arms of each directing "flags" of haloes in the classic sem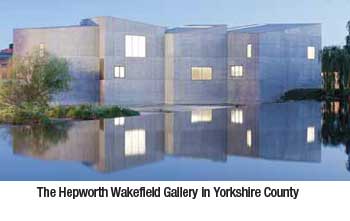 aphore alphabet, spelling out "Christ is here." Rowley confided that when they were cleaned once, a prankster put them back so that they read "Chris is there." (They have been orthographically righted.)
A delightful, kind of wacky counterpoint to the weightiness of the Minster is the hokey Richard III Museum, snuggled in a guardhouse in the city walls. It's definitely worth the climb up two flights of dank, stone staircases, in order to hear the audio fantasy-trial of the last Plantagenet; you can decide for yourself whether Richard knocked off his two nephews, or whether he's been terribly maligned by history.
You cannot leave York without some good eatin': Betty's is the premier tea shoppe throughout the region, and has been for generations. The apocryphal mistress serves up mind-boggling configurations of calories in fanciful arrangements of chocolate, fruity flavors, and whatever other ingredients she can coax her Mixmaster to fashion into delicacies, like her Fat Rascals, all of which are well worth the usual 45-minute queue. Also in town is the elegant yet cozy Cedar Court Hotel, with a wonderful dining room boasting top-flight cuisine; soon the hotel will also have spa bragging rights when it unveils its new sybaritic facility.
It's worth noting, while talking about eating, that Yorkshire has five restaurants with Michelin stars. And Trip Advisor just named York number five in its Top 10 Food and Wine Destinations List for Europe. One reason is assuredly the Shibden Mill Inn, a 17th-century pub that has consistently garnered raves and trophies (Yorkshire's Favourite Pub), and where I savored unforgettable, hearty fare. And in nearby Whitby is the Magpie, the destination for fish 'n chips (expect to line up here, too).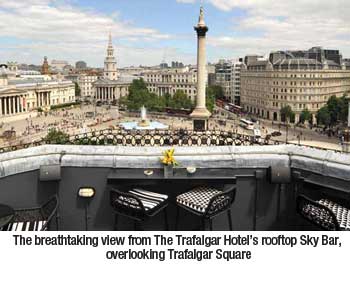 Elsewhere in delightful Yorkshire is the home of the Brontë "girls"—their father's vicarage in Haworth, a town so charming, you'll want to stop for a pint here. Stand in front of the picturesque residence—the atmospheric church graveyard behind you—and think about Heathcliff, Edward Rochester, and the rest of the sisters' dramatis personae.
In Whitby is the eminent abbey, its ruins high atop a rocky promontory overlooking the sheltered, postcard-worthy harbor. This Benedictine abbey was an inspiration for Bram Stoker's Dracula, and is now maintained by the English Heritage. There is culture galore in Yorkshire, and none as pleasant as the Yorkshire Sculpture Garden (dogs permitted), where you can amble through 500 luxuriant acres dotted with follies (think: shell grotto), a camellia house, and extraordinarily important sculpture. For indoor art, there is the newly opened Hepworth Wakefield Gallery, an impressive, rectilinear (but built with no right angles), steely structure in an ancient setting; galleries, awash with plenty of natural light, house a most impressive collection, including, of course, Barbara Hepworth's ouevres.
For your other senses, there are spas galore in Yorkshire. I test-drove three: The Titanic Spa in Huddersfield is located in an old textile mill. When you enter, the first thing you see is the special pedi area, where you can secure one of those "little-fish-eat-your-calluses-off" treatments. The ladies who were experiencing it told me that it felt as if Champagne were tickling their tootsies. At the fabulous Eastthorpe Hall Spa (located in an ever-expanding manor home), owner Stephanie Barraclough will charm the calluses off your feet without little fish...she is just that charismatic and dedicated to giving you a sensory, relaxing, memorable experience. (She employs a chef, Granville Graham, who whips up healthy fare you will not forget.) Lastly is the Verbena Spa at the wonderfully comfy, elegant, and award-winning Feversham Arms Hotel in the quaint village of Helmsley. This hotel is a jewel, with a restaurant to match—great food, incredible staff, and an exquisite setting.
I used the Mint Hotel in Leeds (a very "happening" city) as my home base, and enjoyed the economical and convenient BritRail to get around. My stay at the Mint was topped off each night with revelry at the rooftop bar, where genius mixologist Dean Railton (who won the recent Made in Yorkshire Cocktail Competition) seduced me with his sage-and-onion Gibson, his Smokey Railton, and his Nail in the Coffin.
I can only say, if your stay in Yorkshire is anything like mine, you'll indeed know "this other Eden" (to borrow from Shakespeare again) takes second-place to none in the UK.
Well, O.K., London cannot be included in that "none." And if ever there were a year to visit London, 2012 is it, what with Queen Elizabeth's Jubilee and the Olympics. Regardless of your reason for going, there is so much new on the dining scene, and so many old chestnuts to be explored, I decided to eat my way through a week in London and supply Olympic devotees with ideas for vittles other than fairgrounds fare.
I suspect that no hotel re-opening was as anticipated as that of the fabled Savoy. Closed for more than three years, it's back with a majestic flourish. The former playground of Enrico Caruso, Babe Ruth, Laurence Olivier, Josephine Baker, George Bernard Shaw, and scores of other bold-face names, it has been renovated skillfully and painstakingly. You'll want to come here to enjoy a glass of hard-to-find Egly-Ouriet Grand Cru Brut Rosé in the stunning Beaufort Bar, sheathed in jet black and patinaed gold. Dinner in the Riverfront Restaurant facing the Thames is an indulgence worth every pound (both kinds of pounds).
I would have to say that the best meal I had my entire week in London was at the brand-spanking-new Thirty-Six by Nigel Mendham, a Michelin-starred chef, now at the helm of Dukes Hotel's intimate 36-seat restaurant. Named not for seating capacity but rather for the number symbolizing good luck in Chinese, the restaurant is a first-class winner. The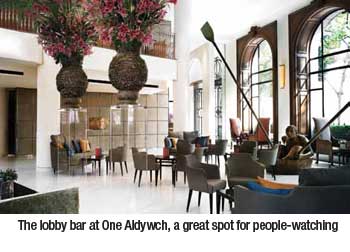 chef offered up an amuse-bouche with an exhilarating explosion of flavor; it was a frothy confection of fancy walnuts, foie gras, Yukon gold potatoes, and chocolate—or at least I think it was. It was eclipsed by an astoundingly delicious salt marsh lamb of sticky ribs and braised shank with caramelized shallots. Chef Mendham is young and you will hear from him for years to come. For the Y-chromosome coterie, Dukes has a very clubby cigar bar, presided over by the hotel's illustrious bartender, Alessandro Palazzi, whose "89" martini with a sugared rose and a tad of a tonka bean is a must-have. (Be sure to have this in London, 'cause the tonka is outlawed in the States; The Atlantic said of the bean: "an ingredient so good it has to be illegal.")
For a taste of home, though, you might consider heading to the Mandarin-Oriental, where the legendary Daniel Boulud, no stranger to Gotham, has opened an outpost of Bar Boulud. First off, he's brought some staff from this side of the pond to open his boite, and they know his exacting style; and to that group he's added the most amazing people, so that overall, the staff could not be more helpful. I actually felt like maître d' Paulo de Tarso and assistant general manager Juan Ramirez had adopted me and made me family, after my meal there. The joint is always hopping with a hot vibe and, of course, fabulous food; even the lowly saucisson et jambon is elevated to haute cuisine here.
And if it is other pop fare you crave, like a hamburger, then sashay on over to the Langham Hotel, which underwent a renovation a few years ago and is just gorgeous. The glamorous Artesian Bar ("World's Best Cocktail Menu 2011" at the 5th Annual Spirited Awards) is the place to relish a burger and crispy chips, among other cunning offerings. For a "serious meal," head to the Langham's Roux at The Landau, where celebrated father and son, Albert and Michel Roux, Jr., hold court. End your meal with a spiced plum soufflé with red wine ice cream and sablé crumb. Prepare to be rolled home.
For a very special bird's-eye view of London—day or night—hit The Trafalgar's rooftop Sky Bar, one of the few outdoor bars in London with a panoramic vista—and, parenthetically, with wickedly good drinks. The lobby bar at One Aldwych is a great spot for people-watching, especially during Fashion Week, since it is right across the street from Somerset House, the event's main venue. And after a day of Knightsbridge shopping, an earned sit-down at the InterContinental's new Arch bar is a welcome treat.
To view the pages in pdf form, click here.