Ulysse Nardin's Nelson Lucero on the boutique's signature marine chronometers, plus the newest models from Baselworld.
Summer fashion isn't just about the clothes. Adorning your wrist with a luxury timepiece can completely transform your look, and the right watch can carry you through the seasons, regardless of shifting trends. We spoke with Nelson Lucero, Vice President of Sales and Marketing for Ulysse Nardin, a brand with a deep history in marine chronometers that has evolved into a full-fledged timekeeping empire with 20 boutiques worldwide. Lucero lets us in on what to expect from Ulysse Nardin's exclusive New York boutique, signature brand pieces, and exciting additions for summer.
Q: Can you give us an idea of the rich history associated with the Ulysse Nardin brand?
A: Ulysse Nardin, founded in 1846, has been dedicated to excellence for over 167 years in manufacturing mechanical timepieces. Among the most reliable ever made, Ulysse Nardin's marine chronometers are still sought by collectors around the world. Ulysse Nardin continues to be at the forefront of watch-making technology by pioneering new materials in manufacturing high precision movement components and the most innovative timepieces.
Q: When did Ulysse Nardin break into the New York market?
A: The brand has been well established in the New York market for more than two decades. It only made sense for Ulysse Nardin to streamline the distribution in NYC once a decision was made to open the boutique [in November 2013].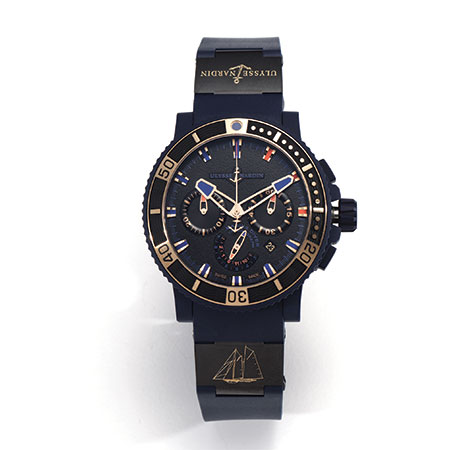 The Schooner Chronograph from Ulysse Nardin. $15,500. Available exclusively at Ulysse Nardin US Boutiques.

Q: What can customers expect when they shop at your New York boutique?
A: Consumers can expect to be immersed in the world of Ulysse Nardin and see pieces that are often only seen in editorial coverage and important exhibitions around the world. Additionally, they can view a collection of "boutique-only" limited edition timepieces, as well as be the first to see the new arrivals from Baselworld before they are released to the market.
Q: What makes a Ulysse Nardin watch unique?
A: Ulysse Nardin has been known for not only the most reliable and sought-after marine chronometers, but also as one the most innovative brands in the industry. Ulysse Nardin offers many in house complications ranging from functional to "haute Horlogerie."
Q: What are some signature Ulysse Nardin pieces?
A: For sure, the marine chronometers, Freak, GMT Perpetual, and Sonata are the most recognized signature pieces in Ulysse Nardin's collection.
Q: Are you offering anything new for summer and fall?
A: During summer, the boutiques begin receiving the models recently unveiled at Baselworld including a new collection of marine chronometers based on our in-house caliber UN-118, a completely redesigned Marine Diver collection for men and ladies, new "boutique only" limited edition models, and many more new introductions.
---
Ulysse Nardin New York Boutique The Ritz Carlton, 50 Central Park South, 212-257-4920; ulysse-nardin.com