Picture this: It's 2009, the economy is a mess, and housing foreclosures are a national epidemic. Arriving on the scene are two travelers, Socrates and his pupil Glaucon (ok, call them time travelers), driving along the East Coast on Interstate 95. Stuck in traffic, they begin a Socratic (of course) dialogue about the suburban sprawl and decay around them—a vision of the American Dream gone wrong.
This is the fanciful premise of the Buell Hypothesis, an otherwise sober-minded research report by the Temple Hoyne Buell Center fo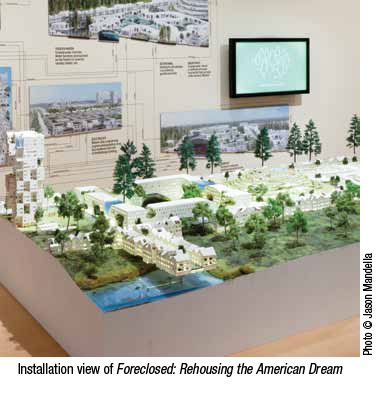 r the Study of American Architecture at Columbia University. Its conclusion, in a nutshell, is that we must fundamentally change the dream—now centered on single-family homes with private yards—to solve the problems of suburbia.
That hypothesis is the bedrock of Foreclosed: Rehousing the American Dream, an exhibition at the Museum of Modern Art that explores multiple ways to make those changes. On view through Aug. 13, the show was organized by Barry Bergdoll, the museum's chief curator of architecture and design, with Reinhold Martin, director of the Buell Center.
In the summer of 2011, MoMA gave five teams, each composed of architects, planners, engineers, and other specialists, studios at PS1, MoMA's affiliate space in Queens. There, they each came up with ways to help solve America's housing crisis, anchoring their creativity in current technology and the research data of the Buell Hypothesis. "We told all of them they couldn't design something that couldn't be built," says Bergdoll.
Of course, the five case studies don't dwell on still-prosperous suburbs. Each team, headed by an architectural firm (the firms are MOS, WORKac, Visible Weather, Studio Gang, and Zago Architecture), focused on an obviously distressed suburban community in a different part of the country—the Northeast, Southeast, Midwest, Pacific Northwest, and Southwest.
The selected communities, as we see in the show, are places with abandoned or overcrowded houses, boarded-up windows, weed-strewn parking lots or, in the case of Rosena Ranch, just outside Rialto, Calif., acres of land of a planned residential subdivision that was left largely undeveloped as the economy imploded. Several of the older suburbs are scarred by the kind of blight once associated only with the inner city.
The five MoMA projects ask what kinds of new housing models can best serve the needs of these communities, taking into account such questions as zoning regulations, financing, allocation of public versus private space, and other issues.
It sounds a tad academic, but the exhibition has been pulling in crowds with its use of appealing architectural models, videos, artists' renderings, and large-scale graphics. Even a Rubik's Cube plays its part, helping to explain Studio Gang's presentation for Cicero, Ill., an aging suburb outside Chicago. The cube, with its shifting components, represents the plan's modular "recombinant" housing, mostly within an abandoned factory; the concept allows residents to buy only those parts of a dwelling that they need, adding or subtracting rooms as their families grow or shrink.
Visitors may find some futuristic visions here. Among the structures that WORKac created for Keizer, Ore., for example, is one that at first glance might look like an alien spacecraft. It is, in fact, "Compost Hill," with housing atop a domed plant that processes bio-waste into compost and methane-fueled electrical power.
Other plans look, or feel, more typically "suburban": Zago Architecture, for instance, includes single-family homes among the duplexes and row houses in its model for the undeveloped portion (90 percent) of Rosena Ranch.
Yet for all their superficial differences, all the plans "look at ways you can have a denser population in suburbs relatively near a metropolitan center, without giving up a sense of open air and the things people go to the suburbs for in the first place," says Bergdoll. In WORKac's plan for Keizer, for example, the community is five times more densely populated than a typical suburban area—but also has three times the open space.
Envisioning more mingling of work and residential spaces—often difficult under current zoning restrictions—the different plans also place an emphasis on pedestrian-friendly design. For Orange Township, N.J., the firm MOS proposes three-story structures encompassing residential, commercial, and office use that zigzag through streets between existing homes. The cars that once traveled those streets have been banished from the area.
In fact, cars get rather short shrift in all the plans, Bergdoll acknowledges. "A lot of people have criticized in all of them a lack of attention to parking," he says. Then again, the five projects are not intended as blueprints. "We really see the project as a kind of bridge to another stage," says Michael Bell, of Visible Weather, in the video about his firm's plan for Temple Terrace, Fla., which mixes housing, offices, stores, and even government in the same area. The idea, he says, was "to show what was possible."
Or, as Socrates says to Glaucon while stuck on I-95, "It may be time to dream a different dream."