You know the minute you look at the akimbo bottle — something special is inside. It's Hermès' "Eau de Merveilles," which, loosely translated, means "fragrance of wonders, or marvels." And so it is. The bottle alone says it is off-center, different, exotic, interesting.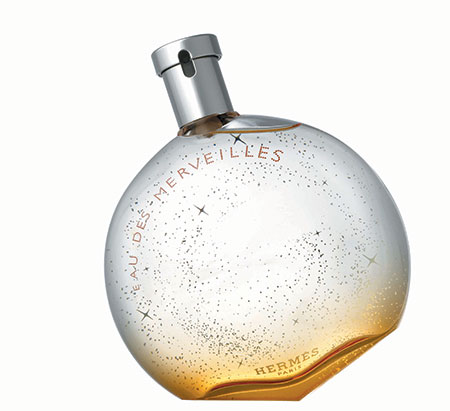 There is an emphasis on a woodsy scent here, with amber overtones. This is, however, a highly feminine fragrance, but without the floral edge. Yet, it's not masculine, either. It's one of my newest favorites. You smell it on someone and, as is often the case, the scent lingers in your brain until you go out and buy it to get your fill, daily. And so I did. And I cannot recommend it highly enough for Valentine's Day as a distinct gift to that special someone (and purchasing it won't break the bank, either). There is a little bit of oak and a little bit of a resin, both of which spark a sense memory of caramel, aged cognacs, and spice-laden galleons. Exotic images of Marco Polo on the Spice Route. Add to that a sparkling of cedar, an overlay of vetiver, and then think of an enchanted forest and you are on your way to pinpointing this scent. But then, wait, there is another outpouring of vanilla and balsam, and a touch, perhaps, of ambergris, and it is all topped off with a scent of — what? — pepper!
It is elusive, it is mysterious, and it is all mine already! Now make it yours, or your sweetie's! (And stay tuned for another fragrance or two before Valentine's Day.)
Available in the following sizes:
Spray, 50 ml., or 1.6 ounces, $108.
Spray, 100 ml., or 3.3 ounces, $149.
Lait des Merveilles – Marvelous Body Lotion (dispensing pump, 200 ml., or 6.5 ounces)
Bain des Merveilles – Marvelous Bath and Shower Gel (dispensing pump, 200 ml., or 6.5 ounces)
Deodorant spray, spray, 100 ml., or 3.3 ounces