Ever since the TSA dictated that we hapless travelers could not lock our suitcases when they are checked in for a flight (and targeted for on-board storage in the plane), most of us have taken to traveling with anything marginally valuable in our carry-ons. Going through the security check point has become a lengthy ballet and the last thing you want is anything locked, adding one more layer of activity at that frantic gateway.
However, once on board, you may want to lock that tote with your iPad in it, if you're not using it on the plane. And, when traveling by train through Europe, which I do with some frequency, my luggage, including my carry-on, is usually many feet away from where I am. Sometimes, my luggage is even in the train's entry and egress hallway where people get on and off; that foyer is oftentimes a room of its own, not within my line of sight. Many European trains have luggage racks at both ends of the car, also making it impossible to even see your luggage when you are seated in the middle of the car, especially if you are seated facing the opposite direction. You cannot always opt for ideal luggage placement, anyhow; trains are often crowded and you are lucky just to get a seat and even more fortunate to find rack space for your suitcase and carry-on. I have found, also, that the overhead racks on European trains are quite narrow, not wide enough for a backpack.
All this having been said, what to do to secure your valuables? I want to be sure what is in my carry-on and my suitcase stays there, away from wandering eyes and hands.
Enter Victorinox's travel locks. I would not go anywhere without them now that I have used gotten accustomed to using them. The locks are TSA-approved, which means that while they are locked for all outsiders and civilians, the TSA, an insider, can use a nifty tool they have to open the lock and check out anything suspect in your valises. A TSA-approved lock has a little insignia on it, indicating that the lock is in compliance with TSA regulations, and if need be, can be opened, to unearth your suitcase's innards, and then relocked. The locks are ideal to put on anything you have that you want to keep safe.
There are three styles: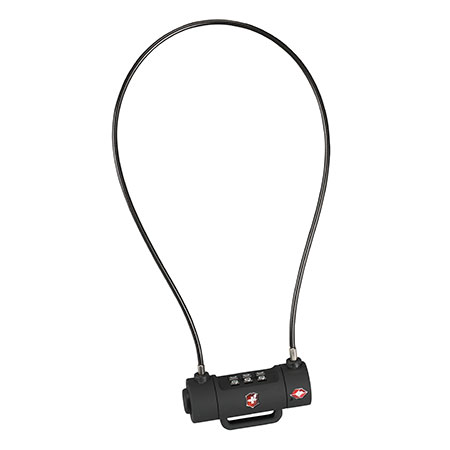 The Loop Lock: You can tether several bags to each other, or secure one bag to a stationary object. The convenient cable loop is sized to fit through lockable zipper sliders and is versatile. There is a three-digit combination that you set, and can reset, as needed. It retails for $20 and has a lifetime guarantee.
The Cable Lock also has a three-digit combo that you set and can reset. The narrow cable is sized to fit through locking zipper sliders, a unique feature. It is also $20.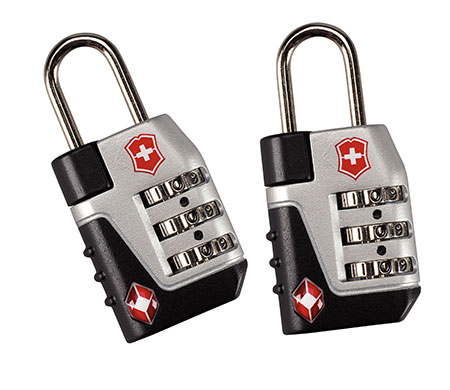 The Travel Set ($25 for two locks) is what I use the most. I keep one lock on my duffel and one on my backpack, and find that the narrow trunk of the lock fits right through sliding zipper components easily. The Cable Lock flexes more easily in that configuration, but both work just fine. And again, the three-digit combination can be set and reset.