There's an old saying: "At Wempe, the clocks tick differently." The phrase, which was first penned in the early 1900s, is almost as old as the company itself: Wempe, a maker and purveyor of exquisite timepieces and, more recently, fine jewelry, was founded in Germany more than 130 years ago by Gerhard D. Wempe and has been passed down through family hands ever since. Enter Wempe New York on Fifth Avenue, though, and you'll meet a man who not only believes the old saying to still be true,
but quotes it with pride. "Here, it's not all about the last dollar you can squeeze out of everything," says Rüdiger Albers, the company's president. "It's more about creating a legacy and something you can attach your name to and feel proud of."
With 25 stores worldwide, including 19 in its native Germany and one floating around the world on the MS Europa luxury cruise ship, Wempe's strongest store is its 30-year-old flagship here in New York, which will soon be joined by a Rolex boutique in the Rolex Building on 53rd Street and Fifth Avenue.
And while most watch lovers are familiar with the Rolexes, Cartiers, and Patek Philippes (to name just a few) found on Wempe's shelves, we sat down with Albers to dig a little deeper into what makes this company tick.
Q. I noticed you're wearing two watches-why is that?
RA: This one here [pointing to right wrist], we took this back after it didn't work for a client. I have a feeling it was something he did with it. It's a very thin watch, and he might have put it on his radio clock at night and it got magnetized. But I thought before we resell it as pre-owned, I'll just put it on and wear it for a while before we can sell it with conviction that it's going to work.
Q. Your store is always busy-even now, at 10 o'clock on a Tuesday morning. What is it that attracts people?
RA: We've been here for 31 years, our company is 133 years old, and we've been consistent in the message and the service we provide. Every store talks about their customer service, but you have to go above and beyond the expectations of the client. When you're spending a good amount of money on a fine watch or piece of jewelry we want you to have a memorable experience, because otherwise you might as well buy a Casio and be done with it.
And I think the other big difference is our salespeople. They're knowledgeable but they have their heart in it too; they care, and customers feel that. They're here to listen to the client and make sure they walk out with something that was good for them, not just good for us.
Q. How is Wempe different from other stores?
RA: Many other boutiques are somewhat on the stiff side, so it's intimidating to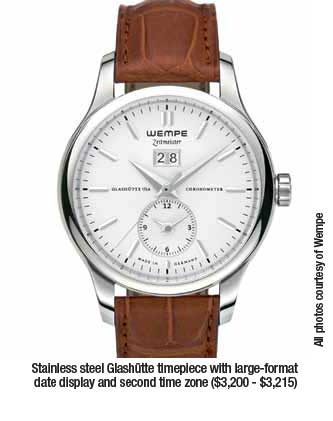 go in, especially as a young person-you walk in and there are six people looking at you going "Is she wearing the right shoes? Can she even afford to be in here?" Like the Pretty Woman effect. With us, we're too busy to take note of those things and know better than to judge a book by its cover. You can slip in here and no one will pressure you, and you don't feel like you're walking down the runway. There's a lot of laughter here. I have seasoned professionals who know they have to sell, but we do it in our own way, without pressure, without targets, and it works.
And we always go the extra mile. We just delivered a $120,000 clock in San Francisco. I flew over there, set it up, the whole kit and caboodle. And I have one customer, he bought a watch winder/precision clock for I think it was $150,000 and I promised him he would have it in two weeks, but then I couldn't find a shipper who would meet that deadline. So we put it on the back of a truck and drove it down to Miami. That's the way we work.
Q. Would you say you have a "typical" customer?
RA: No, we don't. I would say that 60 percent of our customers are U.S. customers and 40 percent come from everywhere else. Right now we're seeing a lot of customers from China, Brazil, and a lot of Europeans. We attract a lot of young people that like the style we have here. We don't judge people by their ages or outfits. We treat everyone the same. Ou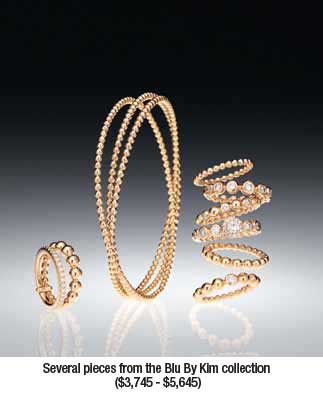 r salespeople deliver the same level of service to everybody, no matter what they buy.
Q. How do you choose which brands to feature in the store?
RA: We try to carry the same name brands in all our 25 stores. Because we're in New York, we have the space for it, and our clientele is extremely diverse, we probably are a little deeper in our assortment here. Most customers are only coming through New York for three or four days, so having the best selection on hand at all times is crucial to our success.
Q. Tell me more about Wempe's jewelry line, By Kim...
RA: We have an atelier in the Black Forest in Germany where we create all our jewelry, our own exclusive designs. The jewelry is called By Kim because Kim [Wempe] is the CEO, and she's very instrumental in the finishing of the product. Our French designer interprets Kim's ideas and creates the designs, then she and Kim sit down to finalize each piece. Our jewelry is mostly contemporary-classic pieces that are ready to wear every day. Kim herself would be best described as very personable and down to earth, which shows through in the jewelry.
I remember once, very distinctly, when we had a delivery of catalogues. We d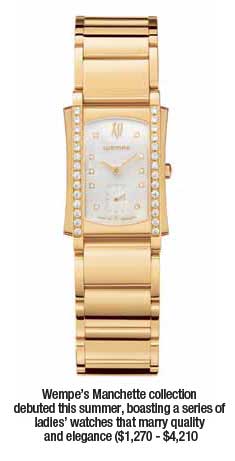 on't have a loading dock and the shipper put three huge palettes right in front of the store, preventing us from doing business. Kim happened to be here, and she's the one who got everyone in line and started a chain to get them into the basement. Mr. [Hellmut] Wempe, now 79 years old, the owner of the business, makes it a point to talk to every person when he's here and tell them "I'm glad you're working for me." That kind of caring filters down and defines our company's culture. You'll often see me making espressos for clients, and I have no problem with that. I wash the windows, too, if necessary.
Q. Besides the new Rolex boutique, is Wempe planning to expand?
RA: We're family owned, so we don't have the ability of opening multiple stores at the same time because we like to finance ourselves from within and keep our independence. With our set-up, it all depends on the people. It's not easy to duplicate the Wempe experience. We're not completely commercially driven; we've had opportunities that we've passed by because we didn't feel they were right for us. It's more about doing what we're proud of.
Wempe New York
700 Fifth Avenue at 55th Street
212-397-9000; wempe.com
Store hours: Monday-Saturday 10am-6pm, Sunday 12-5pm