You'd be hard pressed to find a more gracious and welcoming hotel in the South. For years, the Windsor Court Hotel has held court and reigned supreme in New Orleans, and now, after a $22-million renovation completed last year, there is clearly no local New Orleans lodging that can come even close to this property for its service and hospitality, with as capital H.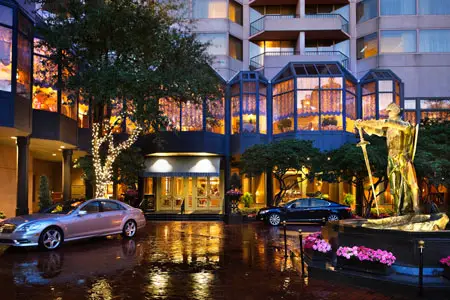 Located in the heart of the Central Business District, it is a stone's throw from the French Quarter and storied Bourbon and Royal Streets, and to the hotel's south—barely a five-minute walk—are the docks along the Mississippi where the legendary paddlewheelers that ply Ole Miss are tethered. In fact, I purposefully engineered a stay at the Windsor Court to dovetail with my voyage on the American Queen, the largest paddlewheel steamboat ever built. But even if I had not been planning a river journey, the Windsor Court would have been enough of a destination for me, just as it was some twenty years ago when I planned the Big Tour of the Big Easy.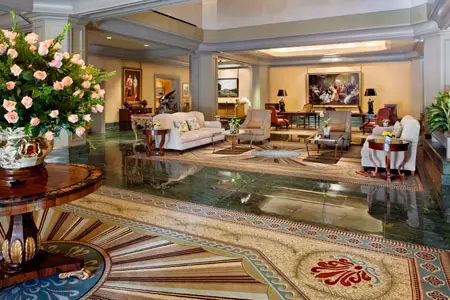 The Windsor Court Hotel lobby

The hotel's face-lift struck me the minute I entered the capacious lobby, with its bright, airy palette, beckoning seating areas (which are dotted with 17th- and 18th-century reproduction pieces), and handsome murals. In fact, you'll be struck throughout the hotel by the outstanding art that greets you at every turn. The hotel is renowned for its collections, boasting museum-quality paintings, sculptures, tapestries, and furnishings, dating from the 17th to late 20th centuries; pieces are displayed proudly throughout the property. Many are of British origin with an emphasis on works that depict Windsor Castle and life of British royalty. The collection has an estimated value of more than $8 million and includes original works by Reynolds, Gainsborough, and Huysman.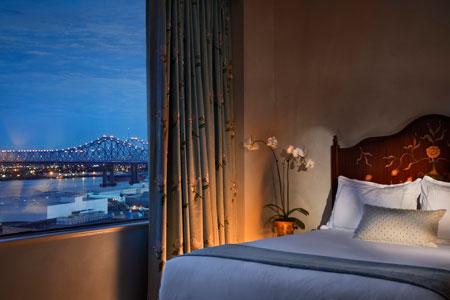 The view from the guest room at the Windsor Court Hotel

But it was when I crossed the threshold into my room that the makeover really struck me. I had remembered the pleasing, good-size guest rooms, almost all of which (261 of 316) are more accurately described as suites, given their living room, bedroom, primping area, and colossal bath. The revamp has bestowed a delicate robin's egg blue color scheme, complimented by the opulent, period furnishings, which in turn are accented by traditional (but custom-created) toile, depicting the St. Louis Cathedral and French aristocrats. The "colossal" baths, as I truthfully described them, are awash in subtle, tawny-beige, Italian marble, and feature oversize amenities—no tiny three-ounce, travel-size amenities here; and they're all from Molton Brown, so it's well worth taking two showers a day—in the roomy separate stall shower. (The WC is also in a separate nook.) Rooms are well designed with an entry-way chamber (outsized enough to be called a studio apartment in Gotham!) which has been transformed into a kitchenette, with a Keurig machine for easy-to-brew morning coffee. Of course, there are the 21st-century necessities in the form of state-of-the-art electronics, including iHome docking stations, flat screen HD TVs, and jack pack connections that allow guests to seamlessly connect their personal technology to the TV.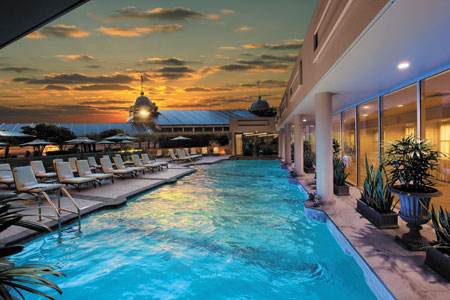 The pool area

If this is luxury doesn't engender a laissez-faire, let-the-chips-fall-where-they-may attitude (an attitude that the Big Easy usually triggers), then the ambience of the indulgent spa certainly will do it! Also transformed by the hotel's redo, the sybaritic, 4,500-square-foot spa, with the requisite sauna, steam, and beauty salon, is adjacent to the gym and pool, so you can get all your health and beauty needs in one fell swoop. Swarovski crystals line the ceiling, mother of pearl tiles accent the surroundings, and soothing décor envelops. There is a nod to necessity, with iPod docs on each of the eight treatment rooms so clients can bring their own music with them, should they choose. Product lines include the hard-to-find Phytomer, Cellx-C, Clarisonic, and Soulstice brands, as well as the highly touted (among my favorites), Moroccan Oil. It is worth mentioning that aside from the expected massages and facials, the spa offers a few treatments you'd be hard-pressed to find even in loftier urban settings:
Heir Oxygen Facial O2 – Uses compressed oxygen to reduce redness and calm the skin, creating a glow. This facial includes a deep cleansing, exfoliation, thorough extractions, luxurious massage and loads of hydration for a dewy finish.
Reigning L.E.D. Facial – This facial includes the ultimate deep pore cleansing, super strength exfoliation, thorough extractions, skin-specific mask, and full face L.E.D. treatment to create a rejuvenating, anti-aging boost for skin.
Royal Facial Microdermabrasion + L.E.D. + O2 – Incorporating multiple techniques, this facial combines technology for anti-aging with smart-product selection, and involves deep cleansing, microdermabrasion exfoliation, thorough extractions, oxygen therapy, massage, and hydrating mask with L.E.D.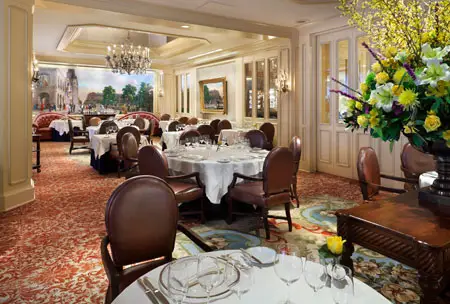 The Grill Room

I had to give myself a pep talk the next day to return to the gym, after my most extraordinary meal at the Windsor Court's signature dining space, The Grill Room. Even before you ingest so much as a freshly baked breadstick in this incredible eatery, you will be struck by the remarkable murals on the walls, painted by local artist Auseklis Ozols. Measuring approximately 17' x 7', each mural captures a different New Orleans scene: An 1860s, tranquil, countryside plantation, bringing to life the era's architectural grace, expansive landscaping, and fascinating period characters of manor life; Jackson Square, which includes scenes of the serene park, St. Louis Cathedral, and the historic Pontalba Apartments; the bustling French Market brings to life the colorful energy of a traditional farmer's market at the turn-of-the-century. You'll have plenty to look at while you dine in splendor.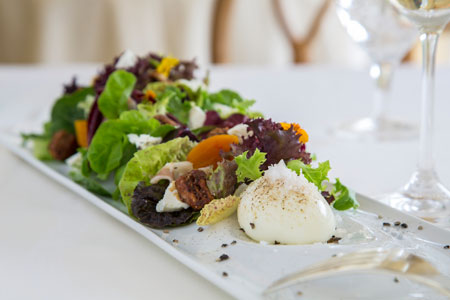 I indulged in braised scallops to start, awash in smoked butter and God-only-knows-what-else, and they were so rich and delicious, I actually didn't finish the appetizer portion! A "light" salad was de rigueur next, and I thought the chef's garden butter lettuces sounded perfect—particularly since this salad was punctuated with pork belly croutons and dabs of Stilton. The grilled Creekstone Farms rib eye with black truffle potato butter was pretty intoxicating, also. I was so stuffed, I actually had to pass on dessert—unheard of—and so I have yet another reason to return to the Windsor Court! I would heartily suggest a drink first or a coffee after dinner in the adjacent Polo Club Lounge, also newly renovated and so clubby and comfy you may want to stay for a drink or three. If you're imbibing, then ask to see the cocktail menu: The Vieux Carée is a cognac, rye, sweet vermouth, and bitters drink that will please, as will the Betsy Ross, which is brandy, ruby port, Cointreau Noir, and bitters. My colleague and I chose the drinks by their names, I have to admit, as they seemed appropriate to the time and place, and we couldn't' have selected anything more perfectly suited to the evening.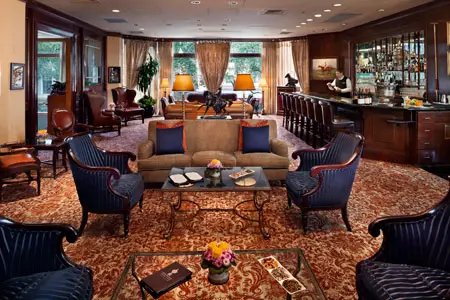 The Polo Club Lounge

It is no wonder that the Windsor Court has earned AAA Four Diamond recognition for 12 consecutive years, as well as Four Stars from Forbes Travel Guide for the last five years. In 2012, Travel + Leisure named the property one of the Top 50 Large City Hotels in the U.S. and Canada. The year prior, Travel + Leisure also ranked the Windsor Court number six in its listing of the "Top 50 Big City Hotels in USA and Canada" (no easy feat to place that high) and the hotel was also included it in the "Top 500 Hotels in the World." The hotel also earned a spot on Condé Nast Traveler's coveted "Gold List" and "Best Hotels in the World" for 2011. Throughout its history, the Windsor Court has been the choice for discriminating travelers visiting New Orleans, and I count myself among them. Now I just need another excuse to return there! But then who ever needs an excuse to go to New Orleans?