Wolverine, the maker of dependably rugged boots since 1883, has a wonderful new store in Nolita, and it's the place to find all the latest footwear from their Spring 2014 Women's Collection — including new styles in its Wolverine No. 1883 and Wolverine 1000 Mile by Samantha Pleet collections.
The Wolverine No. 1883 Collection combines their long history of classic shoe-making with a modern twist on traditional forms; this season, it explores splashes of color and fresh summery silhouettes. In their continued collaboration with the Brooklyn designer Samantha Pleet, her collection unites Wolverine's heritage with Pleet's mystical design perspective. Inspired by the events of summer, the collection leads with the Ceremony boot, featuring signature color blocking, leather and suede combinations, and unique hues including black, brown/black/coral, and brown/black. The Picnic sandal (above) is a versatile shoe with modernist color blocking and a sculpted heel, crafted with leather and suede (available in brown/black/coral and taupe.) Wrapping up the new collection is the Festival sandal (below). These jazz-shoe-like flats are comfortable to wear all day long and are available in eye-catching coral and a neutral brown/black color combination.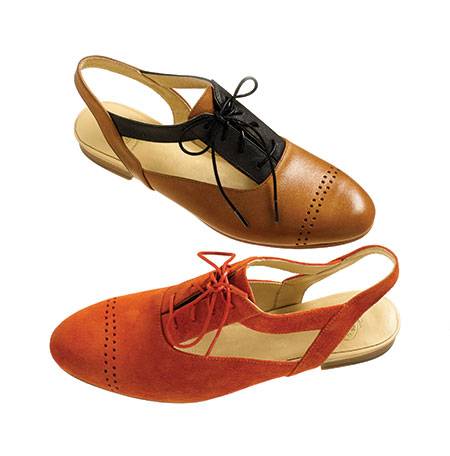 The stunning space itself features wooden beams that were part of Wolverine's original tannery dating back to the late 1800s, a wall of vintage shoe lasts, and a concrete sign, weighing more than 1,000-pounds, from one of the company's original factory buildings.
In addition to the full men's and women's collections of Wolverine 1000 Mile and Wolverine No. 1883, the store showcases men's and women's items from other like-minded brands including Filson, Tellason denim, Left Field NYC, Imogene + Willie, and Tanner Goods, and a unique selection of vintage items from BKLYN Dry Goods. 254 Elizabeth Street (Prince/Houston Streets); 212-226-7869; wolverine.com