Most designers celebrate a milestone anniversary by, say, re-launching a bestselling piece, or even hosting a blowout soiree in their honor. Not Yael Sonia. The Boston-born jeweler is expanding her Manhattan footprint, opening a by-appointment SoHo showroom in addition to launching two new collections this fall.
So what exactly has changed over the course of Sonia's last 15 years in the biz? Luckily, not much. Each design continues to be handcrafted in her São Paolo workshop, while gemstones remain sourced from Brazil. The debut of Rock DNA promises a "more delicate and traditional angle," Sonia says, to that of her more playful Rock collection. And a new bridal line will add a dose of whimsy to the oft-conservative engagement ring.

Photo: Antonio Ribeiro

We spoke to Sonia upon her return from a well-deserved summer jaunt to the South of France ("my first vacation in 10 years") about what is next for her eponymous brand.
Q. How have your jewelry designs evolved over the last decade?
YS: I made all my initial designs by hand, all by myself. They were very organic and personal in concept. Now my pieces are more universally inspired and include graphic and geometric elements, all handmade by [artisans] in the same São Paolo studio since 2000. [Lately] I've been working with rough stones and incorporating more gemstones.

Q. What can we expect from new fine jewelry line, Rock DNA?
YS: It is easily collectible. I felt the need to create a line that would appeal to the young and fashion-forward customer, all the while keeping the materials precious: diamonds, rubies, emeralds, and sapphires. The pieces, including bracelets, [rings], bands, and earrings, are more classic in sense of scale and start at a lower price point. My younger customers respond to more refined, tailored items.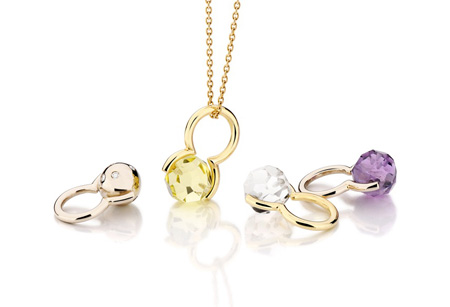 Rock DNA pendants

Q. The Spinning Wheel bracelet, part of your famed Perpetual Motion collection, is considered to be the brand's signature piece. Are there any breakout hits we can anticipate from Rock DNA?
YS: There's several! The pendants are a profile of my Rock ring that looks like a stylized infinity symbol. They can be attached to a necklace chain or affixed to the line's tubular earrings.

A trio of engagement rings from the bridal line

Q. You have offered engagement rings in the past, but this fall marks the launch of a bridal collection that will allow customers to commission highly personal designs. Tell me about the new styles.
YS: I originally started on bridal because my customers asked for it. They like the language and movement of my fine jewelry, and want that feeling in an engagement ring. Each element can be specially customized, such as the stone and its cut, and the shape of the band. The styles all feature an outer ring—around the center stone—that pivots with the wearer's movement from side-to-side. It is a subtle motion, so the client can wear it every day.

Q. Beginning this month, your NYC customers will be able to work directly with you at your new, airy SoHo loft designed by Uli Wagner. Describe the showroom.
YS: It will be a destination where my clients can forge a connection with the brand, and be very comfortable while doing so. We want people to come and stay! There will be fabulous geometric décor components, mod light fixtures, and a gold-leaf treated wall. Every architectural detail has been custom-made, and derived from elements in my jewelry.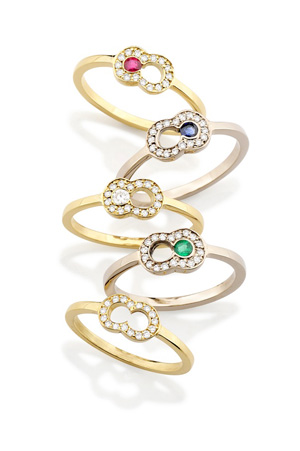 Rock DNA single and single full bands

Q. Considering you are a consummate globetrotter (you also show your collection at a gallery in Paris's Seventeenth Arrondissement), can you divulge some of your favorite go-to places in NYC?
YS: I never stop being a New Yorker. For a casual coffee break with friends: Sicaffé on Lex. Bread on Spring Street (despite the name!) has delicious gluten-free options. And Atlantic Grill on the Upper East Side is a great spot for sushi.

Q. Now that you have three showrooms and several collections, what do you see as the next step?
YS: A men's line is in the works. I have cufflink and ring models now, but it's not enough. Men, especially in Brazil, are drawn to my pieces. I grew up with my dad wearing cufflinks on a regular basis, and always thought there was something so elegant about it. Men didn't wear them as much for a period, but I'm happily noticing that it is coming back.
Yael Sonia Fine Jewelry Showroom 270 Lafayette St., Suite 810, 212-472-6488 (By Appointment); yaelsonia.com.
All product photos: Almir Pastore
To view the pages in pdf form, click here.