More Off-Broadway Listings... |
120 W. 46th St.
866-811-4111
ajewgrowsinbrooklyn.com
The story of a first generation American-born son of Holocaust survivors in 1960s Brooklyn, and his journey from denial to acceptance to rebirth. Playwright/performer Jake Ehrenreich weaves stories, tells jokes, and performs the popular music of both his and his parent's generations. Along the way, he demonstrates--from adolescence in Brooklyn, to the classic Catskills, to fatherhood and beyond--how survivors learn to live and laugh again, and the choices we all have. Including a multimedia set and archival video and photos, he weaves philosophy into personal history. Thurs., 7:30; Fri. & Sat., 8; Sat. & Sun., 2. Call or visit website for variations in schedule.

Click here for discounts on tickets to Mamma Mia! on Broadway

---
THIS WEEK IN THE ARTS

THEATER OPENINGS
Broadway - Alan Cumming in Macbeth now through 7/14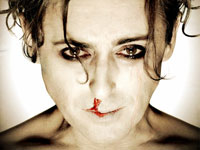 EXHIBITION OPENINGS

Through 6/22 - Paolo Ventura - The Infinite City at Hasted Kraeutler

---
SHOPPING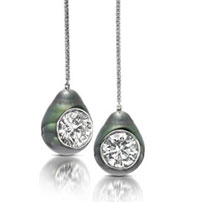 Regal 17.5 mm. baroque, Tahitian pearls are the centerpieces of these earrings from Cora Fine Jewelry; each pearl is set with 5 carats of round, brilliant-cut white diamonds, suspended from gleaming diamonds, and all set in 18-kt. white gold and platinum. $495,000. By appointment only. 590 Fifth Ave., 17th Floor; 212-781-2672; corainternational.com
Looking for expert recommendations for dining, shopping, and more during your trip to NYC? Click here!

Through September 1
Journey to the Stars - American Museum of Natural History, New York Through June 24
Picturing Science: Museum Scientists and Imaging Technologies - American Museum of Natural History, New York Through June 16
Aesthetic Ambitions: Edward Lycett and Brooklyn's Faience Manufacturing Company - Brooklyn Museum, Brooklyn Through January 6
Gateway to Himalayan Art - The Rubin Museum, New York Through June 2
Bronx Lab - Bronx Museum of The Arts, Bronx Through July 31 - Closed Thurs.
A Long-Awaited Tribute: Frank Lloyd Wright's Usonian House and Pavilion - Solomon R. Guggenheim Museum, New York Through August 11
Up Where We Belong: Native Musicians in Popular Culture - National Museum of the American Indian, New York Through August 4
Objects from the Kharga Oasis - Metropolitan Museum of Art, New York Through May 27
After Photoshop Manipulated Photography in the Digital Age - Metropolitan Museum of Art, New York Through September 29
Winged Tapestries: Moths at Large - American Museum of Natural History, New York More Activities