Americana Tickets NY
212-581-6660
americanatickets.com

Buying tickets? Speak with the experts!
---
Annie
1564 Broadway, 877-250-2929
www.anniethemusical.com

An all-new production of one of the most acclaimed musicals of recent time

---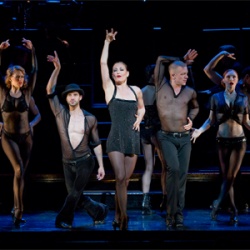 Chicago
219 W. 49th St., 212-239-6200
www.chicagothemusical.com

Kander and Ebb's "musical vaudeville" in which Roxie Hart gains notoriety by killing her boyfriend

---
Jersey Boys
245 W. 52nd St., 212-239-6200
www.jerseyboysbroadway.com

A musical based on the life story of Frankie Valli and the Four Seasons

---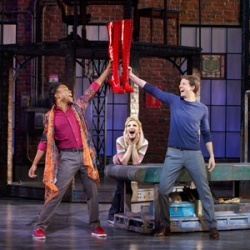 Kinky Boots
Al Hirschfeld Theatre, 302 W. 45th St., 212-239-6200
www.kinkybootsthemusical.com

A new musical inspired by a true story and based on the film of the same name

---
Lion King
200 W. 45th St., 866-870-2717
www.disneyonbroadway.com

The stage version of Disney's celebrated animated feature.

---
Mamma Mia!
1634 Broadway, 212-563-5544
www.mamma-mia.com

This hit musical incorporates 22 ABBA songs into a story about a single mother and her daughter

---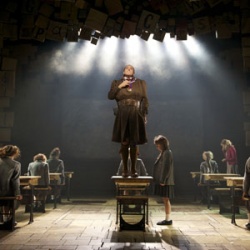 Matilda the Musical
225 W. 44th St., 212-239-6200
www.matildathemusical.com

The acclaimed musical adaptation of the Roald Dahl classic

---
Motown: The Musical
Lunt-Fontanne Theatre, 205 W. 46th St., 877-250-2929
www.motownthemusical.com

The story of Berry Gordy and the songs that changed our culture

---
Newsies
208 W. 41st St., 866-870-2717
www.newsiesthemusical.com

The hit musical adaptation of the beloved film

---
Nice Work If You Can Get It
249 W. 45th St., 212-239-6200
www.niceworkonbroadway.com

A veritable hit parade of iconic George Gershwin and Ira Gershwin songs

---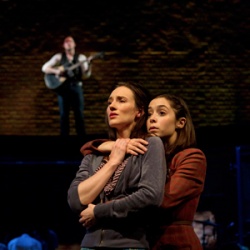 Once
242 W. 45th St., 212-239-6200
www.oncemusical.com

Based on the hit film, about an Irish musician and Czech immigrant drawn together by their shared love of music

---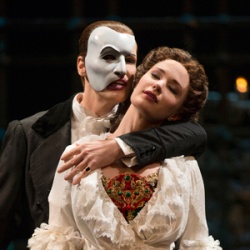 Phantom of the Opera
247 W. 44th St., 212-239-6200
www.thephantomoftheopera.com

Gaston Leroux's famous period thriller is now one of Broadway's greatest attractions

---
Pippin
239 W. 45th St., 212-239-6200
pippinthemusical.com

The Stephen Schwartz-scored hit returns to Broadway

---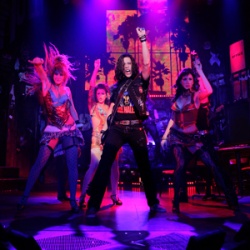 Rock of Ages
240 W. 44th St., 212-239-6200
www.rockofagesmusical.com

It's 1987 and the final countdown is on for a legendary Hollywood rock club

---
Rodgers & Hammerstein's Cinderella
1681 Broadway, 212-239-6200
www.cinderellaonbroadway.com

A new romantic twist on the ultimate makeover story

---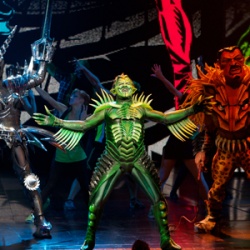 Spider-Man, Turn Off the Dark
213 W. 42nd St., 877-250-2929
spidermanonbroadway.marvel.com

A new take on the mythic tale of Peter Parker, with music by Bono and the Edge of U2

---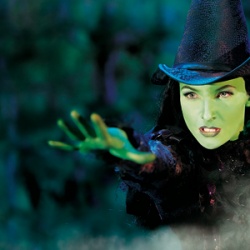 Wicked
222 W. 51st St., 877-250-2929
www.wickedthemusical.com

This musical follows the friendship between two young girls who grow up to become the Wicked Witch of the West and Glinda the Good Witch

---
Ann
Vivian Beaumont Theater, 150 W. 65th St., 212-239-6200
---
Betrayal
Ethel Barrymore Theater, 243 W. 47th St.,
---
Big Fish
250 W. 52nd St., 800-745-3000
---
Book of Mormon
230 W. 49th St., 212-239-6200

---
Dream Seats NY
212-279-1213
---
First Date
Longacre Theatre, 220 W. 48th St., 212-239-6200
---
Hello Tickets
212-691-3131
---
I'll Eat You Last: A Chat With Sue Mengers
222 W. 45th St., 212-239-6200
---
Let It Be
St. James Theater, 246 W. 44th St., 212-239-6200
---
Lucky Guy
235 W. 44th St., 212-239-6200
---
Macbeth
243 W. 47th St., 212-239-6200
---
No Man's Land and Waiting for Godot
Cort Theatre, 138 W. 48th St.,
---
The Assembled Parties
Samuel J. Friedman Theatre, 261 W. 47th St., 212-239-6200
---
The Big Knife
227 W. 42nd St., 212-719-1300
---
The Nance
Lyceum Theatre, 149 W. 45th St., 212-239-6200
---
The Snow Geese
Samuel J. Friedman Theatre, 261 W. 47th St., 212-239-6200
---
The Trip to Bountiful
124 W. 43rd St., 212-239-6200
---
Vanya and Sonia and Masha and Spike
252 W. 45th St., 212-239-6200
---