by Martin Bernheimer

Jules Massenet called Manon an opéra comique. That neat French label does not translate, however, as comic opera. Abandon linguistic logic. It merely indicates a genre in which musical passages and spoken passages alternate, with song ultimately overpowering speech. Essentially, Manon is an intimate tragedy, an elegant yet sensual, five-act examination of the corruption of innocence in France during the early 18th century.
At least that is the way it used to be. First performed in Paris in 1884, Manon made it to the Met in 1895 and has rema
ined a popular if intermittent staple there for 257 performances. Local productions have always been faithful, both in spirit and in detail, to the sentimental libretto of Henri Meilhac and Philippe Gille, which was based on Antoine-François Prévost's relatively risqué novel L'histoire du chevalier des Grieux et de Manon Lescaut (1731). New Yorkers have always savored period conventions in matters operatic. They like literal narratives.
That may change, however, when the Met introduces its new Manon staging this spring. Peter Gelb, the master impresario at Lincoln Center, is committed to updating the so-called standard repertory, at least to a degree. In this instance, he has imported a somewhat controversial, dramatically decadent production from the Royal Opera in London—a production shared, not incidentally, with La Scala in Milan and the Théâtre du Capitole in Toulouse.
The concept is credited to director Laurent Pelly, designer Chantal Thomas and lighting master, Joël Adam – the inventive trio that had concocted the rather zany interpretation of Donizetti's bonafide comedy, La Fille du régiment, in London as well as New York. Their Manon moves the action forward to the time of the opera's creation, superimposing an aura of Belle Époque glitz and frivolity. Verbal references to "the King" remain, incidentally, even though France had become a republic during the period adopted here.
Movement patterns in Pelly's Manon are meticulously choreographed, often stylized. The flighty heroine sings her seductive gavotte, affirming lust over love, to a corps of eager, top-hatted, frock-coated admirers, much as Marilyn Monroe extolled the best-friend qualities of diamonds in Gentlemen Prefer Blondes. In this context, men must be beasts.
Thomas's spare décors, reportedly grim and expressionistic throughout, dabble in steep slopes and cold neon glitter. Rupert Christiansen, the irreverent critic of the London Telegraph, warns that the look "won't please those who nurse a pink rococo vision of the piece." He likens the Hotel de Transylvanie setting to a "maximum-security facility designed by Philippe Starck."
Some modern observers have found Massenet's delicate sensibilities too sweet, too sticky and too kitschy for aesthetic comfort. Possibly eager to counte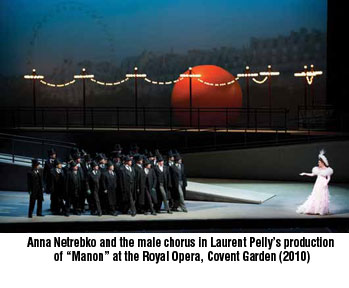 ract any such prejudice, Pelly adds interpretive layers of erotic grit: dirty old men constantly stalking pretty-girl prey, lusty ladies ogling a handsome young priest, even a balletic gang rape. The director also makes the eternally feminine protagonist tougher and, perhaps, more vulgar than Massenet's original. As portrayed by Anna Netrebko, the most celebrated glamor-diva of our day, she emerges – in the words of the Daily Mail critic – a "tart with a heart."
Netrebko must be the essential raison d'être for this production. She counts the weak-willed, ultimately pathetic courtesan among her favorite challenges, and scored a major success with it at Covent Garden in June 2010. On that occasion, the Guardian critic said she "sounded in scintillating form and looked a million dollars, whether as a matronly young Manon, exposing her thighs [phew] and bouncing on beds in a short nightie, or dressed in candy-floss pink and furs as a kept woman."
The Russian soprano, now 40, actually relishes Pelly's negative image of Manon. In a Guardian interview, she described the character as an "empty soul…even at the start of the opera," when the heroine is 15. This girl, she explains, "is not naïve. She already knows her power and is using it to get what she wants. That's in Massenet's music….Her music is very sensual, passionate, sometimes harsh. She's not like that parfum, fleur image that comes across in Prévost's book. She's a real woman, and I think it's possible to make her quite bad."
With Anna Netrebko, quite bad is likely to be very good.
Metropolitan Opera
Lincoln Center, metopera.org
Performances
March 26, 31, April 3, 7
matinee, 11, 14, 17, 20, 23.
Highlights of the Season
L'elisir d'amore
(March 5, 9, 12, 16, 21, 24, 27, 31 matinee).
Donizetti's charming comedy features two of the world's leading bel-canto specialists: the German coloratura soprano Diana Damrau and the Peruvian tenor Juan Diego Flórez. Enough said.
Macbeth
(March 15, 20, 24 matinee, 29, April 2, 5 9).
Verdi's tempestuous setting of the Shakespeare tragedy returns with Thomas Hampson assaying the arduous title role for the first time here. German soprano Nadja Michael makes her company debut as his sleep-walking Lady.
La Traviata
(April 6, 10, 14 matinee, 18, 21, 25, 28, May 2).
Willy Decker's modernist revision of Verdi's melodious melodrama returns with two new principals: Natalie Dessay as the febrile Violetta and Dmitri Hvorostovsky as her stern antagonist, Giorgio Germont.
The Makropulos Case
(April 27, May 1, 5 matinee, 8 11). Karita Mattila, a singing actress of rare passion, imagination and sympathy, portrays the ageless heroine in this revival of Janácek's searing melodrama.
Billy Budd
(May 4, 10, 12).
Benjamin Britten's poignant depiction of psychosexual conflicts among men at sea returns in John Dexter's classic production. Nathan Gunn appears for the first time here as the sacrificial hero.
To view the pages in pdf form, click here.
---